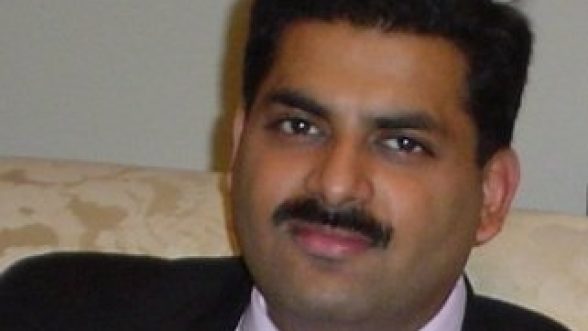 Gaurav Chandra is a Surgeon who just finished a Burn Surgery/Critical Care Fellowship in the University of Colorado Hospital prior to entering into the 11-Month MBA program at the CU Denver Business School. Chandra has worked as a Surgeon in North America, South Africa, and India for 15 years.
Gaurav's interest in the 11-Month MBA Program stemmed from his medical practice. He had innovative ideas and a vision to improve health care delivery that he wanted to execute but lacked the entrepreneurial expertise and skillset. Chandra met Dr. Arlen Meyer, President and CEO of Society of Physician Entrepreneurs and he suggested that Chandra explore CU Denver's 11-month MBA program.
I asked Gaurav what it was like entering the 11-Month MBA program which would be a different experience for him. He said, "Since I come from a background in medicine, the networking with non-physicians and with classmates from a wealth of backgrounds was a unique asset concerning the program. The class of 30 students provided a diverse repertoire of knowledge, viewpoint, and a very enriching learning experience. The team and case-based learning is very applicable to the business world and is a major attribute of the program.  I was exceedingly impressed by the quality of the teaching, the content of the courses and the well-rounded, big picture support offered by 11-Month MBA Program including networking opportunities, career management services, and the dedication to enabling us to make the most of this program."
"The 11-Month MBA Program is adorned with guest speakers across many industries. It is astounding how much I have learned during 11 months. The faculty and staff are passionate about their educational mission and have perfected molding this MBA into a program that meets the needs of many students from a plethora of industries," Chandra continued.
"The month mandatory international course provided me a rich understanding of business culture, it helped me imbibe and inculcate the business practices in Germany and Sweden. The faculty for the International Business course are very knowledgeable and passionate about the educational experience," he concluded.
Since graduating, the 11-month MBA Program has made an immense impact on Chandra's entrepreneurial interests. During the program, he met people in his class who had extensive entrepreneurial experience. He had many productive conversations with them about how they could put their skill sets together, with one of those leading him to work on launching his company GlobeMD. They developed and refined their idea in a class called Emerging Business Trends, Scenario Planning, and Business Planning.
With the aim of providing price and quality transparency in Healthcare, they launched GlobeMD that is a transparent health care discovery platform where patients can search and find specific procedures and therapies, evaluate their quality of care and services and purchase them. The focus is on three areas of therapies; 1) Popular and established services that have a cost advantage for patients to travel outside their hometown, 2) Hard to find treatments in their hometown or country and 3) Early stage or new to market drug therapies for chronic diseases.
The platform helps patients compare providers with a and make informed decisions on their health care needs with rating criteria for hospitals and service providers in association with the University of Colorado, School of Business. They now have 187 Hospitals across 17 countries on the GlobeMD Portal. Chandra is the Chief Executive Officer of the company.
In addition to that, he has also translated a novel idea developed during his Fellowship training to an enterprise, Chemokind Inc. patented and trademarked Chemokinetic Therapy and has been using Evolutionary Biology of Bacteria to treat infections and eventually a solution for Antibiotic Resistance. Having lost patients to Antibiotic Resistance in the ICU, Chandra wanted to find an answer to the problem. The MBA training provided the skills to understand Patentability and Company Incorporation. The company is currently evaluated at 2$ million and will increase as Duke University finishes the Animal Study.
Chandra is also amalgamating his healthcare skills with business strategy to bridge the current divide in Healthcare Delivery to Rural Areas (in India) by fostering innovation and technology and empowering current health care system. He founded the company United International Health Systems with three other physicians in India to build a sustainable, robust health care delivery model that can be used at any global hospital
The MBA gave Gaurav the understanding and equipped him to make well-informed business decisions. It helped him communicate effectively with other policy makers and the vocabulary to participate in boardroom conversations. It added to the repertoire of his skill set and a different mindset to think.
Marketing is another field in which physicians tend to be inexperienced. The marketing and Information Technology coursework that is typically part of an MBA benefited him a lot as well.
The 11-Month MBA program improved his ability to manage complex systems, equipped him to make better operational decisions and boosted his knowledge of competitive strategy. "I think that for physicians, it is more essential than ever to get a business education as healthcare starts to undergo a significant transformation. To be able to fathom not just the clinical side of medicine, but what keeps the wheel turning in this field is extremely relevant," Gaurav said.
"I believe that health care will evolve astronomically if we make physicians our leaders and the 11-month MBA Program empowers the students to be leaders in the industry," Chandra finished.