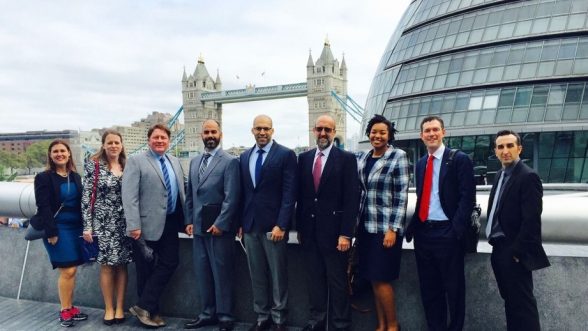 In September 2016, eight GEM students traveled to London to complete GEMM course 6690 – Special Topics. GEMM 6690 is an elective course designed to provide international or domestic learning opportunities.
The course is a week-long travel course concentrated on problem-solving within the energy industry. Over the week abroad, students have the opportunity to meet with industry leaders and glean international understanding and perspective on current issues by visiting of over 15 sites. Themes shared across all visits were energy markets and modeling, financial models, and forecasting for the future.
This trip marks the seventh year traveling to London for GEMM 6690. Sarah Derdowski, GEM's Director of Strategic Development & Operation accompanied the students on the visit.
"It's a great cross-cohort connection opportunity for the students," Derdowski said. "By traveling with students outside of their cohort, and meeting face-to-face with leaders of worldly companies, students gain a deeper impression of what they learn than do they in the classroom or online."
The UK represents one of the most significant hubs for business and trade in the world. This year's trip included three days in London, two days in Oxford and 15 guest presentations and site visits. The 15 site visits were made of the UK's energy leading companies.
---
---
The stop at National Grid gave students a look into the utility sector and how the company strives to incorporate wind into the power grid of the UK.
At Shell Oil, students got to witness Shell's scenario planning. Scenario planning is different than strategic planning as Shell brainstorms scenarios that could impact the future and designs solutions that serve as context for how Shell might shift or evolve in the every-changing future.
In between the educational hours, the group was able to check out the tourism scene. Some highlights include; The London Bridge, Parliament Tour, walking tours, C.S. Lewis and J.R.R. Tolkien's former pub of inspiration, The Eagle and Child, and Ronny Scott's Jazz Club.
What are students saying about the trip?
"I thoroughly enjoyed the London trip and I think that it was one of the best experiences in my professional career so far. It really broadened my understanding of international energy markets and made me aware of some areas of the industry that I had no knowledge or experience of previously." Clare Ashton, Cohort 15.
"I cannot stress how much I enjoyed each trip and still find myself in awe of the people and organizations that hosted us.   I feel the overall experience really provided me with a much broader understanding of the domestic and international energy markets and the organizations that examine them.  Thank you for providing me with such a rich experience." David Zamarripa, Cohort 14
"The London trip was a fantastic opportunity to expand your horizons of another country.  You learn about foreign policies and the applications of the policies.  You learn about the ideas of the future, renewables, and decreasing the carbon footprint.  A hands-on experience is the best way to learn and really apply the lectures of this program; I am really glad that I went on this trip." Rachelle Harris, Cohort 16
"The London class was a game changer for me. It is one thing to learn about the energy issues but to travel internationally to discuss issues of climate change, phasing out coal, and energy technologies with UK companies brought the global aspect of the GEM degree to life. Instantly your global perspective is brought to life with international contacts that know your name and exposure, and you might catch a play or jazz in your free time. I recommend this class to every GEM student!" Natasha Herring, Cohort 15
"What a great experience London was! We were able to apply knowledge obtained in the classroom setting to real-world experiences. Collaborating and networking on a global level with experts from all facets of the industry is a true culmination of what the GEM program is all about." Joseph Suglia, Cohort 14.