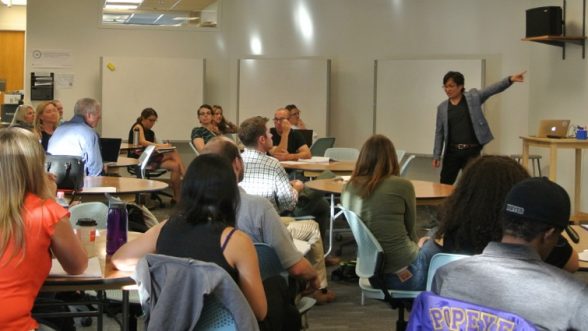 The informal Creative Research Collaborative Fellow's Talk is an annual series that allows professors to share their projects with fellow faculty members and the general public. Assistant Professors Onook Oh and Jody Beck presented their research on Sept. 28. Located in the Office of Research Services (ORS), the CRC is a campuswide initiative to foster innovative and interdisciplinary research that strengthens collaboration across academic units.
Onook Oh: A rumor that causes mass exodus
Rumors during a crisis can exacerbate the situation and make it much worse. In the event of a large emergency (e.g., natural disasters, terrorist attack, social protest), the need for actionable information is so high that rumors spread like wildfire. Onook Oh, assistant professor in the Business School of University of Colorado Denver, seeks to understand how these rumors spread.
Assistant Professor Oh, in collaboration with professors from Amrita School of Business in India, University of South Florida and the University of Texas San Antonio, analyzed data from a mass exodus that occurred in the southern part of India in 2012. Over 15,000 people left Bangalore, which is known as India's Silicon Valley, over the period of two days.
The exodus originated in a false rumor that was spread threatening people of Northeast Indian descent in retaliation for riots that had occurred in the state of Assam in Northeastern India a month earlier.
"Intense confusion and panic rapidly grew in the target communities, and the Indian government had to enforce a ban on mass-text messaging services for two weeks. However, by then it was too late," Oh said.
Tens of thousands of people fled the city in buses and trains, despite the best efforts of the government in their attempts to calm the public.
"Once a rumor is circulated through social media or other information communication technologies, it's very, very difficult to disprove," Oh said.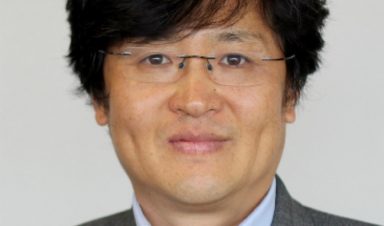 Technology use in a crisis
Oh's research deals specifically with how information communication technologies, like the radio, cell phones, social media and television, work together to spread rumors during a crisis. His work shows that when the need for information is extreme and the mainstream media lacks the quality of information people need to make urgent decisions, people turn to social media and the people they know to gather and share information. This tends to develop into a collective rumor mill.
When faced with a life or death situation, where quality information is difficult to find and the public needs to make urgent decisions, rumor mitigation is needed the most. Oh and his international team seek to understand the variables involved, particularly in light of new technology.
Jody Beck: State level strategies for local food production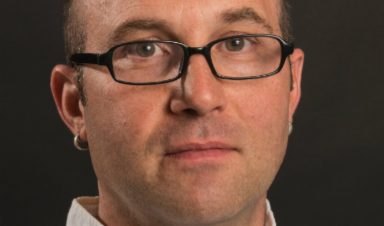 Denver could grow enough fruits and vegetables to feed itself and most of Colorado within the city limits, according to a study performed by a CU Denver landscape architecture assistant professor and a couple graduate students.
In 2014 Jody Beck, PhD, assistant professor of landscape architecture, received a grant through the Office of Research Services to study food sovereignty in the Denver region. Working with two graduate students, Beck researched the Denver landscape and its possible productivity. "I took the city as a whole and analyzed it for its agricultural potential and tried to figure out if we could actually feed ourselves and become food sovereign within our city limits," Beck said. "The answer is 'yes' in both cases. Surprisingly enough, Denver could grow enough fruits and vegetables to feed itself and most of Colorado just on land that's available within the city." Beck summarized this research at the recent CRC Fellow's Talk.
Beck, who received his doctorate from the University of Pennsylvania, focused on landscape architecture because he is interested in the politics of how people engage space.
Local food, local control
His current research looks into the political nature of food and the landscape as a system. He is working to promote an increase in agriculture in urban areas and the transition zones between rural and urban areas. This local food production, he argues, increases local and individual autonomy.
While Beck's research shows that Denver could feed itself, there are reasons why the city is not producing as much food locally as it could. "There are institutional barriers to incentivizing local food production at the local and the state level," he said. "Landscape is the ultimate political medium. It's the way we share resources and communicate."
Beck's previous research and the subject of his dissertation was on the political underpinnings of work by prolific landscape architect and city planner John Nolen. Beck's body of work on the subject was published in his book, John Nolen and the Metropolitan Landscape.
Contact the author: michael.satchell@ucdenver.edu