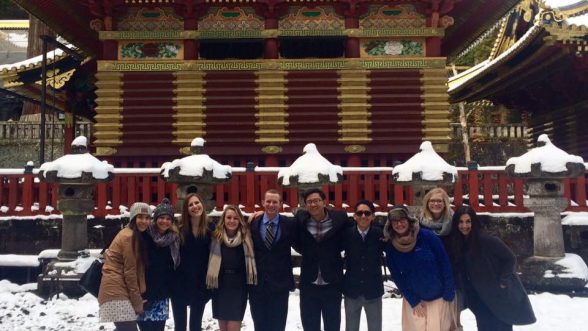 While some of us celebrated Fall Break by eating too much turkey on Thanksgiving, 20 talented CU Denver Business School students spent their time learning about the economy, history, and culture of a country located an ocean away. After having been awarded an all-expenses-paid trip to Japan from the country's Ministry of Foreign Affairs as part of the Kakehashi Project, several returning student participants reflected on their weeklong experience abroad.
---
My experience in Japan was invaluable to my understanding of different cultures and global interactions. I've had an interest in visiting Japan for a long time and the Kakehashi trip not only provided me with an opportunity to visit the country itself, but it also allowed for unsurpassed access to local businesses and cultural experiences. I'm glad that my first trip to Japan was not as a tourist, but as a participant in the Kakehashi Project. The privileges we were provided as guests of the Ministry of Foreign Affairs of Japan broadened my understanding of the business culture in Japan and gave me strategic insight into the benefits and barriers of considering Japan for future business endeavors. The program was so well organized by the Japan International Cooperation Center (JICE) that I never had to worry about anything during the entire trip. Everything was scheduled and arranged for us, so all I had to do was immerse myself in the experience. As an MBA candidate and an employee of a domestically-based, but globally-present firm, I hope to return to Japan in the future with actionable business objectives." –Kenneth Choong, MBA Candidate
---
"Going to Japan was a wonderful experience – through it I was offered the unique opportunity to see the country from the perspective of those living there. The hospitality of the people was reminiscent of the southern hospitality I'd grown up with back home, and made me feel comfortable in the country every step of the way. As an International Business student, I was impressed by the country's never-ending drive to innovate and their ability to capitalize on market needs, turning entrepreneurial ideas into successful, robust businesses. I look forward to visiting again in the future." –Sarah Ault, MBA/ MS International Business Candidate
---
"This was one of the best experiences I have ever had the chance to be a part of. The home stay made the trip particularly special, and was one of my favorite memories. It was fascinating to see how Japanese families live and to have been able to connect with locals on a more personal level. The family I spent time with was very welcoming and excited to guide us through their incredible country. I am so grateful for the opportunity and am appreciative of everyone who helped make this possible. This trip had a very positive impact on me in many different ways. I cannot wait to return to this wonderful country." –Kelsey Lanning, MS International Business Candidate
---
Interested in finding out more information about exciting study abroad opportunities that the Business School has to offer? Learn more here.