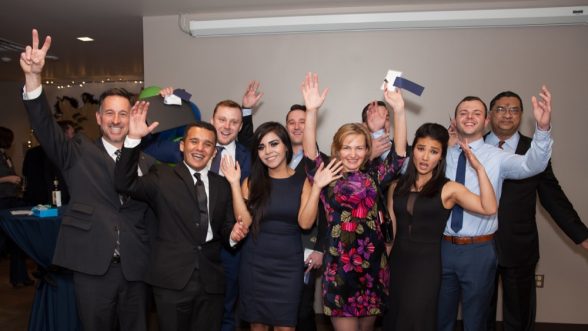 The University of Colorado Denver Business School celebrated its sixth year of graduates from the Risk Management and Insurance Program on Dec. 15, 2016. Twelve undergraduate students, seven graduate students, and one professional certificate student, celebrated their graduation at the end of fall 2016 semester.
The University of Colorado Denver Business School was pleased to welcome new Business School Dean, Dr. Rohan Christie-David, who joined in the celebration and congratulated the new graduates. "I am delighted with the high caliber of these fine graduates. The RMI program now has 95 graduates from the program. We look forward to welcoming you as alumni of the University of Colorado Denver Business School," said Dean Christie-David.
The December graduation reception was attended by RMI Advisory Council members, industry partners, RMI alumni, graduates, and current students. The event keynote address was given by CoBiz Insurance President Todd McLean. Among his remarks, Mr. McLean urged students to "remain curious, seek out new challenges, and don't be afraid of failure. That is where you will learn the most."
"We are pleased and gratified that all our current graduates have already secured jobs upon their program completion, maintaining our 100 percent placement record," said RMI Program Director Dr. Ajeyo Banerjee. "We appreciate the ongoing support of our industry partners who continue to hire RMI graduates. Many of you have engaged with our program since the beginning in 2011, and we thank you for your ongoing support and success. We couldn't do it without you."
Of the undergraduates, six are double major RMI/Finance majors. Among the graduate students, three are joint masters students, two combined with MBA w/RMI specializations, and one with MS Accounting. One Pinnacol Assurance student earned her Professional Undergraduate Certificate in RMI.
"I am also pleased to recognize the continued excellence of our faculty and staff within the RMI program. Eric Reiner, RMI and Finance Instructor, received the Business School Excellence in Teaching Award – Non-Tenure Track, and Barbara Sidwell, External Relations Manager, completed her CPCU designation. Congratulations to them both," said Dr. Banerjee.
Founded in 2011, the Risk Management & Insurance (RMI) Program at the University of Colorado Denver Business School is one of the fastest growing within the Business School and the only program with undergraduate and graduate RMI degrees in the Rocky Mountain region. The program's holistic approach gives students ample opportunities to meet industry leaders before graduation. Because of its strong industry connections and established curriculum, the program boasts an impressive 100 percent job placement rate.