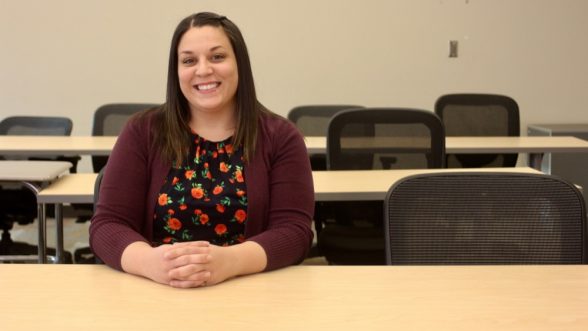 Amanda Pajonk has taken full advantage of the opportunities her CU Denver Business School scholarships have afforded her. Amanda, who is a senior majoring in Accounting with a minor in Economics, is heavily involved with her Business School program while working full time at a real estate development company. She is an active member of Beta Alpha Psi and was a speaker at the 2015 Annual Business School Scholarship Luncheon.
Amanda's dream for an education started modestly when she earned an Associate's degree. However, she realized there was a path to help support a bigger dream when she applied for and received several Business School Scholarships.
"Where I'm at now, I know I can strive for great things. When I got here, I had the idea that I would just get a degree and then that would be it," she explained. "And now here I am talking about graduate school, which is something I've already decided is in my future."
Amanda believes that those who are more involved within the university will be more successful later on. Her scholarships provided added opportunities to engage in academic and community events. As a scholarship recipient, Amanda was invited to attend a Board of Advisor meeting where she was able to connect with a board member, who has since provided her with important career mentoring support.
As a nontraditional first-generation student, Amanda chose the Business School because it is one of only three Colorado accounting programs to be AACSB accredited. Through her involvement with a strong Beta Alpha Psi chapter, Amanda was offered an introduction to the company for whom she is now interning. She hopes this will lead to a full time position after she completes graduate school. Her goal is to take the Certified Public Accountant (CPA) exam to realize her dream of becoming a partner of a public accounting firm.
When speaking about the impact of her scholarship, she stated, "It's not just financial for me. It's about being able to progress a dream into more than I ever thought it would be."

The 2017 Celebration of Success event will be held on April 20, 2017 and is Denver's premier fundraising event, bringing in world-class speakers, and raising more than $3.3 million in student scholarship funds. This year, our goal is to raise over $200,000 to put toward helping students advance their education—and we need your help. With tuition on the rise, we're calling on community leaders like you to help make college affordability possible by sponsoring the largest and most important fundraising event of the year. Enjoy an evening with Pulitzer Prize-winning author and renowned presidential historian, Doris Kearns Goodwin, who will provide an informed and enthralling analysis on current events, with remarkable insight into the lives of the leaders who have shaped the United States. Register for Celebration of Success today!
—————
[link-library categorylistoverride="1126″]