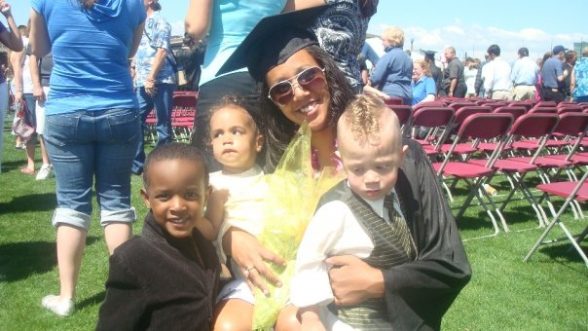 The journey towards higher education does not look the same for every person. However, no matter their circumstances, the CU Denver Business School strives to offer a flexible and inclusive environment for all, which is why it attracts students of all types and all backgrounds who share the common goal of bettering themselves through education. Alumna Danielle Shoots '08 is one such example of how non-traditional students thrive at the Business School, climbing to new heights through hard work and dedication.
As a young mom who needed to hold down a job while tackling course work, Shoots says she was immediately attracted to the Business School for its central location, because it allowed for her to walk easily from work to school throughout the day. And despite her busy schedule, Shoots says she never felt as though she missing out on the traditional experience, given the nature of the campus. "Because I was a mom, I couldn't stay on campus, but I still wanted to feel like I was getting a real college experience. When you are on campus at CU Denver, you sometimes forget that you are in the middle of the city, but within minutes, you can be downtown," she said.
While completing her Bachelor of Science in Business Administration (BSBA) with an emphasis in Marketing, Shoots transitioned into a work-study position at a non-profit where she not only learned helpful skills such as grant-funding management and bookkeeping, but also made lasting connections.
"My boss at the non-profit I worked for while at the Business School is in my life to this day. She provided the reference for my first job after school and was able to articulate who I was going to become. You can't capture that in a resume."
Shoots landed her first post-graduate job at Denver Health, working as a financial analyst. After two years at Denver Health, she secured a position doing similar work for the State Health Department, where she became Chief Fiscal Officer after less than year with the agency. Looking back on the transition, Shoots recalls, "I went overnight from being the technical expert to managing a team of 27. It was a sink or swim moment." Needless to say, Shoots swam and excelled in her challenging role for four years, until deciding to move into corporate finance. Leveraging a connection through a colleague, Shoots began working for Comcast, where she quickly advanced to become Vice President of Finance and Business Operations, the job she holds today.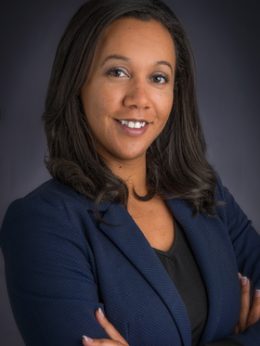 The rapid pace at which Shoots achieved her current standing did not go unnoticed. The Denver Business Journal honored her, along with several other CU Denver alumni, at their annual "40 under 40" event, that recognizes young business leaders in the Denver metro area. "Winning the '40 under 40' distinction has been an unbelievably overwhelming and humbling experience. Throughout my life, I have always been the youngest. The youngest at the board table, the youngest CFO in department history, younger than the people I call my colleagues, and, for the most part, younger than the people that I oversee. It has been a chip I've had to carry with me throughout my career, proving myself at every turn. However, being honored for my age and accomplishments has given me a freedom that is hard to explain," she said of the acknowledgment.
A proud and powerful alumna of the Business School, Shoots says that her undergraduate years at CU Denver helped propel her to where she is now. "At the Business School, you take classes in multiple functional areas. You learn to be a decathlete instead of a sprinter who in excels in one or two distances on the track.  That has been the game changer for me, and it has taken me so far in my career."