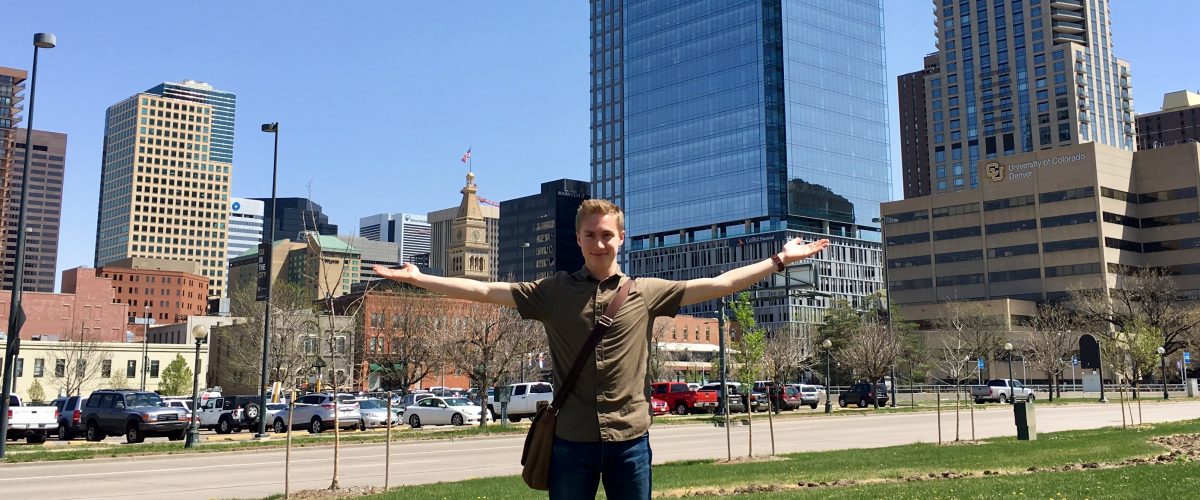 For many students summer is not only a time for fun in the sun, but also the ample time to forge connections and acquire real-world working knowledge. It is a time when students are looking to get ahead, apply for internships, and when those who stand out, like Accounting undergraduate Jesse Fink, are successful in securing them.
Fink's enthusiasm for EKS&H, an audit, tax and consulting firm, had been at the forefront of his mind during his internship search. That is why when Fink saw the firm's tax internship posting, he jumped at the chance to apply. Online applications can sometimes be the bane of an applicant's existence, as they test one's ability to stand out on paper first. For Fink, however, the online application gave him little stress—his application materials were impressive, because they had been vetted by the Business Career Connections office (BCC).
After getting an interview with EKS&H, Fink went into research mode, learning everything he could about the company and becoming more and more eager to secure a position there. To ensure his success, Fink visited the BCC office once again, this time to gain a better understanding of what to expect before his interview. "The Business Career Center has been one of my biggest assets. One-on-one meetings with Stephanie Sindt from the BCC helped me fully understand the whole hiring process, and what to expect in my interviews given the company and the position I was applying for."
After two-rounds of interviews and, of course, the Avalanche game social with partners from the firm, Fink received an offer. During the summer of 2017, he will be busy preparing tax planning assignments, research projects, and income tax returns, as well as getting to know the people who made EKS&H his top choice.
"I chose to pursue EKS&H for many reasons, most notably though, for the people. Absolutely everyone I have met throughout the hiring process has been amazing. You can tell they genuinely care about your success and well-being. Their personalities and general outlook on the work itself creates a superb work environment, and, ultimately, they are the type of people I am excited to work with."
Looking back, Fink says that the BCC office was an invaluable part of his internship process, and urges students to visit as often as they can, given its tremendous capacity to help folks reach their goals. "Students should utilize the BCC office throughout every point of their college career, whether you are just at the start and thinking about looking into leadership programs and internships, or you've already secured a position at your dream job. Everything from mock interviews, career focused events, industry/company information, and LinkedIn/Handshake tips and tricks makes you more comfortable and confident in yourself. I owe much of my success to the great people of BCC."