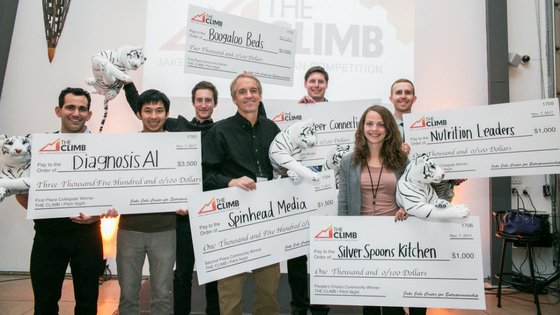 Hosted annually by the Jake Jabs Center for Entrepreneurship, five collegiate and four community teams pitched front of a panel of esteemed judges and a record-breaking audience of 150 people.
This year's competition featured an online craft beer marketplace, a meal planning mobile application and companies wanting to do social good. "There's a very diverse group of entrepreneurs within Denver that are trying to solve some really cool problems here that have meaningful impact on society," said Caleb Polley, first place winner in the community category. His company, Boogaloo Beds, wants to improve sleep, safety and sensory control for people with autism, dementia and sensory processing disorders.
Michael Potts, Managing Partner at Advance Wave Partners; Stephanie McCoy, Chief Operating Officer of Wazee Street Capital Management; Joel Appel, Owner and CEO of Launch Pad, LLC; and Jake Jabs, President and CEO of American Furniture Warehouse and Jake Jabs Center namesake, were tasked with judging all nine pitches. Molly Hughes, communication consultant, executive coach and former anchor at CBS4 Denver, served as emcee for the evening.