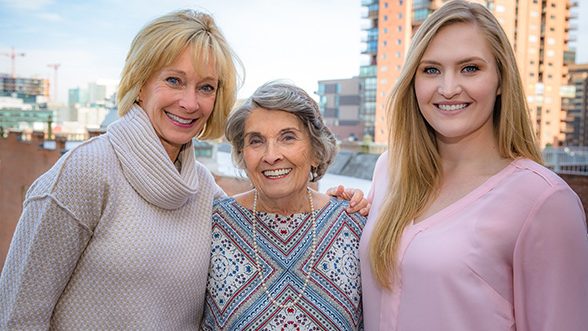 For inspiration in business and in life, Julie Austin doesn't need to look far. All she has to do is talk to her mother and grandmother.
Julie, 22, will be the third generation in her family to graduate from the CU Denver Business School when she finishes her studies next year. Her mother, Christie Austin, 61, and her grandmother, Emily Hamrick, 87, are both successful businesswomen. And they both graduated from CU Denver in 1979.
"I'm fortunate to have been able to graduate from [CU Denver]," said Hamrick, who earned a degree in organizational management. Previously, Hamrick completed three years of college at the University of North Carolina, but then she got married and put off finishing her degree – for more than 20 years. She had four children and worked to help put her husband through dental school.
A goal to graduate
Later, Hamrick moved to Denver and went to work at an oil company. She started as a secretary and worked her way up to management, overseeing nearly 150 employees. She took night classes at CU Denver, one course at a time, until she finished her degree at age 48, graduating with honors.
"I always said I would finish my education," she says. "I was excited to be back in school and determined to stick with it. Every class was helpful – I loved it."