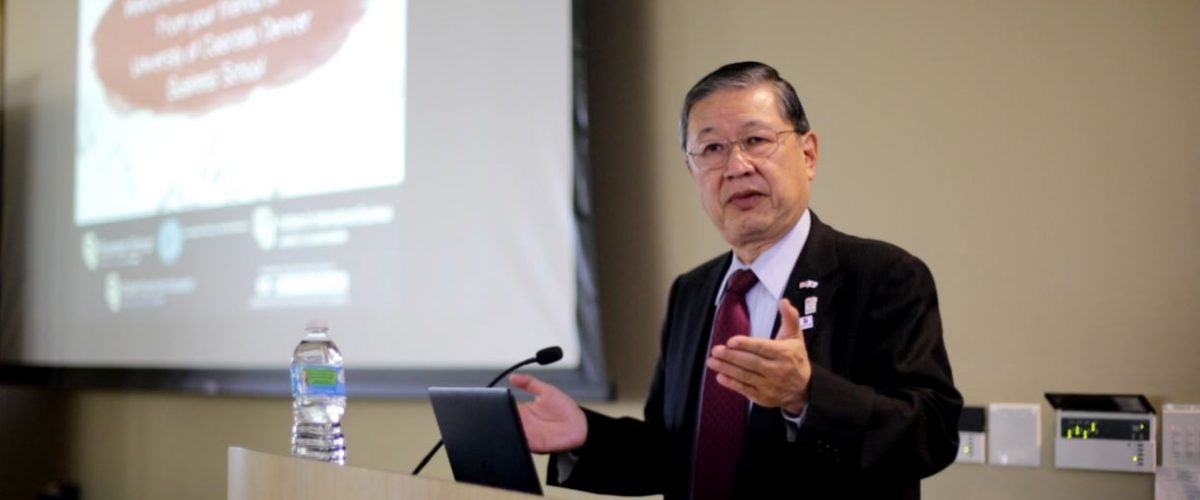 Since 2014, the "Walk in U.S., Talk on Japan" program has taken place around the United States, highlighting Japan's commitment to building stronger relationships between the two countries. On December 1, 2017, a Japanese delegation walked in the U.S., more specifically at the University of Colorado Denver, and talked on Japan. Every year, teams of Japanese citizens led by former, high-ranking Japanese diplomats, travel to the U.S. to share their perspectives and encourage open discussions with the Denver community.
Participants from Japan who have volunteered to join the program come from a diverse range of backgrounds, but all have some connection to the U.S. They have formed groups, each of which are led by a leader with a relevant area of expertise. While traveling through various major U.S. cities, each group has taken part in exchanges at a local grassroots level, discussed important factors of the future U.S.-Japan relationships, and talked about recent positive developments in Japan.
Led by Ambassador Ken Shimanouchi, former ambassador to Spain and Greece, the event was created to increase awareness about Japan in the United States and to further develop the relationship.
The event was put together by CU Denver's International Business Student Network and the Consulate-General of Japan in Denver. Dean Rohan Christie-David, alongside Manuel Sarapio and Missy Kautt, faculty directors for the Center for International Business Education and Research, welcomed the Japanese delegation.
Students were able to hear from a retired lieutenant general, a self-made entrepreneur, a university student, and a wife of a major general. A large banner next to the delegation read, "We are Tomodachi" meaning "We are friends."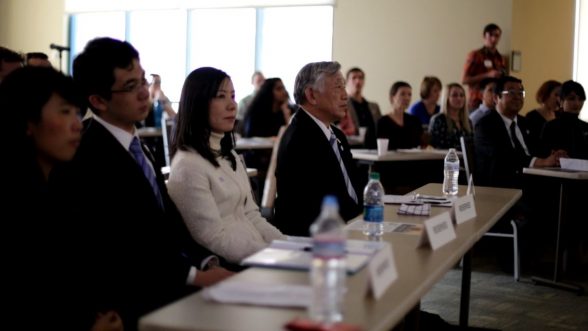 Japan and US business highlights
Ambassador Ken Shimanouchi shared his stories and experiences when encountering the differences in culture between Japan and the U.S. Although he was born in Japan, his family is Japanese American. His family moved him to California in 1921 when he was three years old. After finishing college in Los Angeles, his father returned to Japan alone in the 1930's. As a result, his family has seen the destruction and human tragedy of war on both sides of the Pacific.
Ambassador Shimanouchi highlighted his joy in having also seen these two countries move on to forge one of the strongest partnerships in the world.
When addressing the current state of the Japanese economy, Ambassador Shimanouchi joked, "I was going to speak upon the unemployment rate being at 2.8 percent in Japan, but I hear that the unemployment rate here in Colorado is 2.4 percent."
On a more serious note, Ambassador Shimanouchi argued for the importance of building ties between these two economies. "Making Japan as business-friendly as possible is a matter for survival for the Japanese economy." Building further upon this he said, "The most important pillar for our economy is to bring more women in the workforce."
"Making Japan as business friendly as possible is a matter for survival for the Japanese economy."
A unique area of U.S. and Japanese business collaboration lies in a Star Wars-like future. Ambassador Shimanouchi emphasized, "We also need to tackle the manpower problem that faces Japan, which is caused by our aging and shrinking population." Because of this, "There are vast opportunities for Japanese and American companies working together in robotics for taking care of the elderly population." He quipped that he would be nervous about R2-D2 and C-3PO becoming his caretakers.
As for being world leaders in Asia-Pacific, Ambassador Shimanouchi looked to impending prospects in saying, "Working for economic prosperity through the construction of high-quality infrastructure, this is an area that the U.S. and Japan must take a lead for the emerging countries in the region."
"Working for economic prosperity through the construction of high quality infrastructure, this is an area that the U.S. and Japan must take a lead for the emerging countries in the region."
He certainly made it clear that Japan looks to the U.S. for business partnerships, and that increasingly the U.S. is doing the same.
Japanese military experiences and outlook
Toshimichi Nagaiwa, retired Lieutenant General and former fighter pilot, spoke about the current Japanese military situation. He shared values of Japan in regards to U.S.-Japan relations from his perspective in their Air Self Defense Force. Nagaiwa emphasized how important the U.S. is for the safety, security, and training of the Japanese military.
Eri Ozako, who is married to a Major General in the Japan Air Self Defense Force, shared her time spent as a wife to an officer in Japan and in the U.S. She served in a public affairs capacity in a Defense Attaché posted to the Japanese Embassy in Washington D.C.  Also, she is an embroiderer and currently teaches a few classes.
She spoke on her difficulties in relating to the other American wives while living in Washington. It took her some time to discover that they were made of the same values and morals as she, leading to a fantastic support group.
Recruitment system for university students in Japan
Takashi Nishikawa, a University of Tokyo student studying American foreign policy and political history, participated in an internship program sponsored by Japan's Ministry of Foreign Affairs in 2016. He worked for the city of Hyattsville, Maryland and also for the International Press Division of the Ministry of Foreign Affairs where he summarized international newspaper articles and learned to work with the foreign press. These experiences inspired him to learn more about Japanese and American politics in college.
He shared his job search experience in Japan, where the recruiting system for university students ("Shu-katsu") is quite unique, and how Japan's employment system affects Japanese society. "This chaotic Shutkatsu started 60 years ago when the Japanese economy grew." He found himself in a sea of applicants, with similar credentials, struggling to distinguish himself from others.
"I decided to apply to as many companies as possible, hoping that one of them would offer. I applied to 60 companies and had as many interviews, it was chaos mentally and physically." Nishikawa did go on to receive some job offers but highlighted how fierce job hunting can be in Japan.
Running a company as a female entrepreneur in Japan
Hitomi Wada, a resident of Okinawa, graduated from Tamagawa University in Tokyo and went on to the State University of New York where she majored in tourism management. She then moved to Hawaii to work for Hilton Hawaiian Village Waikiki Beach Resort for 10 months before returning to Okinawa to run her own vacation rental business.
While job hunting in Japan, Wada was shocked by the old-fashioned attitudes toward women in the workplace. This caused her to take her business efforts into her own hands. She shared her experience as a business owner, leader, and female role model in Japan as a result of running her own company in Okinawa.
As a female business owner, Wada found it crucial that "in Japan, only 10% of CEO's are female. I want more women in power." The Japanese government is beginning to make an effort to progress in this area of Japanese business.
"In Japan, only 10% of CEO's are female. I want more women in power."
"I am not stopping in Okinawa, I want to make more business partners, lend more properties to people in more countries including the U.S." She hopes to make many connections and come up with new business ideas in the future.
A great event comprised of thoughtful interaction
Following the event, interactions between students, faculty, and the Japanese delegation were rife with curiosity and genuine connection. The event did its mission justice, bringing a better understanding of Japan to CU Denver.
To cap the event, the delegation was presented with a gift from CU Denver, a Colorado Rockies baseball autographed by all-star 2nd baseman DJ LeMahieu.