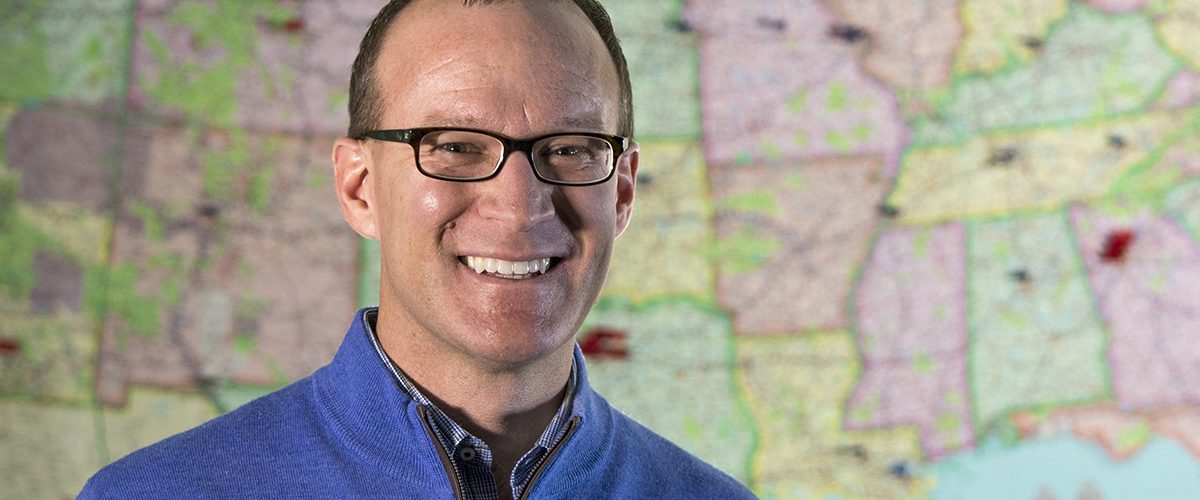 Most, if not all, CEOs spend their free time practicing their golf game so that they can one-up friends and business partners on the weekends. But only one CEO, Joe Assell, can claim that he is the world leader in golf coaching and education.
What started as a career being an assistant golf professional at the Cherry Hills Country Club in Denver slowly evolved into an entrepreneurial business. Assell shared his startup success story with the CU Denver Business School at the International Executive Roundtable in late January hosted by the Center for International Business Education and Research (CIBER).
Creating the world's first golf instruction company
In 1995, Assell created GolfTec, a golf training company. As groundwork for his business, he tested body sensors for motion measurements on over 200 PGA Tour professionals. This testing helped him build a proven model for a successful golf swing.
Assell said that the startup path to success isn't a straight upward slope, but rather a mountainous and dynamic struggle. Now, he owns over 200 training centers and is expanding into overseas markets with wild success.
The path to success isn't a straight upward slope, but rather a mountainous dynamic struggle.
The Dot-Com Bomb
Consistency was key in the growth of GolfTec. Assell's goal was to be able to walk into any one of his training centers around the world and receive the same service every time. However, he faced many challenges along the way before that could become a reality.
Fundraising was a challenge and something Assell claims is the single hardest thing to do in business. And even once you've secured the capital, you may have to adapt your business plan to appease your investors.
Most companies have these big, elaborate mission statements that you have to think so hard as to what it means. Our mission statement is simple. Help people play better golf. If we do that every day, we will succeed.
That's exactly what happened to GolfTec. Assell was compelled by investors to become a dot-com company teaching golf solely online. Shortly after, investors pushed the idea of bringing in outside management. Cue the dot-com bubble burst in 2000 and the start of massive losses by GolfTec.
As a result, Assell retooled the company by firing outside management and building new partnerships. One partnership of value in particular was the Gart family, which gave him the guidance, strategy, and freedom to run the business as he originally intended. Golfsmith also became a partner, which resulted in GolfTec's services being offered in retail stores. Finally, franchising the company also contributed to significant growth to the business.
The Financial Crisis Bogey
In 2007, GolfTec was rapidly growing, opening up a total of 77 new training centers. The outlook looked promising and competition wasn't a problem. Then the financial crisis hit. Cash flow stopped and their franchisees didn't have access to capital. The reality is golf lessons are considered a luxury and usually one of the first things to be dropped in a recession.
GolfTec adapted as well as it could, but there was little relief from the recession until at least a year later. Assell rode the wave by remaining lean until business picked back up.
Previous partnerships also provided necessary support throughout the recession. They offered capital when banks could not. It was tough times for GolfTec but their partners helped the company keep many franchises afloat.
Staying Par for the Course
Assell, a seasoned navigator, has two mantras: get better and own more GolfTecs. He never waits for another downturn to make changes to the strategy of GolfTec.
A series of changes have propelled GolfTec into an internationally recognized brand. One change Assell touched on was the value of a new logo that maximizes exposure to the company name.
He is always updating his teaching platform, cameras, and training club environments. He also foresees continuing to utilize the data generated by customers as a way of better understanding the journey of improving one's golf game.
GolfTec has significant growth potential internationally. This concept has already been proven with wild success in entering foreign markets where the PGA is not a competitor. He continues to find new markets overseas by connecting to partners that understand the local market, language, and outlook.
Along the way Assell may have had to chip shot out of the rough at times, but has always kept his eye on the green, something he hopes entrepreneurs can learn from.
A Business School connected to business leaders
Many MBA students with a specialization in sports and entertainment and international business along with sports business and entrepreneurship undergraduate students were present at the roundtable to learn from Assell.
The Business School hosts a number of executives, entrepreneurs, and business leaders in the Denver area and around the country. Both students and alumni have the opportunity to learn from leaders like Assell through startup roundtables, classroom guest speakers, speaker panels, and networking events.
The next International Executive Roundtable is on February 8, where Sai Gundavelli, founder and CEO of Solix Technologies, will speak on how big data and technology will transform companies.