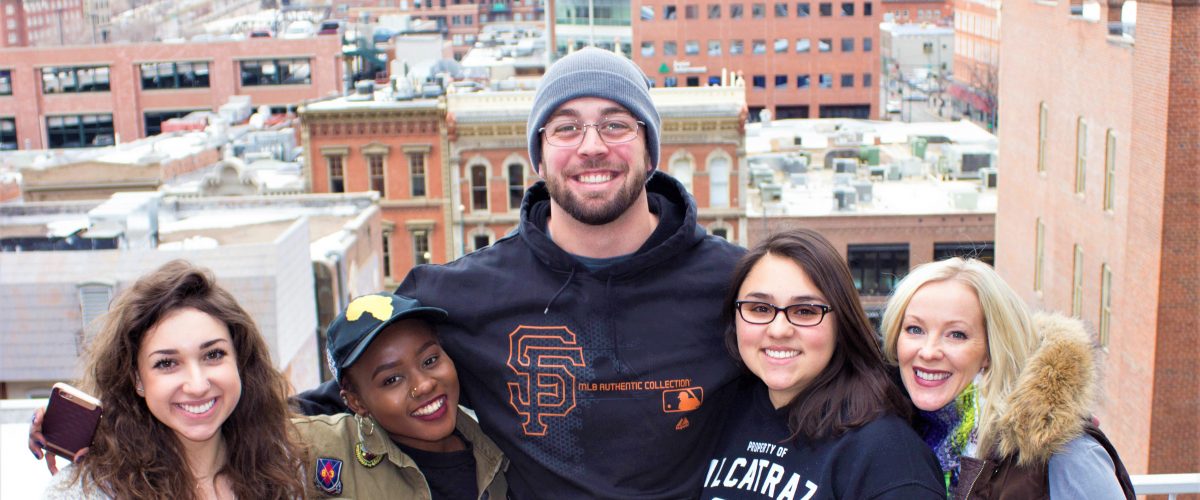 This semester five Business School students will document their experiences on our @CUDenBusiness Instagram. Each week we will have a different topic specific to the Business School, CU Denver, or the Denver area. Each student will post a picture highlighting that topic. They will all have their own hashtag as each one shares what it really looks like to be a #CUDenBusiness School student.
Vanessa Mandonado
#VanessaInTheCity
"I'm a Colorado native here at the Business School studying Accounting. I love to be outdoors but also love everything the city has to offer. That combination is what brought me to study at CU Denver along with the business program having wonderful professors. I transferred to CU Denver from a small private university where the professors typically weren't as experienced in the fields they were teaching in. So far the exact opposite has been true for me at CU Denver and I am loving it!
I also wanted to experience what a larger university has to offer for extracurricular activities. Outside of academics I help my dad manage a construction company as my full-time job. I also love swimming, fishing, camping, cooking, and traveling! I have yet to spend much time abroad but am hoping to change that soon! If you see me around campus feel free to say hey."
Alexis Weldon
#AlexisInTheCity
"I'm currently a junior in pursuit of my BSBA in Marketing and Information Systems here at the Business School. I knew from the beginning of my college journey that CU Denver was right for me. I've always had a passion for business and wanted to get an education that would prepare me to succeed in the business world. There's nothing better than learning in the heart of the city and being surrounded by the world of business.
I currently work for a small business here in Denver, and when I'm not in school, you can find me behind the espresso machine at Fluid Coffee Bar- always with a cup of coffee in hand.
In my free time, I love hiking, being outdoors, and traveling to the mountains to take a break from the hustle and bustle of the city. As a Colorado native, I love exploring the beautiful state of Colorado and all that it has to offer! Come say hello if you see me at school or around the city!"
Aimerance (Aimee) Kwihangana
#AimeeInTheCity
"I was born in Rwanda, but raised in Tanzania. I am a transfer student from the Community College of Denver. Spring 2018 marks my second semester at CU Denver and I am pursuing my BSBA in International Business and Finance.
I enjoy being part of CU Denver's diverse culture, and I am still discovering all the opportunities that are available to students. From student clubs, internships, study abroad and the list is endless. I feel as if I am running out of time before taking advantage of all CU Denver has to offer.
This semester, I will be joining the International Business Student Network because as an International Business major, I love interacting with people from all diverse backgrounds. I chose CU Denver for those reasons and because the Business School also provides amazing opportunities to network. I am also hoping to engage with the Jake Jabs Center for Entrepreneurship for both networking and learning the foundation of businesses.
I recently started volunteering for a new non-profit that's called Village Exchange located in Aurora and spend time working on projects for personal development and how I can contribute to the community."
Kelly Czerpak
#KellyInTheCity
"I am a first-year student at CU Denver studying Sports Business and Marketing. I made the move from Chicago to Denver this past August after deciding to attend CU Denver. I am drawn to exploring, and the beautiful state of Colorado was an open door to endless opportunities with the fast-paced, growing city of Denver combined with the diversity of students on this campus.
I work best when I have a full schedule, so I keep myself busy between being a full-time student, social chair of the Business Student Ambassador Committee, a member of the Auraria Ski and Ride club, and going up to the mountains to snowboard a couple times a week. In order to make the most out of every day and my time as a whole in Colorado, I set a goal for myself to try at least two new things a week, whether it was a new restaurant, new running path, new club, or something as simple as a new study spot. I am looking forward to even more new experiences this semester!"
Hannah Wilmot-Collins
#HannahInTheCity
"Hannah is pronounced like the road in Maui! I'm a senior here at CU Denver, graduating this summer with a BSBA with a focus in Marketing. It has been a long journey getting here, and I am so proud to be a part of what CU Denver represents. I was raised in Indianapolis, Indiana with my five sisters. After high school, I got my audio engineering certificate from Vincennes University and headed to Austin, TX. I spent six years in Austin.
I studied acting, martial arts and trained as a stunt person. I wrote a short web series and one of my scripts won an award. I moved around for a few years. I was in L.A for a short time and then Seattle before I came to Denver. I switched career paths somewhere along the way. Ultimately, I want to leverage my creative background with my experience at a business school to work within the integrated marketing channels. I chose CU Denver because of its impeccable reputation for producing leaders in business."
To follow our brand advocates' journeys, follow us on Instagram here.