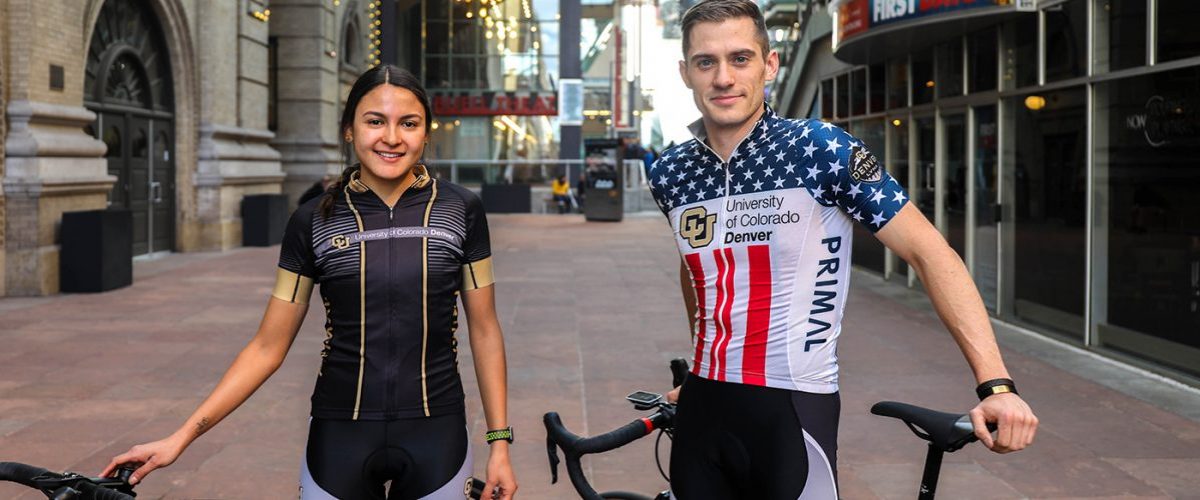 On May 5, 2017, the CU Denver's Cycling Team burst into an elite field: Cyrus Pearo, the lone male rider on a tiny Lynx team (just two cyclists) sprinted to the finish in Grand Junction to win the USA Cycling Collegiate Road National Championships.
Almost a year later – on St. Patrick's Day – the Lynx squad blazed into even greener pastures: Manuela Escobar, a new team member, joined Pearo among the top finishers at a collegiate race in Fort Collins. After the 44-mile circuit, Escobar, who hails from Colombia, tweeted a selfie: "I just got second at my first collegiate road race!"
So this spring, with the team up to eight members, the still-small-but-mightier Lynx are turning heads at competitions around the state. With Pearo and Escobar at the fore in the men's and women's divisions, cyclists in CU Denverblack-and-gold are legitimate contenders for top medals at the season-ending nationals in May.
'They know we're good'
"It's a small team, but we have a national champion and he gets to wear that jersey," Escobar said of Pearo, who played a key role in recruiting her. "His championship gives CU Denver's cycling team that importance, and people are afraid of us because they know we're good. It's really fun."
Pearo expects to finish his master's in finance in the Business School in May, so his collegiate cycling career is winding down. But he sees a bright future for the young Lynx team. "It's awesome. Having more of a team, even if it is still small, is great," he said. "Having Manuela come out and knock out a second-place is great. That's top-tier already. Manuela has a long time frame in front of her; I'm near the end of mine."
Escobar is a freshman majoring in international studies. She and her mother toured several universities in fall 2016, and they were impressed by everything offered by CU Denver. Escobar found Pearo's email address online – he was listed as Lynx team captain – and arranged a meeting during her first-ever trip to Colorado.