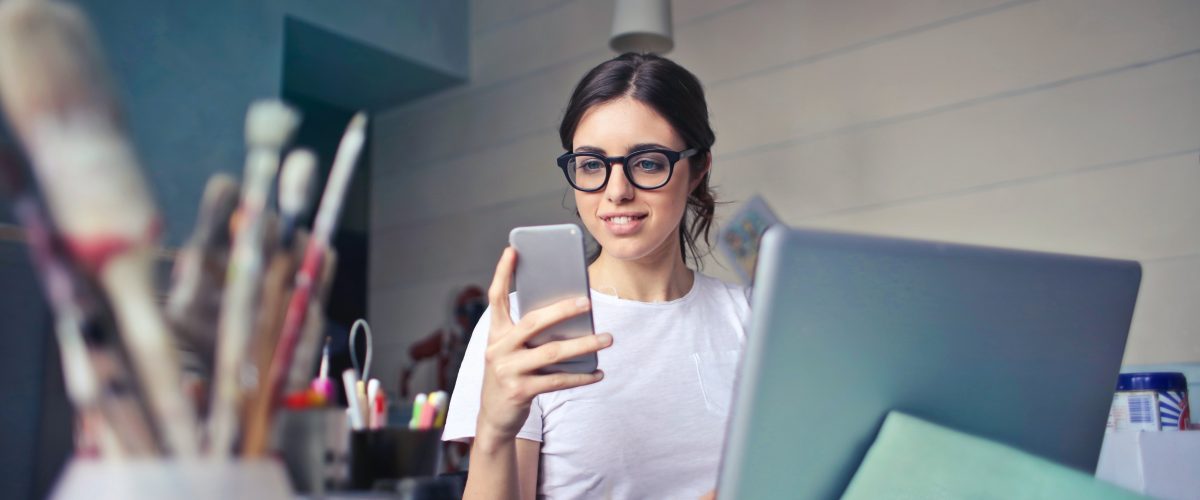 When it comes to standing out in today's job market, students can complement any major with a business minor. In many industries and professions, having a fundamental understanding of business can be that thing that sets you apart. The CU Denver Business School's undergraduate business minors are designed for non-business and business undergraduate students alike to expand their knowledge and skills. The minors offered are Business Fundamentals, Entrepreneurship, Risk Management, and Finance. Pair your degree with a business minor today to open doors to endless possibilities.
Daniel Raffield is Applying Business to Psychology Degree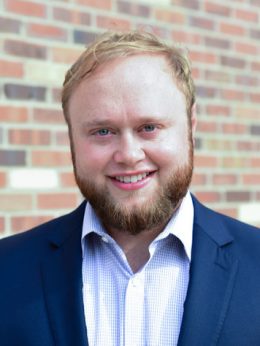 Daniel Raffield graduated from CU Denver in 2019 with a Psychology Major and a Business Fundamentals minor. He's been surprised to find his business minor has had a larger impact on his career than he expected.
Why Minor in Business?
Daniel's main passion is for psychology. However, he always knew he wanted to work in business or communications psychology. He knew his main background should be understanding human behavior, but he wanted to be tactical about it. When he discovered the CU Denver Business School, he looked into minors. Marrying the two was the perfect approach. After researching the programs, he realized that not only would it give him a leg up, but would help him get into graduate school in the future, and give him the business understanding he needed to excel in psychology. Getting his minor in Business Fundamentals was a stepping point that brought him closer to his dreams.
Finding Success in Business and Psychology
"I've ended up exactly where I wanted to be. I work for a small consulting firm with big impacts, and I got here because of my business minor." Through connections with his professors and our Business Career Connections (BCC), he was able to find this position and an internship during his time in school. In his current job, he works at the intersection between business and psychology, which is perfect for him.
Getting his business minor helped him in more subtle ways as well. "Most education teaches you how to learn. But, the whole other side of business teaches how to build connections, form meaningful relationships, and show up to work in a professional sense." It helped Daniel move towards something more concrete with what he wanted to do and helped him to understand his job better. Learning more about business gave him more choice in what to do with his future, and it has been one of the most influential decisions he has made.
Advice for Students Considering a Business Minor
"Do it," said Daniel about getting a business minor. "There are so many minors to choose from these days. A lot of them are pretty surface-level and don't offer a lot of growth opportunities. A business minor is a choice that can really propel your degree or career. It's the way to go!"
Stacy Carson Applied her Business Minor to the Public Sector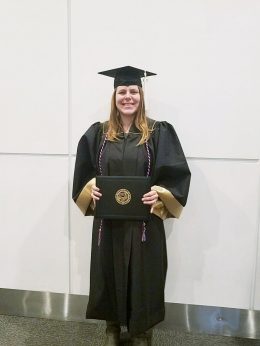 After studying for her BA in Sociology, Marine Corps veteran Stacy Carson still had time left on her GI Bill grant for schooling. She decided the best place to apply it would be getting her minor in business. She graduated in 2018 and found getting her minor in business would impact her career significantly.
Why Minor in Business?
A business minor can add an element to any resume that makes job candidates look extra impressive. "I specifically chose to minor in business because it is an element I see in nearly every industry of employment," Stacy said. She felt that having the courses offered in the Business Fundamentals minor would help her gain a competitive advantage and help her grow as a working professional. When she was applying for her current role with the Department of the Interior, having a business minor put her a step above some of the other applicants, of which there were 32. "The employment field, especially in Colorado, is very competitive. Any additional skills you can add to your resume help."
Applying her Minor to Governmental Work
Stacy works for the Federal Government in the Department of the Interior. Her specific role is in the Bureau of Reclamation, where she is an administrator who supports 30 engineers who inspect and manage waterways and concrete dams located in the western United States. Her responsibilities include record keeping, purchasing, payroll, coordination, and more. "The things I learned from the business minor courses help me succeed in my job." She has been able to utilize that knowledge for marketing, effective business communication, time management, computer skills, and presenting herself as a quality employee. "These abilities will help me advance higher up in my organization."
Advice for Students Considering a Business Minor
"My advice is to go for it. The courses were not difficult to manage, and the professors were super helpful and knowledgeable." The classes offered in the Business minor are packed with useful information that is beneficial to nearly any career you may choose to follow. "I would even say that certain subjects help you become more successful in your personal life just as much as your professional one, such as putting your best self forward, learning to manage and prioritize your time and goals, and planning for your long-term future such as investing or retirement. I would highly recommend earning a business minor."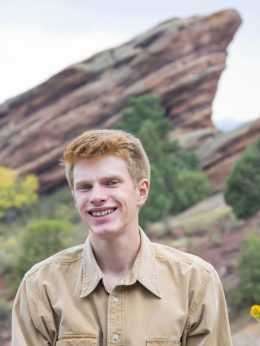 Eric Deakin Hopes to Use Business Minor to Help the Planet
Eric Deakin is a junior in the BA of Geography: Environment, Society, and Sustainability program. As a Colorado native and lover of the outdoors, he always knew he wanted to do something that would aid in protecting the planet and nature.
Why Minor in Business?
During his freshman year, Eric talked with his friends who were studying business and realized he was interested in learning more. He decided to talk to an advisor, who told him about the Business Fundamentals minor, an introduction to the critical components of business that's built to help non-business majors further their degrees. Eric knew that this would help him in his career and he decided to pursue it.
Eric is about halfway through the minor, and he has found that taking the classes has given him knowledge of key components of business, which he believes can be applied to all facets of life and career. "Aspects of business can be found in most parts of everyday life. It's fascinating to apply what I've learned so far."
Advice for Interested Students
While Eric doesn't know exactly what his career path will look like after he graduates, he believes getting his minor in business will help him be more marketable in his field and give him that extra edge above his peers. "If you're interested in doing what I'm doing, I'd say do it! I'm only two classes in at this point, but I've already learned so much. Not only that, but the Business Fundamentals minor is open to anyone at CU Denver and it's easy to obtain. Why not make a little effort to get something that will help you in the long run?"
Shane Stillmunkes is Combining Business with his Passion for Photography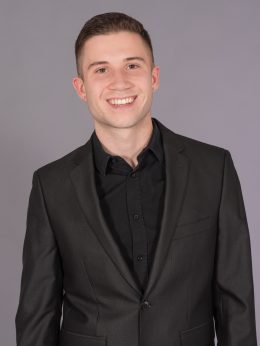 Shane is a senior currently a double major in Communication and Fine Arts with an emphasis in Photography. He decided adding on a Business minor would give him an extra edge to his double degree.
Why Minor in Business?
Photography has always been Shane's number one passion in life. He found his love for it when he was in high school and decided to pursue it professionally. However, he has also experienced the job market for photography, which can be hard to break into. Discouraged, he considered ways to solve this problem, which led him to decide to double major in photography and communications, which would give him an additional background in all forms of communication, whether it be public relations, marketing, or advertising. "Photography and communications went hand in hand. It just made sense to do both."
Shane did not stop there when it comes to giving himself an advantage. "I decided to add a business minor because I wanted more of a business background for my future photography and marketing career." Shane currently owns his own photography business called Shane's Photographs, and he feels that having more business knowledge will help him with his business.
"I strive to have a lucrative photography business. I want to do that full time, but that will take time. So, I also want to get into the marketing industry. My main interests there are website design, writing, and of course, photography. I have found a passion for all aspects of marketing, so it would be awesome if I could find a way to blend my marketing and photography skills into one career. I definitely think getting my business minor will help me stand out in the industry."
Advice for Interested Students
"Do it!" said Shane. "It can be somewhat difficult if you aren't familiar with business, but I truly believe having business skills in today's job market is critical." Having a broad idea of how businesses operate is important in any career. All organizations revolve around business or financial operations in some aspect. Having that background will give you the upper hand. "I am taking a marketing course for my business minor, and I believe having that background will be invaluable when I start applying for jobs."
Ha Tieu Applies Her Business Minor to Technology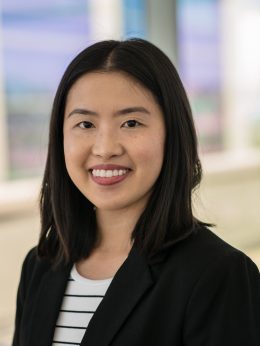 Public Health alum Ha Tieu found herself in an unexpected job after her graduation. She credits finding this position to her business minor.
Why Minor in Business?
"I thought a business minor would expand my opportunities in all fields," Ha says. "I wasn't sure what field I might work in after graduation, and I wanted to be prepared for anything." Most companies involve some type of business in their day-to-day operations and beyond. This is why Ha decided it would be a good idea to pursue her minor in business. She also was a member of the Women in Business Club which provided her with a network and another space to learn more.
Utilizing Business in Information Technology
As a public health major, Ha didn't anticipate her path would lead her to working in IT. "I think getting my business minor really did help me land my first job out of college, which was with Charles Schwab." She currently is an IT Support Specialist at a business communications company. "I help diagnose and troubleshoot technical issues that my company's customers face. I also try to keep current on software defects and upgrades." Ha's business knowledge has been helpful for her role today.
"I feel like the business minor allows you to take business electives that interest you and gives you a feel for other fields in the business world. For example, I took Technology in Business, which is a class that discusses the basics of Information Technology in business. Looking back, I think this class is relevant to what I'm doing now. I feel like without the general accounting and finance knowledge from the minor classes, it would have been more difficult for me to land a financial role. The business minor really gave me a step into the door to my career." The business minor also helped shape Ha's career interests, and she wants to continue to stay in the business field.
Advice for Students Considering a Business Minor
"Definitely consider a business minor, especially if you're from a completely different major or field. It will boost your job opportunities, since most of the companies you will work for are businesses."
Intrigued?
Learn more about our minors today! They can help almost any career get a boost and set you up for success.