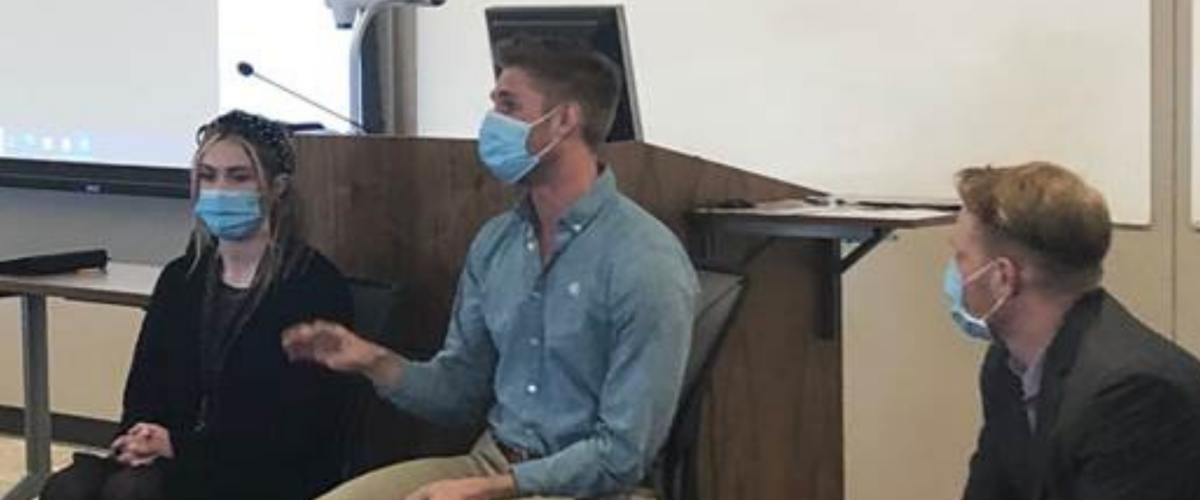 The Business School Alumni Network (BSAN) is fully engaged and contributing to student success. CU Denver Business School alumni recently shared their insights with students in the classroom. Mason Kolbe (MBA '18), Annie Rose Hill (BSBA '19) and Tyghe Boone-Worthman (MS/MBA '15) spoke candidly with students about their own challenges when in college and answered student questions regarding best practices for success.
"Plug into the resources available to you today," said Annie Rose Hill. "As an undergrad student, I wish I had taken advantage of our Business Career Connections (BCC) office to help me explore career options. The BCC team works tirelessly to connect industry partners to students who seek internships and careers," says Hill.
Hiba Hussain (BSBA Candidate '24) spoke to the students as an ambassador of the Alumni Network and Students Today-Alumni Tomorrow. "You are a student today, but soon you will be alumni and a part of the CU Denver Business School community. Your connection with the school and campus will continue even after you graduate," stated Hussain.
The alumni panelists spoke with over 150 students in 5 classes to include a recorded panel for our online students. A special thanks to all who contributed their time, experience and wise counsel. To get involved, please email us at BSAN@ucdenver.edu.