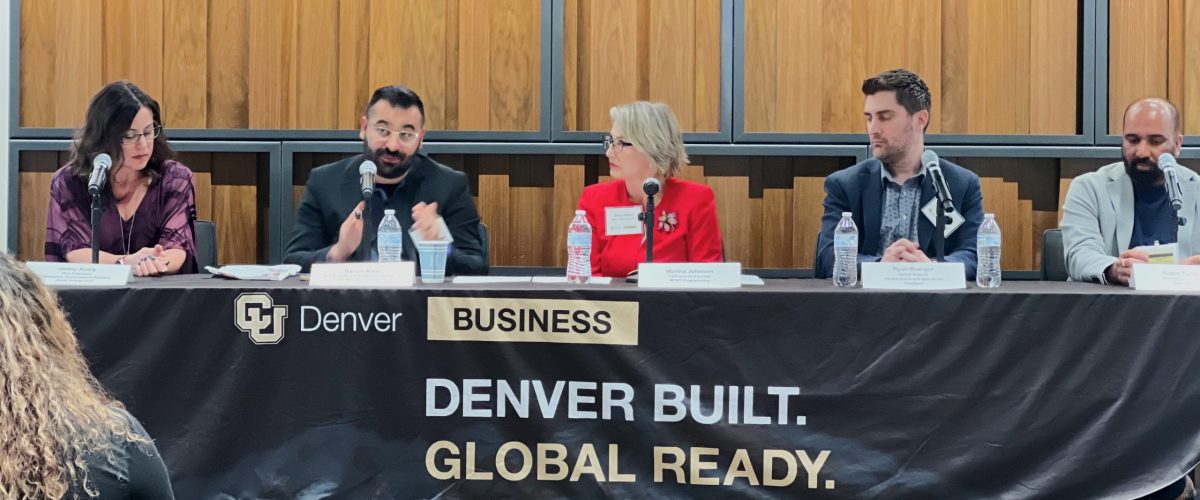 What are two of the most crucial factors of college success and effective transition into a career? Career exploration and professional development opportunities. CU Denver Business School's Information Systems Association (ISA) instituted "Business Leaders with an Edge," an annual networking event bringing together a panel of C-level information systems/technology executives from the Denver metro area, to further imbue students' educational journeys.
The Business School welcomed Darius Alavi (VP of Software Development at Spectrum), Jenny Avery (VP of IT & Systems at Jonah Energy), Marina Johnson (CEO of MOST Programming), Ryan Buerger (Senior Director of Infrastructure & Operations at FirstBank), and Sujan Turlapaty (CIO at Optiv) to participate in the 16th annual Edge event. The five executives discussed the future of the tech world, clarified employers' hiring expectations, and advised students on the best ways to sharpen and apply their skills in any facet of modern technology.
Opportunities at the IT entry-level
New and soon-to-be graduates want to know what exciting job opportunities await them. Jenny Avery, VP of IT & Systems at Jonah Energy, invited students to take advantage of Handshake, the renowned job search platform for students and recent grads. There, she said, students can keep an eye on consulting companies, a type of organization offering ample growth options
"With a college degree, you're starting as an associate analyst," said Ryan Buerger, Senior Director of Infrastructure & Operations at FirstBank. He encouraged students to start building their experience in college so that they may position themselves as stronger applicants after graduation.
Optiv CIO Sujan Turlapaty noted that the key elements he seeks in his team are employer experience and user/customer experience.
For Marina Johnson, CEO of MOST Programming, the most problematic thing a student can do is restrict themselves with limited knowledge. She encouraged participants to stay curious and take on new challenges. "Your current knowledge doesn't matter; what's more important is what you're willing to learn," Johnson asserted.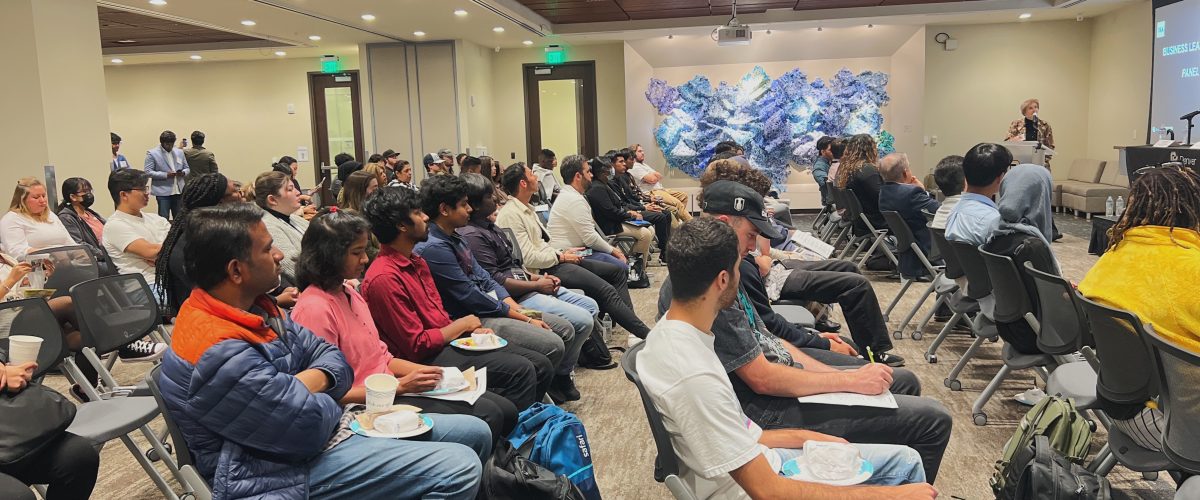 Constant curiosity: a growth mindset
Technology is an ever-evolving field, and curiosity is one of the key factors of professional growth. Turlapaty prescribed that students should have a clear vision and go after it steadily. "Think big, start small, move fast," he emphasized.
Since globalization made it possible to learn from anywhere in the world, students can now attend remote conferences at low or zero cost. According to Turlapaty, this is one of the easiest ways to get a good overview of the trends and learn about the industry. Likewise, Johnson advised students to join professional organizations to gain real-world experience.
Avery testified that constant curiosity helped her grow into a knowledgeable and globally conscious leader in tech. LinkedIn Learning is her go-to platform when she wants to learn soft skills, and she encouraged those interested in leadership positions to take advantage of such resources.
For active professionals and leaders in the tech field, listening to others is an excellent way to apply the growth mindset. As a CEO, Johnson firmly believes that listening to employees and customers is the best way to make observations and draw conclusions rather than becoming overbearing or making assumptions.
Leaning into difference, a powerful force for change
The technology industry continuously advances thanks to diversity. Embracing differences ultimately brings people together and is a driving force of organizational success.
Buerger noted that a company cannot deliver what its customers want if it doesn't know what they need. That's why an organization must represent its customers with individuals who share the same experience as the audience. Buerger acknowledged that he cannot achieve his mission without reflecting the values that FirstBank advocates. Having people who understand the diverse customer base needs allows the company he works at to thrive. Similarly, Avery reflected on the improvement of Jonah Energy and revealed that the firm significantly improved thanks to the diversity of thought and experience.
"We need more diverse candidates because the industry is nowhere near where it needs to be," Alavi said. Avery motivated participants to harness differences and use them to uniquely position themselves. "If you see something that can be done better, speak up. If you have a background that gives you valuable experience, apply," she recommended.
A mutual fit
Diversity is a key determinant of success for any organization, and culture also has a huge impact. Burger stressed that cultural fit is a static set of values, therefore, job candidates must ensure they are getting what they want.
How does a candidate identify if a company shares its beliefs and values of mutual responsibility and respect? According to Avery, extensively researching firms by reading reviews and investigating the financial stability culture can help candidates gain a deeper insight into the company.
Students have to value themselves and seek a win-win outcome in their job searches and bring as many questions as possible to interviews. Avery highlighted how employers want to hire invested and values-oriented employees with a strong desire for self-improvement and growth within a company. As Johnson asserted, employers want people who show initiative and interest.
The panelists strongly charged the audience to apply the learnings of the event and relished the students' enthusiasm. Students, in kind, felt grateful for the opportunity. Sai Nandan, a graduate student and ISA member, shared that "organizing the event meant creating professional development opportunities and giving Information Systems students what they need."
Buerger resolved with one last takeaway, "everyone has the ability to take risks, and this ability dwindles with time, so if you want to do something, do it now."