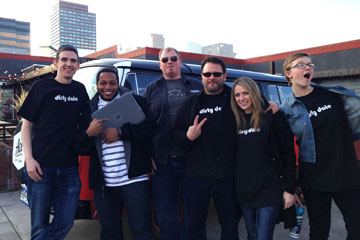 AppIt Ventures, a software startup that got rolling after winning the 2012 Bard Center for Entrepreneurship Business Plan competition (now the Jake Jabs Center for Entrepreneurship Business Plan Competition) at the CU Denver Business School, is going strong and just reached another milestone.
Still at the helm of AppIt is company founder Rob Carpenter, who recently represented CU Denver in another prestigious competition—the University Startup Challenge at the University of Denver. Five student-owned companies were finalists in the first-ever competition, which included top-rated businesses launched by students representing the University of Colorado-Boulder, University of Northern Colorado, Colorado State University and DU.
AppIt Ventures posts strong growth
Carpenter, who co-founded AppIt Ventures in late 2011 with fellow CU Denver student Jeff Macco, is about a third of the way through the Business School's MBA program. He'd be farther by now, but business is so brisk that he's had little time for studies.
"We're up to six full-time employees and we're doing really good revenue numbers," Carpenter said. "We're on track to double or triple last year's numbers."
AppIt Ventures specializes in developing mobile custom applications that generate brand engagement, drive productivity and increase revenues. The company got its start with consumer-oriented apps for clients on a variety of topics, such as guitar playing and writing a business plan. By early 2012, it was already profitable and on its way to developing 25 apps.
But Carpenter and Macco, who has since left the company, discovered that the well for consumer-space apps ran only so deep. "Conventional wisdom says 60 percent of apps are not financially successful and 80 percent do not generate enough revenue to start a company," Carpenter said. "We found that 95 percent of consumer apps don't generate enough money to sustain a company."
Changing focus to custom-enterprise clients
So, after some growing pains in early 2013, which saw the amicable-terms departure of Macco and the need to shrink the company to two full-timers, AppIt Ventures made a strategic pivot: the company began developing apps for custom-enterprise clients. This opened the market to any company looking for a software app that could streamline an operation and create efficiencies. "At the end of the day, an app is a small-niche software product that does something for a company—it creates some kind of efficiency," Carpenter said.
For example, AppIt is developing an app for the nation's largest cattle-auction company. The firm had previously relied on a print catalogue to show all the cattle that were up for auction. "They wanted a digital catalogue that they could update on the fly and would include a full database of auction items," Carpenter said. The app created by AppIt Ventures will end up saving the company "a lot of money."
With success comes notice. Sarah Engel, program manager of the Jake Jabs Center for Entrepreneurship, saw AppIt's steady rise and told Carpenter about the University Startup Challenge. Carpenter is looking to build out his firm's network of investors, and the five student startups will be among two dozen companies making pitches to raise capital at the 7th Annual Angel Capital Summit.
'Competitions got us rolling'
Carpenter recalls that after winning the Bard Center for Entrepreneurship competition AppIt was featured in numerous media reports, which helped generate more clients. Also in 2012, AppIt Ventures won the Colorado Office of Economic Development business plan competition. "Those (competitions) really got us rolling and on a fast track for growth."
Many exciting chapters are yet to be written in the company's story. Given his tenacity, Carpenter will surely one day have three letters—MBA—after his name.
The CU Denver Business School, the Jake Jabs Center for Entrepreneurship, and the Rutt Bridges VC Fund, all provided the education and motivation that still plays a significant role in his life.
"Now that everything is structured (at AppIt) and I can delegate a tremendous amount of work, it gives me a tiny bit more flexibility in my schedule to get back to school and get that degree finished," he said.