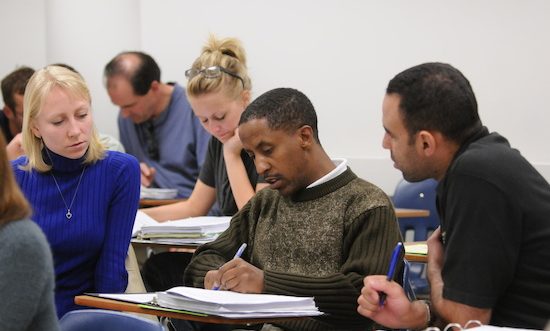 In a world driven by business, college graduates with a solid base of business knowledge have a distinct edge in the job market.
This "difference-maker" objective is driving the new Business Fundamentals minor for non-business majors. The innovative program, offered by the CU Denver Business School, begins this fall and consists of five, one-semester courses that are specially designed for students who are outside of the Business School.
Barry McConnell, a Business School instructor with more than 30 years of information technology and consumer product marketing experience, teaches two of the classes: Introduction to Business and Fundamentals of Management, Marketing and Operations.
"It's a nice, compact five-course sequence that can be taken concurrently, except the capstone course," McConnell said. "The business minor gives the non-business major the tools to understand what's going on in the global economy around them. That's really the intent. And, as a result, they become more marketable in their careers."
McConnell said the program is essentially like a mini-MBA for non-business majors — whether they're studying biology, architecture, music, economics, engineering or any other discipline. "It helps students develop their brand," he said. "At some point in time, no matter your profession, you're going to be confronted with having to develop a strategy to advance an idea, at some point you'll be on a team, face a budget, do analytics." And in today's competitive job market, employers seek professionals who possess real-world business fundamentals. "If two candidates are neck and neck applying for a job," McConnell said, "the hiring manager might look at that business minor on an applicant's transcript and say, 'Hey, this person has a little more business background.'"
The minor will also give students access to Business School-specific resources, including career coaching, job opportunities, networking, internships, job search boot camps and career fairs. The other courses in the sequence are Fundamentals of Financial Accounting, Finance and Data-Driven Analysis; Essential Skills for Today's Workplace; and Capstone: Innovation, Strategy and Business Planning.
Sue Wyman, director of the school's Business Career Connections and community outreach, will teach in the Essential Skills for Today's Workplace course. The class will have two main components — one for business communications and behaviors, and one for career skills. "We intend to simulate a business environment where students will learn how to attend meetings, write meeting notes, emails, reports and presentations," Wyman said. "We will then focus on all the skills needed to identify and land a job. Business Career Connections will provide support to these students both during and after completion of their business minor."
There is a minimum 2.0 GPA required to be eligible for this AACSB-accredited (Association to Advance Collegiate Schools of Business) program. No prerequisites are required, including no prerequired math.
"This is a difference-maker," McConnell said of the program. "Not everyone is ready to go on to graduate school. Some people are ready to go out and get to work. The business minor is a tool that helps them do that."
For more information contact Courtney Burkett at Courtney.Burkett@ucdenver.edu or 303-315-8210.