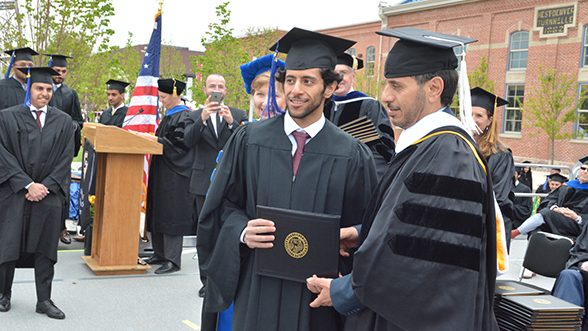 An already strong relationship between the University of Colorado Denver and the nation of Qatar took a significant step forward last week with the visit of Prime Minister Abdulla Bin Nasser Bin Khalifa Al Thani.
The main reason for his visit was to celebrate the graduation of his son, Nasser Al Thani, who received his B.S. degree in Management and Human Resource Management from the CU Denver Business School. In addition, the Prime Minister spent considerable time learning more about CU Denver's academic programs and discussing possible partnerships between his nation and the university.
Prime Minister Al Thani spent Friday chatting with CU Denver College of Engineering and Applied Science students at the spring Engineering Senior Design Competition as well as learning about the National Center for Media Forensics (NCMF) in the College of Arts & Media and other academic programs at a luncheon with members of CU Denver's leadership team. Hosting the luncheon in Larimer Square were CU Denver Chancellor Dorothy Horrell, Provost Roderick Nairn, Vice Chancellor of Advancement Andrea Wagner, and Executive Director of the Office of International Affairs John Sunnygard.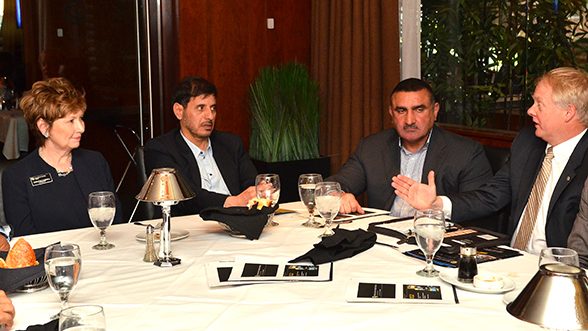 The Qatari delegation's visit followed a recent trip by Wagner, Sunnygard and Noelle DeLage, assistant vice chancellor of Advancement, to Qatar to visit CU Denver alumni in the Middle East.
The friendly rapport between Prime Minister Al Thani, his team and the CU Denver leaders was clearly evident, as they chatted about everything from academics to partnerships to public infrastructure projects.
At the luncheon, the Prime Minister emphasized his desire to forge even stronger relations with CU Denver, which continues its service-oriented tradition of global impact through research as well as fostering bridges between cultures. "We want to continue our relationship with this university and look at how to enhance and strengthen that relationship," he said.
'CU Denver as family'
Horrell said the connection between Qatar and CU Denver is strong – as evidenced by 54 current Qatari students here and more than 300 Qatari alumni from our university – and promises to flourish under the Prime Minister's ambitious vision for his nation.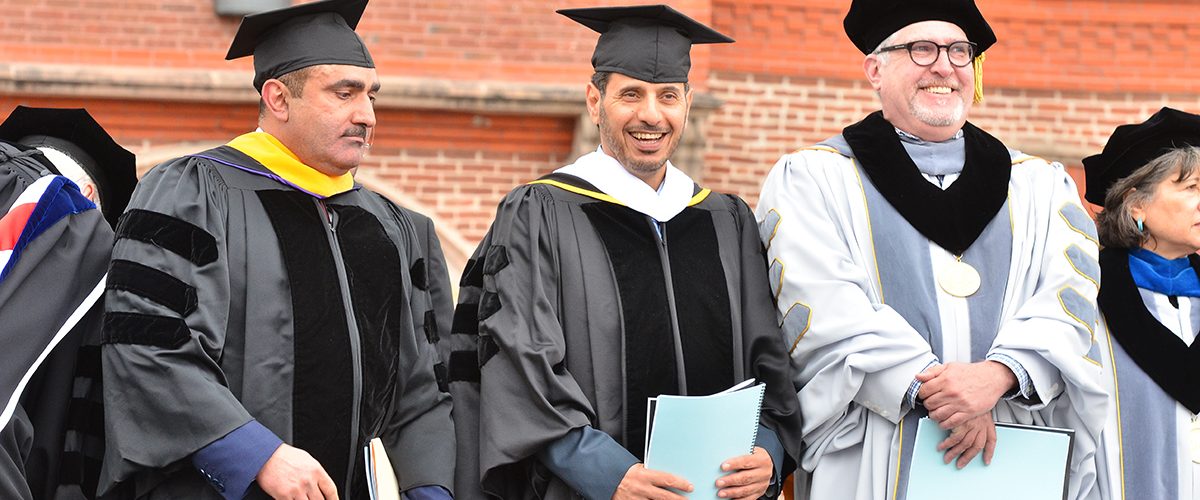 "The Qataris clearly look at this institution as family," the Chancellor said, noting that Prime Minister Al Thani has other family members who are likewise considering attending CU Denver. "He has such focus and vision for his country. And part of that is going to be made possible because of partnerships they have with CU Denver, and looking at our specific program areas that are aligned with their needs."
Prime Minister Al Thani earned his bachelor's degree in police sciences, and went on to become Qatar's commander for special operations brigade in special security forces as well as brigadier general and Minister of State for Interior Affairs before becoming Prime Minister in 2013. He was very interested in the presentation by NCMF Director Catalin Grigoras, PhD, and Associate Director Jeff Smith, MS, particularly in how the center provides training opportunities for law enforcement through cutting-edge forensic media analysis.
Smith said the presentation, which focused on how the NCMF assists the U.S. government and international agencies with security matters, sparked interest. "The Qatari delegation remained very engaged, writing everything down and asking a lot of questions," he said. "We just wanted to let them know that we're here and that our programs actively serve the international community."
The delegation posited the possibility of forming a partnership where Qatari students would come to CU Denver to learn from NCMF, get experience working with U.S. law enforcement and then share that knowledge back home in Qatar. Similar potential partnerships in other CU Denver academic programs were also discussed.
'Increase partnerships'
"I heard them repeatedly say, 'enhance, deepen and strengthen,' in regard to their relationship with us," Wagner said. "I think we're in a great position to increase partnerships to the benefit of their students and ours."
The Prime Minister talked about the major infrastructure efforts underway in Qatar – among them a public transit train project and new stadiums for the 2022 World Cup – and how his nation would be interested in innovations being developed by CU Denver researchers in engineering and architecture.
After Prime Minister Al Thani talked about a particular stadium project and the facility's potential uses for future generations after the global soccer tournament, Sunnygard told the Prime Minister he would send him details about our Construction Engineering and Management program, along with information about many other CU Denver programs. "It's a joint program between the College of Engineering and Applied Science and our College of Architecture and Planning, and (handling management and design aspects of major infrastructure projects) is exactly what they do," Sunnygard said.
At the Engineering Senior Design Competition in North Classroom, the Prime Minister spoke with engineering students whose projects ranged from technology that measures the wear of power cables on a lightrail train system to the design of a new police museum to a current-equalizer device that saves energy and prevents corrosion.
The latter group, in the Department of Electrical Engineering, included a Qatari student who also graduated on Saturday. Mohammed Al-Kuwari said he was honored to chat with the Prime Minister about his project. "When I heard he was coming here I was really thrilled," Al-Kuwari said. "I never would have expected that."
Leaders to CU Denver students: Come to Qatar
On Friday evening, the Qatari delegation hosted CU Denver leaders, as well as CU President Bruce Bensonand members of the CU Board of Regents, at a dinner in a downtown Denver hotel. From the podium at Saturday's spring commencement, Qatar Brigadier General Mohamed A. AL Nassr spoke briefly about the burgeoning relationship between Qatar and CU Denver, and the Prime Minister enjoyed a post-graduation reception with his son at the Business School.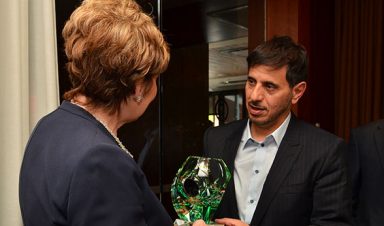 The Prime Minister and General Nassr – during his commencement speech – both invited CU Denver students to travel to Qatar to learn more about the country and region. "The Gulf Region is immensely important to the U.S. on many levels, but unfortunately, very few American students have had the opportunity to experience the region," General Nassr said. "Qatar's capital, Doha, is a dynamic, beautiful, welcoming city. We will be pursuing a range of affordable study abroad options for CU Denver students in Qatar."
After Friday's luncheon, Chancellor Horrell presented a special glass sculpture, crafted by a Denver artist, as a gift of friendship and gratitude to Prime Minister Al Thani. "We think it's as bright and beautiful as our future together," she said.