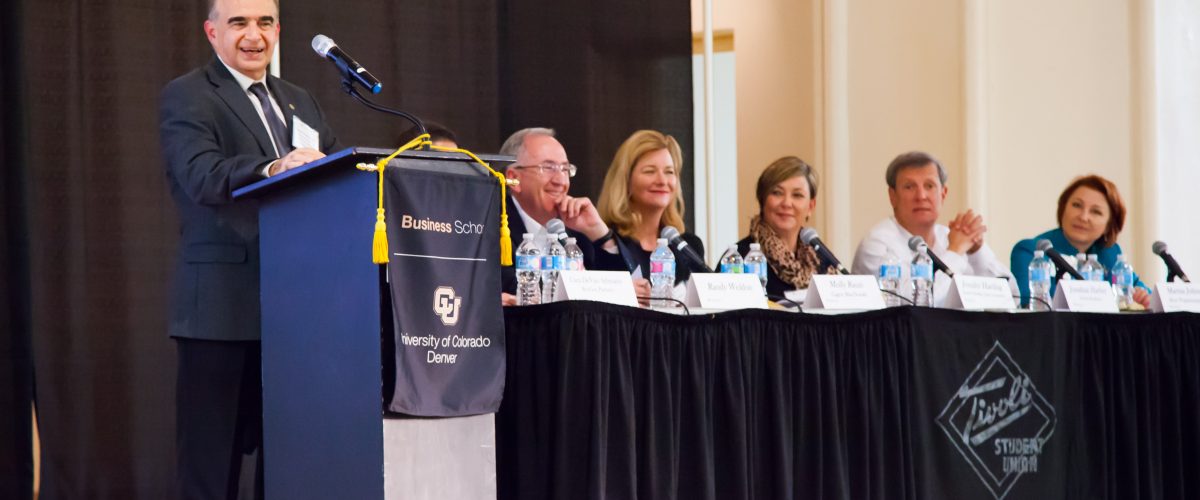 The Center for Information Technology Innovation (CITI) in Collaboration with the Information Systems Association (ISA) student club hosted its 11th annual Become a Business Leader with an Edge executive panel event on October 18, 2016. The business leaders from the community gathered for a panel discussion on the importance of acquiring information technology (IT) skills in order to be competitive in today's business world. This year's panelists included:
Cara Athmann, Director of Digital Innovation at RevGen
Jonathan Harber, Senior Director, Devita Healthcare
Jennifer Harding, Boss Talen Acquisition
Marina Johnson, CEO, Most Programming, Inc.
Molly Rauzi, CIO, Gagen MacDonald
Randy Weldon, IT Executive
The panel was moderated by Ted Hellmuth, founder and general manager of IQ Clarity.
Ted Hellmuth started the discussion by giving an overview of Colorado Technology hiring market. He stated that
"Denver ranks number #12 City in Nation in employment opportunities," Denver Business Journal
"3rd Best State Economy" – Business Insider
8th Best State to Make a Living, money-rates.com
9th Highest Ranking State for Startup Activity, Kauffman.org
2015: $683M in VC funding and $2.7B in Venture-backed exits
According to Bureau of Labor Statistics, Snapshot of technology Industry in Colorado:
Number of Technology industry jobs, 186,149
Number of technology companies, 14,425
Technology company payroll, $19B
Average Technology wage, $101,842
State rank: Technology employment, 13
State rank: Average tech wage, 9
Tech industry national unemployment rate for Q4 2015, 2.9%
(Colorado unemployment rate, 3.8%)
Through the course of the night, the panelists noted that most companies are expanding globally and are therefore seeking applicants with multi-language knowledge, particularly in areas relating to Infrastructure, System administration, Business Intelligence, Cyber Security, and Project Management. As IT becomes an increasingly integral part of business, panelists also stressed the need for technology specific skills and urged attendees to pursue specialized certifications as a way to demonstrate digital literacy to potential employers. Despite the panel's emphasis on quantitative and technology based skills, they also reminded listeners about the importance of being a well-rounded applicant, that is, being able to present an IT skill set alongside strong writing, soft skills, and the need to be analytically sound.
The 11th annual Executive Panel attracted over 300 students and community members to Auraria's St. Cajetan's, putting it on par with last year's record attendance. The CU Denver Business School community congratulates the CITI on another successful Executive Panel, and looks forward to next year's event!
For more information about the Information Systems program, please visit their homepage.
For information on how to get involved with the ISA, please visit the student organization's website.