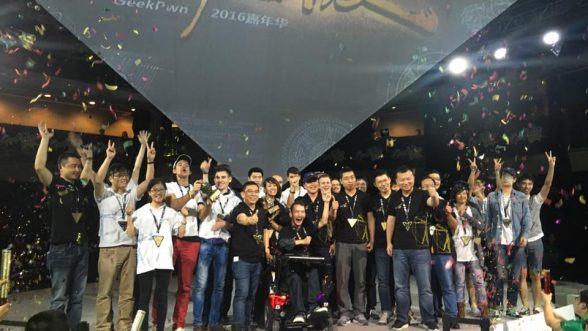 CU Denver Business School Information Systems graduate student, Lani Rupp, and her research partner Steven Chavez, recently returned from a cybersecurity competition in Shanghai, China. The pair competed in GeekPwn, a global contest in which hackers are invited to showcase the vulnerabilities they've found in smart devices. Many of the participants focused on hacking the usual suspects: smartphones, laptops, video game consoles etc. Rupp and Chavez, however, took a very different approach, opting instead to hack something more unique—Chavez's wheelchair.
Born with schizencephaly, a rare brain condition that affects motor skills, Chavez had grown tired with what he saw as the limited functions his wheelchair could provide. Not only did he want to increase the chair's speed, but he also wanted remote control capability so that others could move the machine for him, since it couldn't perform the task of helping Chavez speak and move simultaneously. Even more frustrating was the process by which wheelchair modifications could be made. As Chavez told MSU Newsroom writer Rachel Bruner, "If you want to change anything on your chair, you're forced to see a dealer. Imagine you bought a car that has a 200 mph engine in it, but for some reason the manufacturer decides that you can only go 50 mph when you buy the car. To go faster, you would need to pay a dealership to change the speed for you."
To avoid the costly and time consuming barrier, Chavez decided that he wanted to hack his wheelchair, enlisting the help of his computer science professor and an old friend he'd known since high school, Lani Rupp.
After completing the accomplishment of hacking into the chair, Chavez and Rupp took their research global, traveling to one of the largest international cybersecurity and hacking competitions in the world, GeekPwn, after securing a sponsorship from Keen Cloud Computing Technology Co.
Despite router difficulties before their presentation, the duo successfully showcased their research, using an Xbox controller to power Chavez's chair remotely, and receiving a rousing ovation from the competition audience. In the end, the Chavez and Rupp left Shanghai with a trophy and cut of the prize purse, an award for "most spirited" presentation, and an unforgettable experience, with new friends and memories to boot.
For more on this story:
Denver Post: Hotshot Hacker
LinkedIn: GeekPwn2016