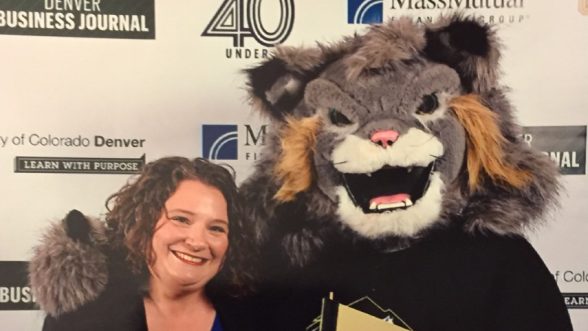 Jennifer Leitsch is a dedicated alumna to the CU Denver Business School. Named to Denver Business Journal's 40 under 40 in 2014, Jennifer has applied her MBA and Master of Science in Marketing degrees to their fullest. Currently, she is Director of Corporate Responsibility at CBRE, developing strategy and reporting around environmental, social, and governance initiatives.
In 2015, Jennifer established the "Jennifer Leitsch Scholarship" to provide scholarship support to outstanding students in the Managing for Sustainability program. But before all of her success, Jennifer remembers a time when she didn't have the resources to pay for her own education. "I am not sure I could have gotten through my education without scholarships. To be able to provide someone in a similar situation with that financial support is very rewarding," she stated.
Jennifer discovered her career path after taking a graduate class: Managing for Sustainability. She credits the course with the opportunity to explore a relatively new field that sparked her passion and resolve to find a career in sustainability.
Throughout the years, Jennifer continues to give back to the Business School. In addition to funding a scholarship, she is the Vice-Chair of Engagement for the Business School Alumni Network, chairs the Managing for Sustainability Advisory Council, and runs a mentor program between council members and students. She values the community at the school and her ability to learn from other influential sustainability professionals in Denver and to discuss the current trends in the field.
"I personally am very committed to making the world a better place and keeping it that way for future generations," she explained. "Supporting the sustainability program at the Business School is a way for me to do that."
The 2017 Celebration of Success event will be held on April 20, 2017 and is Denver's premier fundraising event, bringing in world-class speakers, and raising more than $3.3 million in student scholarship funds. This year, our goal is to raise over $200,000 to put toward helping students advance their education—and we need your help. With tuition on the rise, we're calling on community leaders like you to help make college affordability possible by sponsoring the largest and most important fundraising event of the year. Enjoy an evening with Pulitzer Prize-winning author and renowned presidential historian, Doris Kearns Goodwin, who will provide an informed and enthralling analysis on current events, with remarkable insight into the lives of the leaders who have shaped the United States. Register for Celebration of Success today!