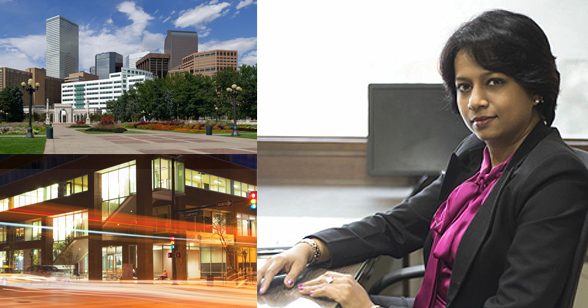 Dr. Sharmila Anand, an alumna of the University of Colorado Denver, is a born social entrepreneur, doctor, and an inspired educator. Her collaborations nurture education and healthcare environments where people can reach their optimal potential as well as learn how to effectively serve the greater community.
"I'm from a family of medical professionals, and have always seen that it is good to serve people," said Dr. Anand. "Healthcare and education go hand in hand. In educating a girl child, who in turn educates the children of the family, you have helped an entire nation." She added, "And you are building national assets."
Social Entrepreneur Focused on Affordable Healthcare & Education
A graduate of CU Denver's Business School, MBA in Health Administration, Dr. Anand brings a remarkable level of experience and skill sets to the table, and has been deeply immersed in the healthcare field in both India and the United States. She leads strategic initiatives for the Santosh group and is the Managing Director for SEHPL in Delhi and Chennai, India.
Beyond her professional experience and credentials, Dr. Anand also has a natural gift for connecting people and organizations in ways that serve to elevate individual and group efforts. Based on her field experience in India, and passion for building healthy communities, she believes there is a great demand for professional skills in healthcare in India, the second most populous country in the world.