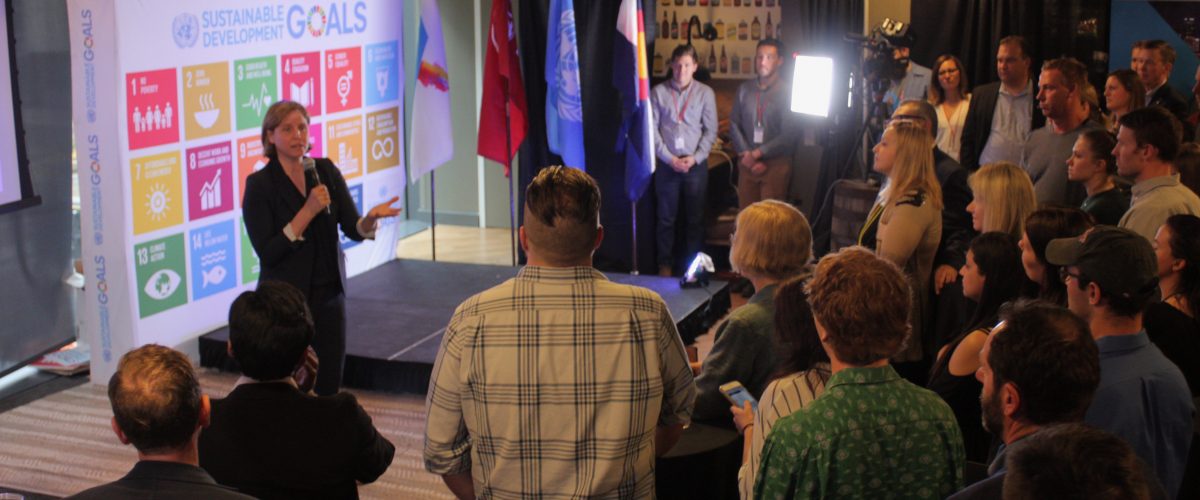 Social entrepreneurship recently touched down in the city of Denver at Project X-ITE's Flight to Denver, a UN Solutions Summit boot camp for entrepreneurs from all over the world. CU Denver Business School faculty and students contributed to the weekend's success by participating and leading the teams that supported entrepreneurs from across the globe.
Three years ago, the United Nations adopted the Sustainable Development Goals (SDGs) to provide a framework to end poverty, protect the planet, and ensure all people enjoy peace and prosperity. Megan Smith, Chief Technology Officer of the USA appointed by the Obama Administration, developed the idea of the Solutions Summit to help social entrepreneurs bring their visions to life through a grassroots community effort.
Project X-ITE is an initiative that unites interdisciplinary research and social entrepreneurship. Their Flight to Denver event supports the Solutions Summit by serving as an intensive weekend-long mentoring program for all Solutions Summit innovators. Teams were comprised of a Pilot and Crew (5-9 people per team) who worked with entrepreneurs. These teams were a mixed bag from students to faculty members to experts in the nonprofit, public, and private sectors.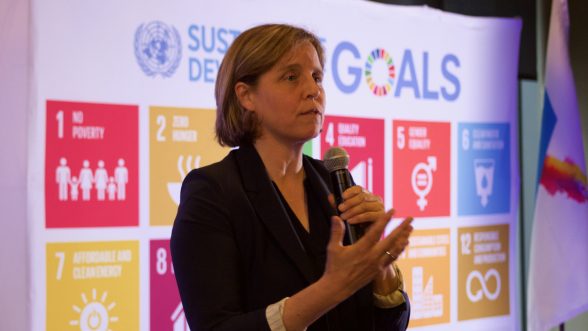 The festivities kicked off on Friday, March 31, where the networking buzz grew as the sun started to set. To open the event, Megan Smith took some time to share her inspiration for the Solution Summit before the entrepreneurs were given the opportunity to pitch their businesses. She closed her speech with one last bit of advice, "With effort, there's joy." And with that statement in mind, the entrepreneurs took the spotlight to share their stories.
Two CU Denver Business School professors and five students stepped up to contribute on teams as a crew member or co-pilot. Jim Mason, lecturer in the Management department, provided input for a team, while Blair Gifford, Professor of Management, served as a co-pilot for another. Current CU Denver Executive MBA students Kathy McCartney, Sean Everhart, and Eric Culkin all represented diverse backgrounds and provided unique insight within their respective teams.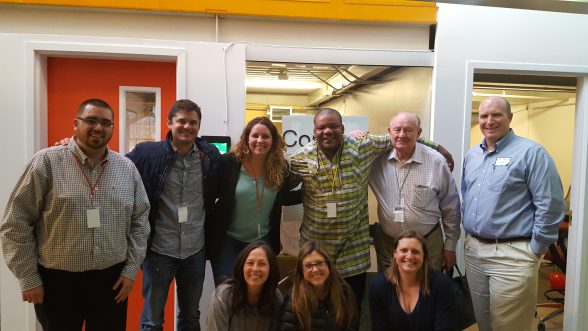 Jim Mason spent the weekend mentoring Cold Hubs. The founder, Nnaemeka Ikegwuonu, is building a solution to help 93 million Nigerian small farmers currently experiencing a 43 percent crop loss due to spoilage. His solution is a solar powered, cold storage unit that increases the life of harvested produce from two days to 22 days. Jim's team was tasked with helping Nnaemeka come up with new ways of reducing production costs, creating contacts for raising expansion capital, and developing an approach for obtaining equity capital.
Jim said his favorite outcome from the event was knowing that Nnaemeka went home accomplished with advice that will help him accomplish his goal of supporting farmers achieve a better life.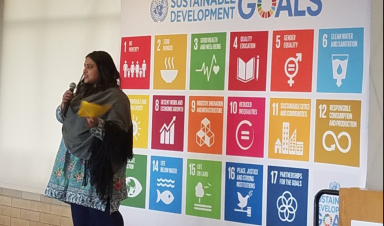 Kathy had the privilege to co-pilot the doctHERS team. The entrepreneur, Sabeen Haque, established this program as an exclusive network of home-based, female doctors to create inclusive employment for women in emerging markets. The program has launched 8 telemedicine clinics, treating more than 15,000 patients in just over 12 months and generating over $140,000 in operating revenue.
Kathy's interest in social enterprise and global health was why she came to the CU Denver Business School for her Executive MBA. Past travels to Haiti inspired her to gain the skills and connections to start a business targeted to help those in poverty by providing affordable and quality healthcare. Within the event, Kathy said the biggest takeaway was "connections, connections, connections!" She expanded by saying, "Meeting all the entrepreneurs and other attendees was absolutely awesome. The talks on marketing, getting funding, and making pitches were very practical. I will keep my notes and refer back to them in the future!"
Sean worked on the crew helping SafeCity, a crowdsourcing web app that shares personal stories of sexual harassment and abuse in public spaces. Sean was inspired to attend because of his belief in the impact startups can have on social issues. He has personally worked for large organizations and led two startups, so he appreciates the effort involved and understands how much instrumental these partnerships can be for the entrepreneurs.
"We were able to take the current approach and build a team to help launch SafeCity in the US through a Denver collegiate community," Sean said. "My biggest takeaway is to keep my eyes on what is happening in the global social entrepreneurship activities happening and look for a way to help."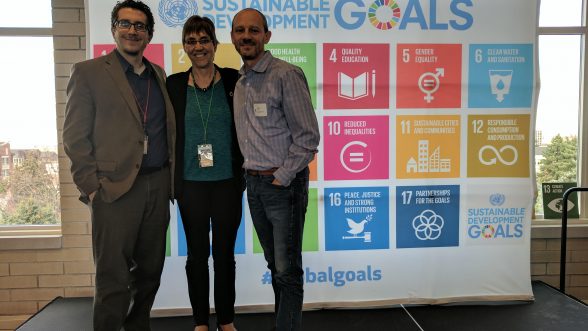 Eric Culkin had the opportunity to work with Banka BioLoo, an enterprise that developed a modular bio-digesting toilet for the Indian market to combat the problem of access to sanitary private toilets. Culkin was able to pull inspiration from a CU Denver Business School course on design thinking. "It was interesting to get the chance to practice [design thinking] again. I was able to apply several ideas we learned in class during our discussions." Eric also agreed that the dynamic nature of the event and the worthy causes were huge reasons for the event's success.