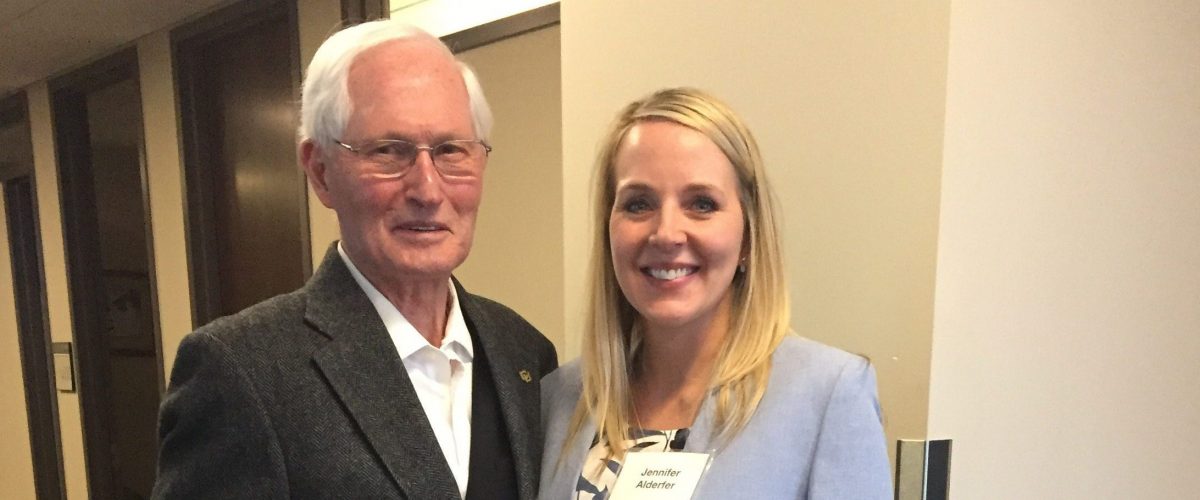 Integrate. Compassion. Accountability. Respect. Experience.  These powerful words form the foundation of ICARE and the emphatic message that Jennifer Alderfer, President and Chief Executive Officer at HCA/HealthONE's North Suburban Medical Center, recently presented at the CU Denver Business School Alumni Network's Back to Business Speaker Series.
Alderfer spoke from her heart and guided the audience through her personal journey of communicating with candor, transparency, with commitment to those individuals she encounters daily.
Alderfer demonstrated this technique by surveying and connecting with the audience, so that she could relay her experience for applying these skills at work, school, or personal life. She recounted how a a year ago, she received crucial and constructive feedback from her supervisor and others about refining her communication and relational skills to achieve the results that her company expected of her. It was through this difficult revelation and introspection that Alderfer knew she had to make a personal change in her communication style. Instead of citing data, charts, and facts, she began focusing on sharing her own thoughts and feelings, from her heart and mind, as well as the reasoning behind it. Through this transformation, she began to slowly notice a change in herself and appreciate the importance of transparency and candor in leadership, in addition to the vulnerability of presenting only the facts.
With her Master of Health Administration and Business Degrees from CU Denver, Alderfer was equipped with the knowledge she needed to shift her company's culture to its newly established mission, vision, value, and behavioral standards. Each day, Alderfer and her colleagues concentrated on what they heard, what they witnessed, and how to share the stories with each other at various levels. In the healthcare industry, there are many stories to share from customers, patients, and visitors about how their lives have been impacted by those critical moments. Employees were encouraged to being vulnerable and transparent, so that others could witness its effect. It might be the compassionate story of an intern sitting at a patient's bedside and providing comfort or a simple thank you from a colleague, friend or relative of a patient. The goal is to tell a story about connecting with a purpose in various encounters throughout the day. She also pointed out that it is difficult to lead with a stoic disposition and expect positive results.
Alderfer summarized that communication is a two-way skill that can be achieved at the heart level by: listening, supporting, encouraging, respecting, and honoring.  By emphasizing these skills, the impact to others will result in an energized and engaged work effort at all levels. Her closing words of advice for compelling communication are to be clear and concise, establish good eye contact, be aware of voice modulation, and prepare well in advance.
The Business School Alumni Network's Back to Business Speaker Series offers a chance to connect with alumni, contribute to the conversation and learn from the leaders in our business community. Please join us at our next Back to Business Speaker Series on Wednesday, September 20.