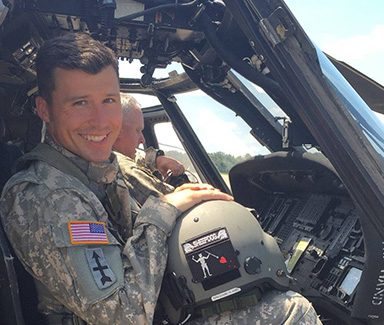 Four years ago, as student Rob Bingham gazed out the top-floor windows of the CU Denver Business School wondering how the booming metropolis below would help shape his future, he knew two things for certain: He wanted to give back to the Denver community he chose and support the veterans he honored.
Today, after venturing from his small, Midwestern hometown, first to the battlefields in the Army, then to the urban campus he passed up other universities to join, Bingham, 32, is running Denver's annual Veterans Day parade through the Colorado Veterans Project (CVP) he founded, making his Mile High mark in a big and patriotic way.
"Our first year after taking it over, we were able to turn the parade from fewer than 100 attendees to about 7,000 people," said the former ROTC cadet, who graduated with his business degree in 2014 as a commissioned officer. "We are now above 10,000 attendees, and this year, with our first official media sponsor FOX31, our goal is 30,000," said Bingham, whose CVP runs the parade in partnership with the mayor's office.
If anyone can reach the ambitious goal, Bingham and his CVP crew probably can. Crediting his CU Denver education for building a strong marketing foundation, Bingham, now a Blackhawk helicopter pilot in the Colorado Army National Guard and a Corporate Giving Representative for Xcel Energy, was showing his marketing and leadership skills long before he graduated.