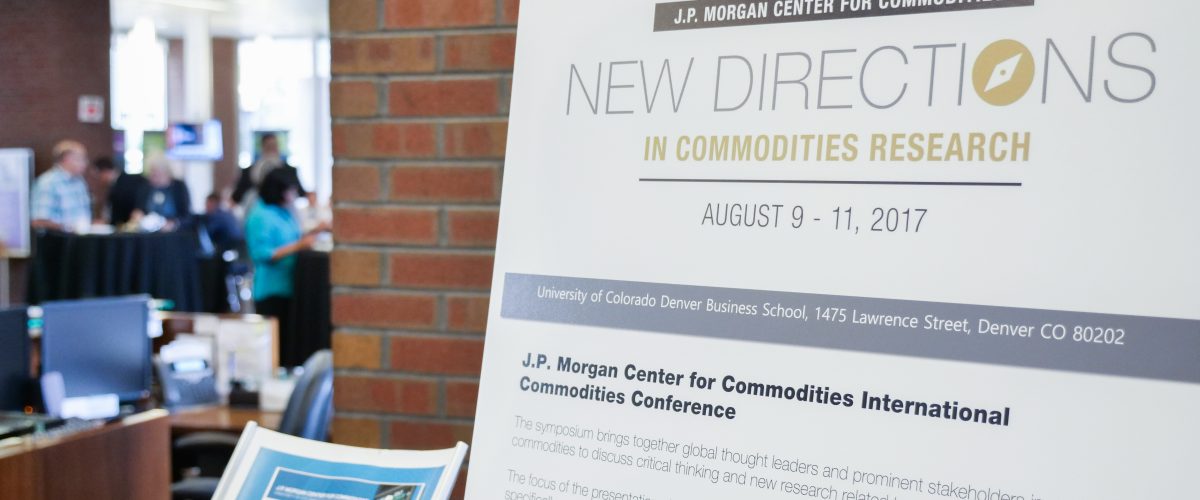 Over 80 commodities researchers and practitioners came from across the world to attend the J.P. Morgan Center for Commodities (JPMCC) inaugural New Directions in Commodities Research International Symposium on August 9-11 in Denver to discuss critical thinking and new research related to commodities.
The agenda for the conference included keynote speakers, speaker sessions organized by academic and practitioner members of the Center's Research Council, and competitive academic sessions selected by the Technical Committee consisting of Research Council members. Dr. Graham Davis from the Colorado School of Mines co-organized the conference and chaired the Technical Committee. There were two concurrent sessions all through the Symposium. All presentations from the symposium are available on the Center's website.
The symposium was an intensive couple of days that provided a lot of value for its attendees.
"I've attended many conferences focused on commodities over the last 15 years, and our JPMCC research conference ranks highly in the overall list of all those events. It had a lot of serious and meaty content, but also allowed for some good networking opportunities." – Bob Greer, Advisory and Research Council member
JPMCC Advisory Council members Antony Bahr of CoBank, Tom Brady of Newmont Mining, Russ Cranswick of Resource Capital Funds, Bryce Schneider of Xcel Energy and Geoff Houlton of Anadarko Petroleum were prominent attendees. Dr. Jian Yang, J.P. Morgan Endowed Chair and Jim Marchiori, Executive Director of the Business School's Global Energy Management program, participated.
An introduction worthy of rare minerals
Thursday morning opened with a keynote address from Dr. Alex King, Director of the Critical Materials Institute in Iowa. He shared his expertise on rare earths, a critical material concerning national security often overlooked area of research in commodities. Dr. King outlined several factors contributing to the uncertainties in the market. Problems in price discovery due to the absence of organized markets, Chinese monopoly in supply, and political conflicts directly impacting price were discussed.
Dr. Bluford Putnam, Chief Economist of the CME Group, a major sponsor of the symposium, gave an impromptu presentation on the practitioner perspective regarding commodity risk management. His talk was based on his extensive experience in both the academic and practitioner worlds. He addressed the critical issue of overreliance on machine technology to solve real-world risk problems.
Christopher Hansen, Representative for District 6 at the Colorado General Assembly and a member of its Transportation and Energy Committee, spoke on public policy trends in energy. Specifically he discussed how new technologies are bringing an efficiency to clean energy that drive down prices, and in turn, make the Renewable Portfolio Standard regulation irrelevant.
Garth Leonard, Director and Co-head of Commodity Tracker at IHS Markit; and Jeffrey Billingham, Vice President in IHS Markit's Processing division explained the evolution of distributed ledger technology and its potential applications to financial markets. The Symposium concluded with the keynote speech by Dr. Lutz Killian, Professor of Economics at the University of Michigan and a highly productive scholar in energy and a member of the Center's Research Council. He spoke on the changing impact of volatile oil prices on the U.S. economy, a topic highly relevant for Colorado.
Competitively awarded grantees present research
With two keynote speakers, four presenters, and six sessions with dozens of speakers and discussants, this symposium brought together experts across the globe to bridge the gap between research and practice. Speakers and topics were received with overwhelming enthusiasm.
"The choice of speakers and subjects for the Board meetings has been intellectually stimulating and has enabled us to understand how people from different backgrounds think about topics that we have been interested in for some time as well as topics that we have never thought about." – Margaret Slade, Co-Chair of the Research Council
The following researchers, competitively selected by the Research Council in 2016 and awarded an $8,000 CME Group Foundation Grant award, were required under the terms of the award to present the results of their research at a separate session at the symposium.
Victor Aguirregabiria, University of Toronto, Canada. "A Microeconomic Structural Model of the Copper Mining Industry."
Charoula Daskalaki, University of Piraeus, Greece (presenter); George Skiadopoulos, Queen Mary University of London; and Nikolas Topaloglou, Athens University of Economics and Business. "Diversification Benefits of Commodities: A Stochastic Dominance Efficiency Approach."
Semyon Malamud, Ecole Polytechnique Federal de Lausanne, Switzerland. "Information in Commodity Options Volume and Open Interest."
The presenters did a fantastic job in their session, receiving wonderful discussant comments from renowned individuals like Tom Brady, Vince Kaminski, and Ehud Ronn.
A valuable event for all
With attendees traveling from Germany, Chile, and even Australia, the networking opportunities were abundant. People mingled at the welcome reception, coffee breaks, and dinners. Members were also given the opportunity to visit a mine in Idaho Springs at the end of the conference.
The success of the event was clear with positive feedback for the organizers of the event. As Michel Robe, Research Council member said, "There is no better illustration of the value that its meetings offer than the fact many people who are not necessarily keen to travel do so for a unique opportunity to learn from and interact with others."
Dr. Ajeyo Banerjee, Director of the Center and organizer of the symposium said," The preparation for the symposium actually began with the success of the Research Council, as a shared platform of eminent academics and practitioners. It was my pleasure and privilege to work with such eminent people, and I believe we were successful in organizing the symposium of our dreams: unique and innovative yet uniformly top quality, engaging academics and practitioners alike. The quality and novelty of discussant remarks is something you rarely find so consistently in academic conferences. I have to compliment Professor Davis for the selections and pairings, and the Research Council members for their involvement, which was truly beyond my expectations. Their organized panels brought so many new ideas and approaches to the forefront. I have personally learned so much from the presentations and discussions, as I am sure many of the participants and attendees did."
The J.P. Morgan Center for Commodities would like to thank all who attended and contributed to the overall success of the event, and looks forward to continuing the progress made at the symposium.
Photos by Patrick Campbell/University of Colorado