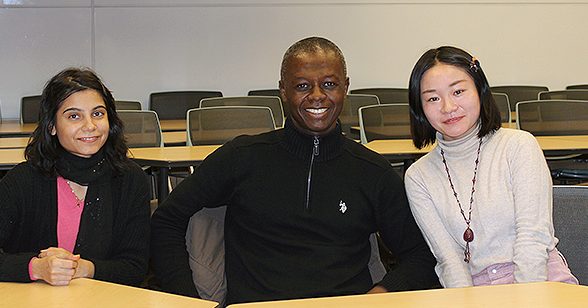 As an international student, when you step onto the CU Denver campus for the first time, it's expected that you'll have many questions. What are the best available class times? Are there employment opportunities? What is like to live in the city? One question that you may have will be answered immediately – loudly and clearly – you are welcome here! Nothing exemplifies this better than the one of the first events of the semester: The International Student Welcome Party. Hosted by the Office of International Affairs, the Welcome Party is one of many festive events and cultural activities that are designed specifically for international students' enjoyment and integration into the community experience. The Party kicks off your educational experience on a high note – with games, meet-and-greet socializing with other students, faculty, and staff, delicious international cuisine, and an atmosphere of pure Colorado fun.
"There's a great class of international students at the University of Colorado Denver this year; we're really glad to have them here," explained Nathanial Lynch, Sr. International Services Specialist in International Student & Scholar Services (ISSS). "The ISSS team meets individually with each student to help him or her with immigration questions, academic advice, and cultural adjustment; we support them as they navigate through their first year, as well as throughout all of their semesters at CU Denver."
Edward, whose home country is Ghana, is a new student enrolled in CU Denver's Business School; he is working toward a master's degree in accounting. "Colorado is a vibrant state that is full of activities; Denver is a cosmopolitan area with a variety of people from different cultural groups," Edward observed. "Everyone I've met at CU Denver is very nice; I've also met people from my own country, whom I had not met previously."
One of Edward's new acquaintances and fellow countrymen, Felix, is focused on a graduate level degree in economics. "I'm particularly interested in the sustainable development of resources in different countries, and their related economics." Felix has traveled to a number of countries around the world. This is his first visit to Colorado; he arrived just in time to experience another "first', a light, refreshing snowfall in beautiful downtown Denver.