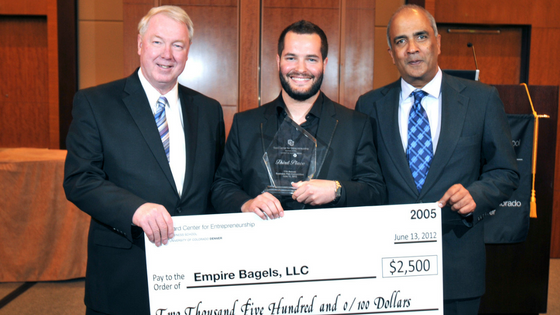 If you're living in Denver, you're probably familiar with a restaurant named Rosenberg's and its addictive bagels baked with replicated New York water. Yes – we said New York. That's how passionate CEO and founder Joshua Pollack is about making an authentic New York bagel in the Colorado Front Range. But did you know how these bagels came to be?
Rewind to 2012, when Pollack enrolled in entrepreneurship courses as part of the Jake Jabs Center for Entrepreneurship's certificate program. He learned about THE CLIMB through professors, originally competed under the name "Empire Bagels," and won second place. Fast forward to 2018, where Rosenberg's has become a household name and lunch staple for Denverites. Pollack sat down with the Jake Jabs Center team to reflect on his journey from student to "The Bagel Dude":
JP: One of the classes I took as part of my entrepreneurship certificate program was Business Plan & Model Development with MP (a.ka. Dr. Madhavan Parthasarathy, Jake Jabs Center Executive Director). Both he and guest speakers in class encouraged us to apply – I felt like I connected with several of them and a few had also gone through the competition themselves. I'm a naturally competitive person, so of course I want to go in wanting to win something, but I went in mostly for the experience. It was another way for me to fine-tune my business plan, actually pitch it to people and get honest feedback before I went to the bank, investors or venture capital firms. Working through THE CLIMB process helped me answer all of the tough questions about my business before it was too late.Q: So Joshua, how did you hear about THE CLIMB | Business Plan Competition when you were a student at CU Denver? What made you want to apply?
Q: What did you do to prepare for THE CLIMB?
JP: I practiced a lot with my wife. I've taken a public speaking course in the past and feel fairly comfortable in front of crowds, but I tend to ramble and take too much time on things or I say "um" too much. So I think practicing over and over again allows you to really adjust the discrepancies. The Business Plan class helped me prepare for THE CLIMB as well. We had to prepare multiple versions of our business plan, including an elevator, 3-minute, 10-minute and a full pitch, and we also had to cater the pitch to different audiences. You might be standing next to someone waiting in line and realize "They're the CEO of 'X company' who might be able to change my life." You see this happen in movies and on TV, but these opportunities do come up when you least expect them, so you have to be ready.
I also spent a lot of time in office hours with my professors, and the classes I took prepared me the most for THE CLIMB. For example, I took entrepreneurial finance and worked with my professor to fine-tune the financials for my business plan. My actual passion and in-person experience also helped me prepare. At the same time I was getting the entrepreneurship certificate, I was going to a culinary academy to learn about baking and traveling to New York to bring back water samples to test for the bagel recipe. I was making bagels in my apartment, which was covered in seeds, and broke three stand mixers in the process.