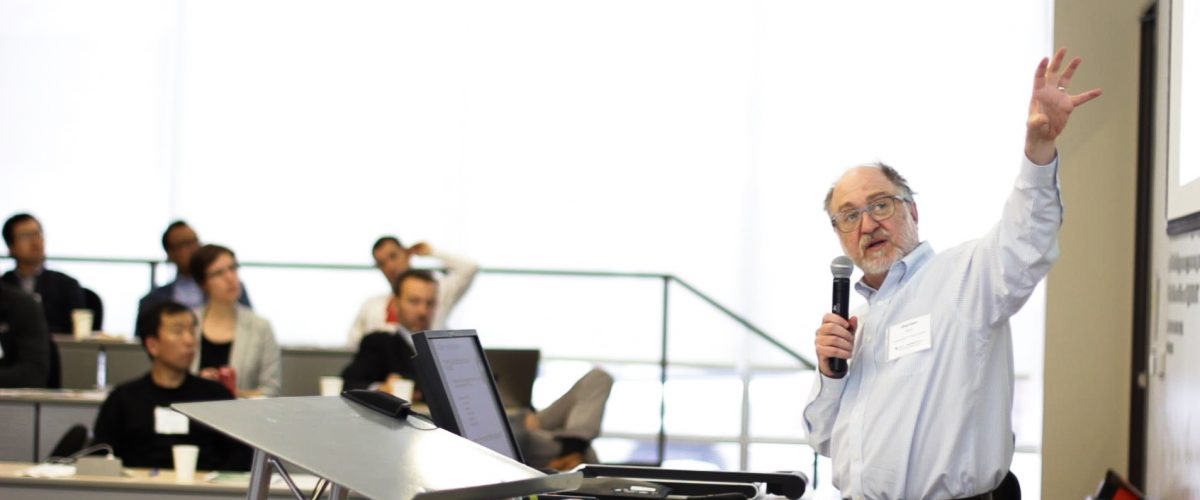 Twenty years ago, the Front Range Finance Seminar was a small regional seminar held annually at CU Boulder. Over the past three years, the event has been held at the CU Denver Business School. This year the event was attended by over 40 of the top research minds in finance from around the world.
Over 175 papers were submitted from top institutions, including the University of Chicago, Stanford, Northwestern, and Duke.
Dean Rohan Christie-David said, "It was great to see so many representatives from different universities from across the world participate in this seminar."
The seminar was held over two days in May and included research on macro-finance, corporate labor markets, market structure, and more.
A keynote speaker with CU roots
The keynote speaker was Sheridan Titman, a renowned professor of finance at the University of Texas at Austin. He is also the director of UT's Energy Management and Innovation Center.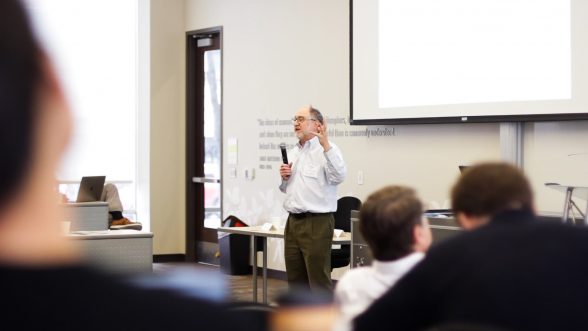 He was joined by Russ Wermers, professor of finance and director of the Center for Financial Policy at the Smith School of Business at the University of Maryland.
Both scholars have roots in the CU community. Titman started his career at CU Denver, taking his first economics class here, and Wermers worked at the University of Colorado Boulder for a number of years.
The importance of a business's location in the perception of its value
Titman began his presentation by addressing a big issue facing all researchers: finding new sources of data. He recommended using data, like census records, that have been historically collected. In other words, he challenged researchers to look old data from a new perspective.
Finance researchers have a tendency to think of the world as flat, where the world is a level playing field and all competitors have an equal opportunity. Work doesn't constrain where people live anymore. Technology allows people who work for the New York Stock Exchange to live in Hong Kong.
Titman's research challenges this mentality that location doesn't matter. He looked at older data and found the importance of geography to the integrity and quality of businesses and management. For example, Google would not be nearly as successful if their headquarters were based in a rural town in the Midwest than in Silicon Valley.
He was also able to demonstrate a link between location, human capital, and the creation of value. Location affects some surprising factors related to business like the market value of a firm, the likelihood of corruption, financial misconduct, and the likelihood of firms committing white collar crimes.
The real effects of CEO gender gaps
At the seminar, attendees selected the most popular paper to be awarded 3,000 dollars. That paper, "The Origins and Real Effects of the Gender Gap: Evidence from CEOs' Formative Years," addressed an interesting phenomenon.
Company budgets are allocated differently for men and women. Three researchers collaborated to understand why this was the case. The results show that men who had a male-dominated upbringing were more likely to allocate larger budgets to male managers than female managers.
CEOs who grew up in male-dominated families, attended all-male high schools, or grew up in neighborhoods with greater gender inequality rewarded men over women. Not only does this effect introduce friction in the workplace, but it also breaks down investment efficiency and operational performance.
Yosef Bonaparte, CU Denver assistant professor of finance and organizer of the seminar, spoke on the real-world relevance of this research. "The paper can be turned into legislation in the Colorado Senate to help us close this gap at the executive level," he said.
Researchers find valuable connections at seminar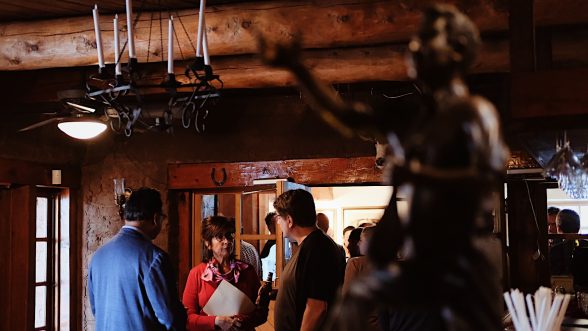 "Since you have some of the top academics worldwide who have been specifically selected for this, you're likely to get a very high quality of dissemination of ideas from these experts." – Russ Wermers
When discussing the benefit of such a seminar, Bonaparte looks at the big picture. "We can solve current financial problems and we can prevent future economic problems from happening."
"We can solve current financial problems and we can prevent future economic problems from happening." – Yosef Bonaparte
Attendees found the seminar to be a motivational experience.
"The quality of the program helped me choose this seminar. This is the ideal size for me because you get to meet everyone, there are no parallel sessions, and it's more intimate." – Mitch Warachka, University of San Diego
"All the speakers are very well prepared and the papers are high quality." – Sophie Xu, San Jose State University
"It connects international professionals including many people with a lot of different ideas. Since you have some of the top academics worldwide who have been specifically selected for this, you're likely to get a very high quality of dissemination of ideas from these experts." – Russ Wermers, University of Maryland
CU Denver as a leader in research
Dean Rohan Christie-David believes strongly that research fuels growth and innovation. "We hope to take the momentum from the Front Range Finance Seminar and apply it across the CU Denver Business School," he said. "It is a top priority for us to facilitate these important conversations to support vigorous research."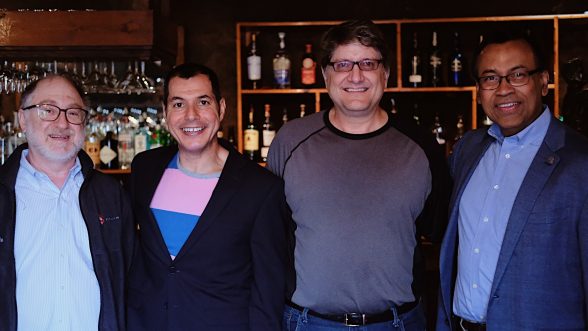 "It is a top priority for us to facilitate these important conversations to support vigorous research." – Dean Rohan Christie-David
Titman especially connected with Dean Christie-David's vision. "I want to see CU Denver succeed," he said. "We enjoy helping schools who are trying to increase their visibility, produce more research, and provide a service to the profession."
"Research is our future," Bonaparte stated. "Helping our faculty to interact with top researchers in the world helps our faculty to have better research and larger networking opportunities."