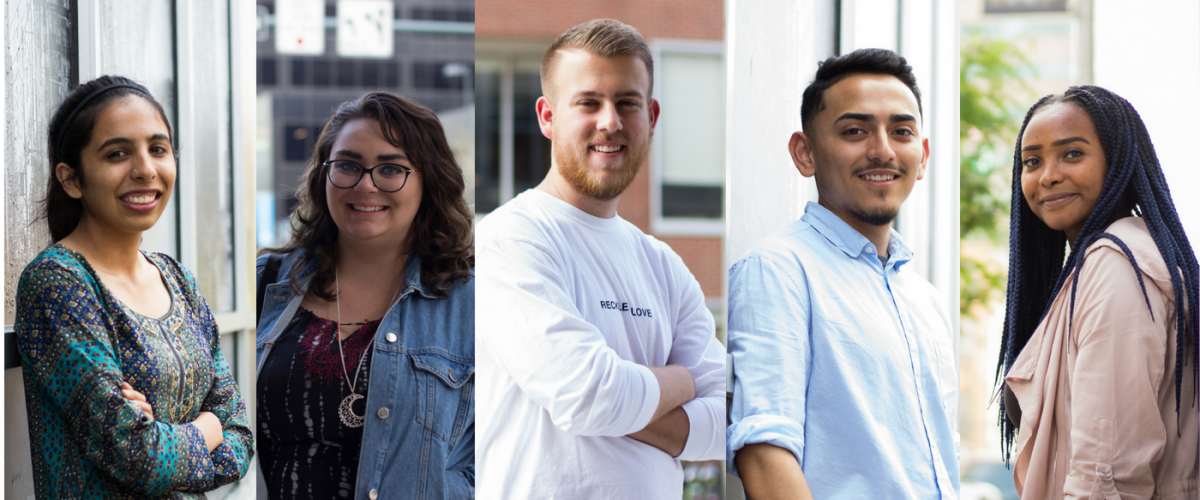 This summer we have five students ready to take over the Business School's Instagram through our brand advocate program. They will tell the story of what it means to be a #CUDenBusiness student as they spend their summers in the city.
Selam Kidane
#SelamInTheCity
I'm currently a senior pursuing a BSBA in Finance and Risk Management and Insurance. I've had a long journey when it comes to school because I started out at Colorado State University for a year, transferred to Community College of Denver, and then I finally made the right choice by transferring to CU Denver. I've always had a fervor for the business field and I wanted to pick the right university that will give me the right education to succeed in the business world. My favorite part about CU Denver is that it is located in the heart of the city.
A little background about me is that I was born and raised in Ethiopia and moved to Colorado 11 years ago. In my free time, I love poetry, being outdoors, and traveling to different parts of the world. Colorado is a beautiful state with endless amounts of activities and sightseeing!
Jennifer Hernandez
#JenniferInTheCity
I am a Cuban American and have lived in four different states and 14 different houses, but I have been in Colorado the longest by far. I am currently an undergraduate BSBA student majoring in marketing here at the Business School. I originally went to the Illinois Institute of Technology in Chicago, but after a semester I realized I needed to be close to my family and friends. I changed my major from premed to marketing.
Any time I have that I am not at school or working my two jobs, I spend doing things that interest me. I have a huge range of interests including photography, painting, and anything related to dogs or my dog. I own a year-and-a-half old black Shiba Inu. She has her own Instagram page so let me know if you want to follow her.
Salvador Ramos
#SalvadorInTheCity
I am a Colorado native and grew up in Aurora. I am a transfer student from Metro State, and I am currently a BSBA student with a double major in finance and risk management and insurance. Something that most people don't know about me would be that I have a huge passion for music. I am currently the social media student assistant for the risk management and insurance department, and I am also a professional barber on the weekends.
I absolutely love coming to the Business School because you get to see and meet people from all sorts of backgrounds. What I also love about the Business School is that they do a great job at helping students find internships, scholarships and other resources that prepare them for the business world.
As a risk management and insurance major, I plan on joining the fraternity Beta Mu – Gamma Iota Sigma (GIS) chapter in the near future. I am excited for my semester this summer and for my fall semester as well!
Rookush Khan
#RooInTheCity
I'm Roo! I am a junior BSBA student majoring in human resources management with a minor in communication. I was born in LA but moved to Colorado in the 2000s, so this is practically home! Choosing the right university was important to me, and CU Denver had all the items on my checklist.
CU Denver allows me to be in the city, where I can attend many events and take advantage of all of the downtown opportunities. One of the biggest reasons I chose to come here was the HR program with its vigorous courses and networking opportunities put on by the Society of Human Resource Management (SHRM) club. Human resource management was not my first career choice! But I started thinking about it once my parents recommended it to me. I'm so happy I decided to pursue this degree. I was lucky enough to land an internship at Charles Schwab this summer (Thank you BCC career fair!). Hopefully, when I graduate in a year I'm looking forward to finding new opportunities, maybe even outside of Colorado!
Ryan Kalmbach
#RyanInTheCity
I am entering my senior year here at CU Denver, in pursuit of my BSBA in Marketing. Coming to CU Denver took a quite a bit of research and thorough studying, however, I love the choice I made and would not change it for anything. I've always had an interest in marketing and wanted an education in which I knew had value behind the degree. Through CU Denver, I can achieve the value I want behind the degree with all the networking opportunities and through the different resources that are at hand.
I have lived in Colorado for my whole life, in the city of Broomfield. I currently work for the Events and Partnerships Office at CU Denver LIVE! I also work as an intern at National CineMedia (NCM).
Outside of work and academics, I am an easy-going guy. You usually will find me hiking, eating food in new restaurants, traveling, drawing, or taking photographs throughout the beautiful scenery Colorado has to offer. Come say hello if you see me around campus!