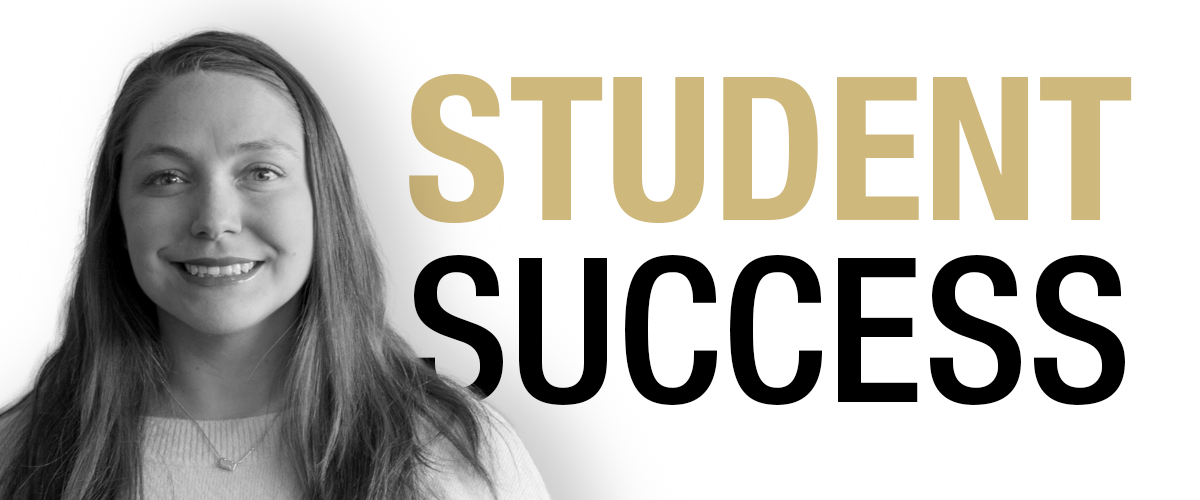 Kyrsha Wineinger has never had anything handed to her. She started supporting herself and living on her own at a young age. She's worked between two to four jobs for nine years to put herself through school and get the life she always wanted.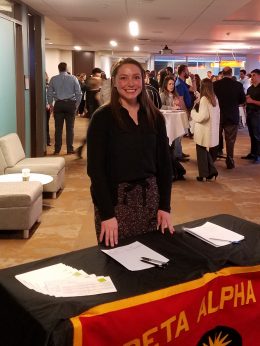 If you meet Wineinger now, she's the model BSBA/MS Accounting student. Her resume includes a flawless academic record, president of the CU Denver chapter of the prestigious accounting fraternity Beta Alpha Psi, teaching assistant for two professors on campus, Deloitte intern, and future MS Accounting student.
Hard work, a clear vision, and more hard work is what kept Wineinger on her nine-year path to success.
Education as her ticket to a financially stable life
Wineinger grew up in a working-class community in southern Illinois. "You see the back-breaking work that they do day in and day out. I never wanted that life. I wanted to be comfortable in my own life, and I understood what that would take," she said.
Higher education was her ticket to the life she always wanted.
She scraped by to graduate high school without the best grades. Deep down, she always knew that more education was the best way out, so she started at a community college, slowly taking classes as she could afford them. She surprised herself that by simply working hard, she succeeded with A's in every class.
Since high school, Wineinger's motto has been: "You have to take care of yourself before you can take care of anybody else." She believes she has a duty to society to never become a responsibility for somebody else.
"You have to take care of yourself before you can take care of anybody else." – Kyrsha Wineinger
Slow and steady wins the diploma
Self-supported the entire way, Wineinger began to finance her degree like many people. She worked service jobs and her tips paid for her classes. Eventually, she made a decision to get out of the Midwest and moved to Los Angeles.
After a short break to settle herself and collect her finances, she continued her education while still working. It was one of her professors in California that helped her find her passion in accounting.
In California she also met her now fiancé, and together, they saved enough money for a house. They both wanted to live close to the mountains and knew the growing economy in Colorado would provide job stability. So they packed their bags, bought a house near Denver, and settled down.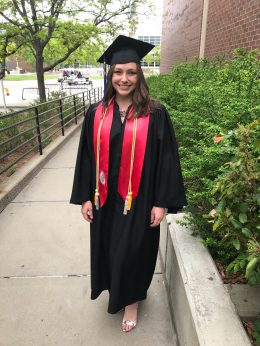 With every move, Wineinger would wait a year to receive in-state tuition to continue pursuing her bachelor's degree. But no matter her circumstances, she always returned to the classroom.
CU Denver as the right fit
A year into living in Colorado, she researched the universities close to Denver and was torn between CU Denver and another university. In general, she found that CU Denver was the better fit culturally. She was also drawn in by the small student to teacher ratio and a student mindset that aligned closely with her own.
"I liked the idea that there is a significant portion of the student body that is nontraditional, which allowed me to fit in more. I wouldn't take my decision back for anything," she said.
Wineinger also spoke on the opportunities available at CU Denver compared to other schools. "Networking is everything, especially in an accounting profession. You have to throw yourself out there even when it's uncomfortable," she added.
"Networking is everything, especially in an accounting profession. You have to throw yourself out there even when it's uncomfortable." – Kyrsha Wineinger
When it came down to her decision, she reflected on her life and how persistence has shaped who she is today. "I felt like hard work would be more appreciated here. I don't always have the answers but I'm not afraid to work towards them. I knew I would be surrounded by other students at CU Denver who would appreciate that mindset."
A foot in the door at Deloitte
Already seven years into her education, Wineinger walked in to the Business School as a junior. She still possessed the same passion and drive to get that 4.0 as she did right out of high school.
Since starting here, she set her sights on the ultimate prize for any accounting student: a coveted internship at a "Big Four" accounting firm. She turned that goal into a reality in less than two years. This summer, she will begin an internship at Deloitte, the largest accounting firm in the world with over $38 billion in revenue last year.
By getting involved in Beta Alpha Psi, she met a Deloitte recruiter at their Meet and Greet networking event last year. But what really helped her land her internship at Deloitte was her success at their Summer Leadership Program (SLP) that summer.
To land a spot in SLP, she met with the Business Career Connections (BCC) to fix up her resume, applied for the program, and was invited in for the interview process. She had four interviews total: one with a recruiter, manager, senior manager, and partner. It was during those interviews that she stood out.
"As soon as you park your car and start walking up to the office, be ready. You don't know who you're going to run into," she advised. She introduced herself to all of the other applicants and saw the recruiter listening in as she made small talk with them.
After introducing herself to her interviewer, she bonded with him by sharing her story. He related to her background and saw the drive in her to succeed. She landed the SLP that summer and her foot in the door at Deloitte. She has since received and accepted an offer for a summer internship position this year at Deloitte.
"I was honest. I was myself. I am a hard worker, and that goes a long way," Wineinger reflected. She went above and beyond, asking questions about the firm to show her interest. She also hand wrote and delivered thank you cards to all of her interviewers.
"I was honest. I was myself. I am a hard worker, and that goes a long way." – Kyrsha Wineinger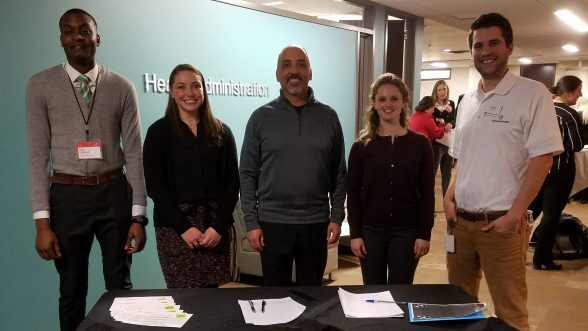 "I know who my competition is out there. We're all great candidates, so who is going to take that next step? I try to constantly be a step ahead of everybody else," she shared.
Financing her dream
Wineinger has worked hard to keep her undergraduate degree cost at a minimum. She doesn't view her degree as too much of a financial burden considering the long-term payoffs.
Because of her grades in community college, she was awarded the Accounting Program Scholarship. This CU Denver Business School scholarship is funded by alumni and helps her focus more time on her studies.
"Being a first-generation college student, I was terrified of embarking on a fiscally demanding goal with no guidance. Scholarships make continued education possible by mitigating the overwhelming financial burden associated with continued education. Essentially, scholarships make continued education possible for me," shared Wineinger.
Giving back as the end goal
Wineinger is on track to becoming a Certified Public Accountant (CPA). Because all CPA's need 150 hours of higher education to receive their license, she decided to continue her education at CU Denver through the BS/MS Accounting 4 + 1 program to receive her MS Accounting degree.
Wineinger's goal of becoming financially stable is achieved, but that really isn't her final end goal. She always thinks back to her younger self's desire to become a high school teacher and give back to her community.
Through CU Denver, she has had the opportunity to get involved in Denver through volunteering regularly with two organizations. Junior Achievement is an organization where students visit K-12 schools to teach them topics around financial literacy. She's worked with kindergartners and first-graders, teaching them the value of doing chores and saving money in a piggy bank.
She also volunteers for Habitat for Humanity on build sites and home repairs. Just the other week, she helped repair a house for a man who expressed his gratitude and shared that her team was "one of the hardest working teams" he'd ever seen.
She looks beyond her corporate career, saying, "I had a lot of people at my high school help me. At the end of this, I want to be able to give back. While I'm not yet in a position to give, I know I want to come back, teach, and share my experiences."