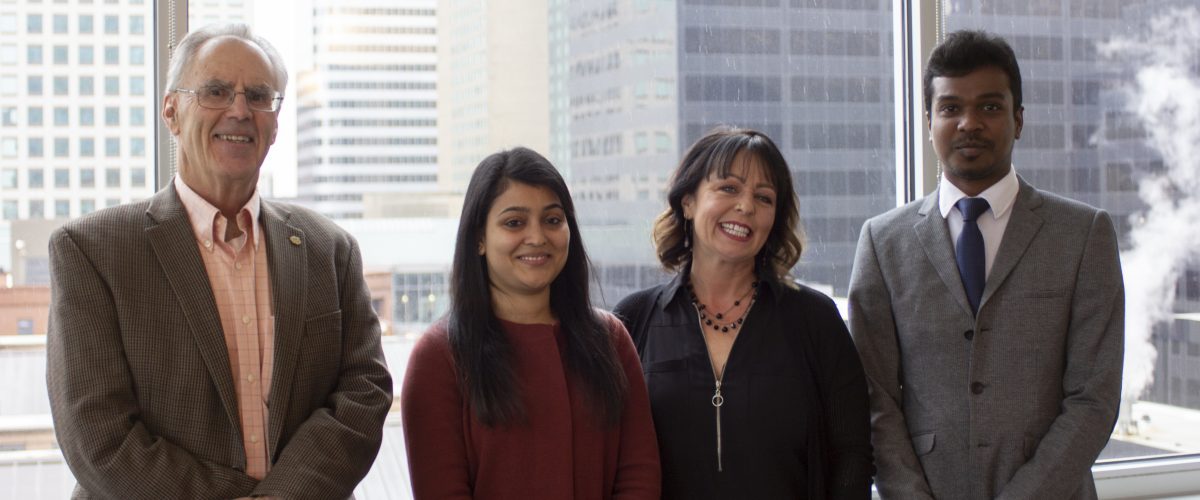 This fall semester, two undergraduate and two graduate students were awarded the coveted Business School Outstanding Student award. These students were nominated by professors at the CU Denver Business School for demonstrating excellent drive, academic performance, and their commitment to success. Each student's unique journey is a testament to their resilience, hard work, and triumph.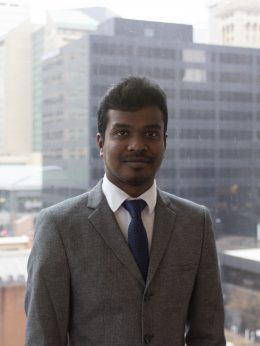 Pragadeesh Ravindran
MS in Information Systems
When Pragadeesh Ravindran started his schooling, his dreams did not extend beyond getting a good job and taking care of his family. However, he was accepted into a prestigious university in India, where he learned of higher education and how he could expand his horizons through the possibility of pursuing a master's degree. "In college, I was exposed to a lot of opportunities to shape my future," said Pragadeesh.
After his undergraduate, Pragadeesh was placed in Tata Consultancy Services in India where he was a "happy go lucky man." However, after spending two and a half years there, he started to ask himself, "What am I doing? Am I really happy? Am I doing what I like?" Pragadeesh didn't feel challenged, so he decided to explore his interest in business intelligence and data analytics. After research and conversations with several people at CU Denver Business School, including Professor Jahangir Karimi, Pragadeesh decided to apply and was accepted. "I still cherish the first excitement of landing in Denver, USA on the eve of Christmas," he said.
Studying for his master's degree has been challenging and fulfilling. "On multiple occasions, I tasted the failure that comes with studying complex issues in a foreign land. But I worked on these failures." Pragadeesh cut costs and saved heavily to afford the program and worked hard to stay on top of his classes and learning. He enrolled in the most challenging courses and consulted regularly with his professors, including Dr. Deborah Kellog and Dr. Yu Du from Business Analytics department. He is very proud of the academic success he has found.
One opportunity Pragadeesh took advantage of was the study abroad program, where he participated in a trip to Singapore. Here he learned more about business intelligence and data analytics. "This experience has expanded my horizons and diversified my attitude towards life. It provided me with a varied experience unlike any other, which I believe is the key that helped me succeed in my masters… It helped me break out of my shell."
After completing his master's degree, Pragadeesh plans on aiding his fellow Indian students in achieving similar goals through sharing his experience and knowledge. "Growing up in India, I have been well aware of the fact that, getting a quality education is a savory fruit not enjoyed by many." He hopes he can encourage young people with similar backgrounds and economic positions to pursue their dreams no matter what. Breaking barriers is in his future.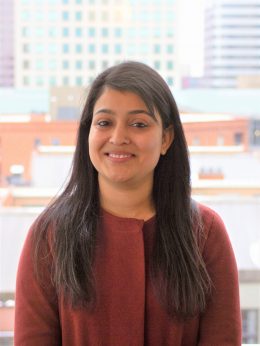 Prakriti Nautiyal
MS Business Analytics
After completing her MBA in Human Resources and Marketing in 2014 and working as an HR Professional for three years before moving to the United States, Prakriti knew she wanted to be a part of the growing field of HR/People Analytics. "I was always intrigued by the power of numbers," said Prakriti. Her role as an HR partner had a critical element of data analysis and she led initiatives for measuring and generating actionable insights for increasing employee utilization and satisfaction. This gave her a foundation, which she expanded further by taking an online course in people analytics.
She joined US-based NGO, Save the Water in August 2017, as an HR Associate for their recruitment team. "This turned out to be a milestone and a major reason for why I applied for my Master's in Business Analytics." One project in particular helped her understand the true importance of analytics and its application for process improvement. Through a recruitment analytics project, which she single-handedly implemented, Save the Water was able to attract responsible and enthusiastic volunteers. "I realized that there is nothing better than being able to apply your learnings, knowledge, and skills to support a cause that is greater than yourself." She has been promoted twice during her tenure and is now volunteering as the Director of Human Resources.
Pursing her MS in Business Analytics was a logical next step in remaining relevant in her industry and being a strategic partner for any organization. Her time at CU Denver has given her "a strong analytical skillset and a good understanding of how to apply analytics to drive growth and results." This analysis allows organizations to solve modern problems and gain a competitive advantage. She now feels confident as a professional with a rounded, diverse background and understanding, and that she can contribute to strategic business decisions in any organization she joins. In fact, she has already started to apply what she has learned to her projects at Save the Water. "I get great satisfaction using my learnings from my Master's to contribute to a cause that I truly believe in and I wish to continue doing that." In addition, she is applying her learning to her work with Professor Yu Du on a current research project.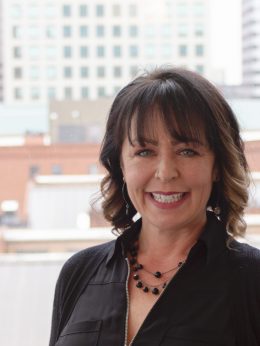 Heather Hughey
BSBA in Human Resources
As a young woman, Heather Hughey saw higher education as a golden opportunity to break the cycle of poverty her family had been living and to have a better life. Her parents, who had struggled immensely, encouraged her dream. However, after one semester of college, Heather was forced to drop out and take a full-time job. By age 23, she was married with two children, and became a stay at home wife and mother for 15 years. When her children were teens, her husband lost his job and she went back to work and started her own business cleaning houses. Throughout this journey, Heather never lost sight of her desire for a degree.
In 2013 after her marriage ended, Heather and her now teenage sons moved to Colorado, where she built a new client base for cleaning homes. She watched her sons enroll in community college and pursue the dream she had long held. Then an idea began to form. She owned her own business, and she began to consider ways to grow and expand it. In 2015, she took a huge leap and enrolled in community college to pursue an associate's degree in business. It was very difficult financially, and her sons helped by contributing, knowing how important this degree was to their mother.
Returning to school at 41, Heather felt behind in many ways. She did not know how to format Microsoft Word documents or how to use the Internet for research. Her sons once again came to her aid and helped her adjust to the demands of being a student. "Despite the challenges I encountered, I loved being back in the classroom!" After four semesters, Heather realized there was no reason to limit herself. After thorough research, she decided to apply to CU Denver Business School. From the moment she scheduled her first appointment with an advisor, she felt taken care of. In January 2018, she got on the bus for her first day at CU Denver, beyond nervous. "My first semester, I had the privilege of taking two Human Resource Management classes with Dr. Christina Wilson and realized I loved the idea of going into human resources."
In her time studying, Heather has not been able to get the full "college experience" because of her responsibilities. However, "one of the advantages of being a non-traditional student and a mother, is that I've gained skills and abilities to nurture and encourage others." She has aided and connected with many of the young adults who have been her classmates. She has jokingly been referred to as "HR Mom."
For Heather, earning her degree has not been smooth sailing. She has dealt with many personal hurdles and has overcome them, battling depression, enduring financial hardships, and making a new life for her family. There were many times she doubted her decision to pursue her degree, however, she has persevered. "I have grown so much as a student and as a woman. Now that graduation is right around the corner, and I look back on my life and consider the path I've taken, I cannot help but be incredibly grateful for everything that has led me to this point."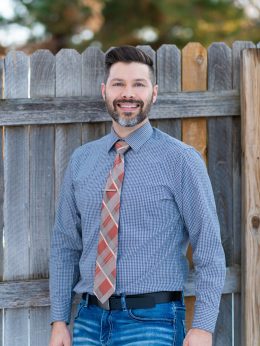 Jason T. Kerwin
BSBA in Management
Earning his degree is the ultimate triumph for Jason T. Kerwin. It has been 15 years since he barely graduated high school, after battling with focus and struggling to define his aspirations. Jason's first attempt at college ended in 2005 and he swore he would return after doing some soul searching.
In 2008, Jason joined the United States Air Force. His goal was to retire from the service but, after his first enlistment, he separated from the armed forces, having learned lifelong lessons. Once Jason's time serving was finished, he pursued and received his real estate license. "Learning about real estate as a business was incredibly eye-opening because it forced me to reconsider everything that I knew about business. What did I know about business? Practically nothing." Jason wanted to fill the gaps in his business knowledge, so he began looking into returning to college. After two successful semesters in community college, Jason decided to take a leap and transferred to CU Denver.
Jason was determined to meet the challenges of his degree, and he dove headfirst into his work. He not only studied hard but lifted his classmates up with him, organizing study groups and taking initiative to ask for help. He completed several semesters with 4.0 GPAs, despite the many challenges he was facing outside the classroom.
During Jason's time in school, he has been no stranger to loss. He was originally inspired to enroll in school by the loss of a lifelong best friend to a car accident. Shortly after enrolling, he lost a second best friend. Not far into his time at CU Denver, he received a call informing him of the loss of his younger brother and later two of his grandparents. These losses weighed heavy on Jason's spirits and focus, but he continued forward.
For Jason, "the singular accomplishment of excelling in college has kept my head up and helped me maintain the expectations I set for myself. This degree represents the hardest I have ever worked toward that goal, and I have succeeded."
Through all his hardships, Jason's partner has supported him and he feels he owes her much in his continued growth. "This degree represents struggle, resolve, triumph, and partnership. It is proof that greater times lie upon the horizon, and though the journey may be difficult, it is the most fulfilling experience… I will do great things."