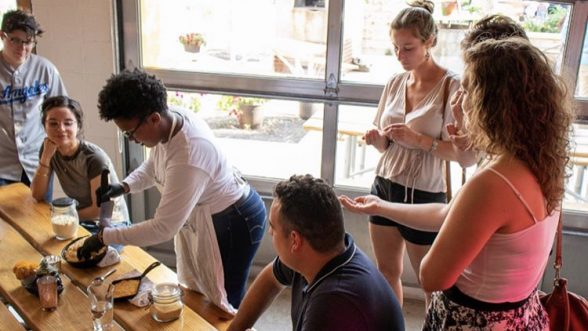 Kamiya Willoughby is a current CU Denver Business School student majoring in Business Administration with an emphasis in Entrepreneurship. She built a strong catering business, SoulNia, while utilizing her networks that were established at the Business School and the Commons on Champa. Inspired by her grandmother and father, Kamiya strives to carry on her family legacy.
Inspirations from Her Family
In 2007, the idea of creating generational wealth and a family legacy was born when Kamiya's grandmother passed away. Many people attended the funeral and shared stories about her grandmother that Kamiya had never heard. The funeral was eye-opening because it showed her family how important it was to make a lasting impression on the ones they love. After the funeral, Kamiya's father said, "Your grandmother couldn't leave behind a lot of wealth, but she left behind a legacy."
In 2013, Kamiya's father wanted to find a way to leave a legacy for her and her five brothers. So, he established a restaurant called Willowbeez SoulVeg. "The idea of Willowbeez was to tell a story about soul food in a way that it hasn't been told before," Kamiya explained. "Most people tend to think soul food is unhealthy, and there isn't much history involved, but there is a lot of history."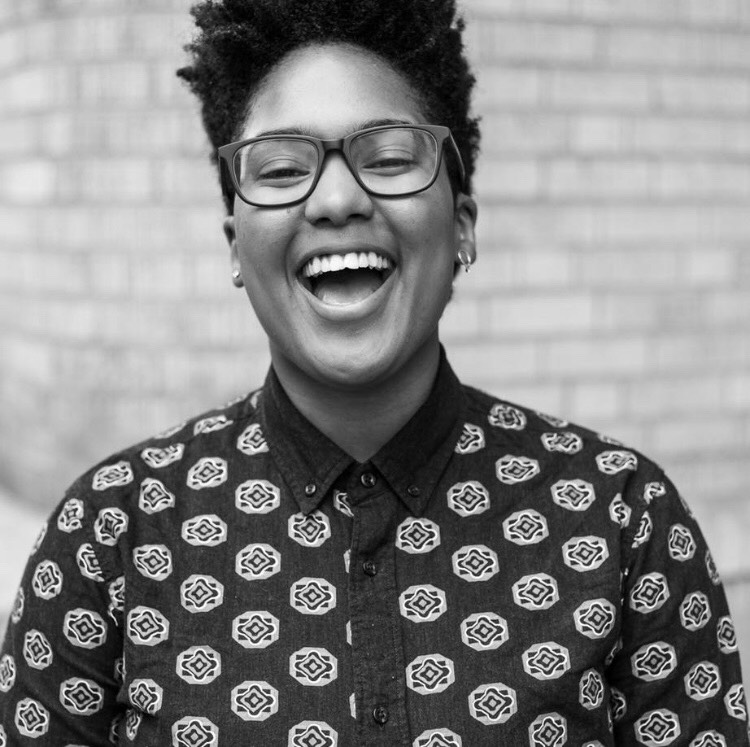 She loved the restaurant and everything it stood for, and she wanted to be a part of the story. Before Kamiya joined the United States Air Force in 2014, she told her father that she was very interested in carrying on the legacy once she got out of the military.
Choosing CU Denver
Kamiya was in the United States Air Force for four years. When she left the military in 2018, she was living in the Bay Area, and she knew it wasn't where she wanted to get an education or start a business. She applied to many schools across the country, but Denver caught her eye.
She applied and was accepted to CU Denver, in addition to other schools in Colorado; but she seemed to gravitate towards CU Denver's many positive attributes. "I wanted to be right downtown in the business center, in the thick of it all. I also like the diversity of CU Denver," she added. Students of color represent 60 percent of first-year students and 48 percent of undergraduates at CU Denver.
"The Business School is in the middle of everything, and when I moved here in 2018, I was trying to find the resources to start a business and find a community to be a part of. I found that at CU Denver."
Building Networks and Making New Connections
The location of the Business School is perfect because it is near a lot of major events. Kamiya's professor urged her to go to Denver Start-Up Week (DSW) because he knew that she wanted to start a business. One of the panels she attended was titled "Creating Equity in Start-Ups," where she listened to a memorable panelist named Jacqui Dietrich, who was the manager of the Commons program at the Commons on Champa center from 2016 to 2019. Kamiya admired Jacqui's energy and wanted to eventually work for her.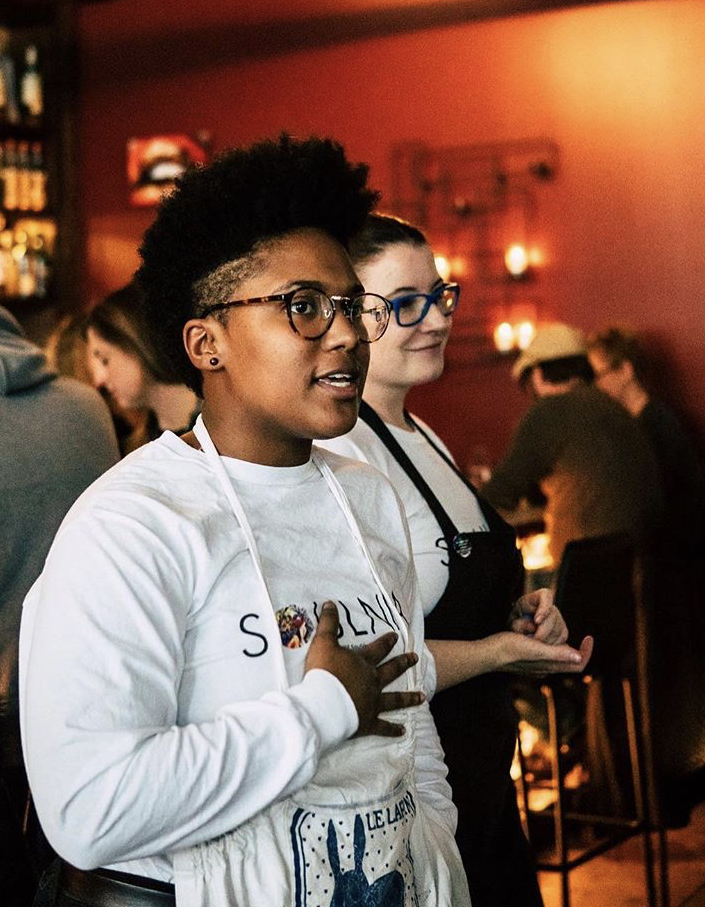 A few days later, she attended the "Women on the Rise" program that was offered at the Commons on Champa. Coincidentally, Jacqui was in the audience at the program. Kamiya went up to Jacqui and told her how she saw her at the panel, and she wanted to work for her someday. Luckily, the Community Manager just left the Commons, so there was plenty of work to do. Jacqui replied to her, "Well, what are you doing on Monday?"
Although Kamiya's a full-time student, she took the role at Commons on Champa, and Jacqui was more than accommodating for her schedule. Jacqui told her, "I'll work with your schedule because you're very eager to work. I want you to take programming at the Commons as well because I see your drive and I see your passion." Kamiya was then offered a position at the Commons as the Community Coordinator.
Recommending Students Utilize the Commons on Champa
Kamiya still works at the Commons, and strongly urges fellow students to utilize its services. "I try to tell everyone in the CU Denver community to check out the Commons because there are a lot of free resources." According to their website they are "a place to move your entrepreneurial ideas forward. Located in the heart of Downtown Denver, The Commons is a hub powered by the Downtown Denver Partnership for those who want to innovate, build a business or take the lead."
The Commons is a short 5-10-minute walk from the Business School. Students have the option to utilize its services and benefit from their resources, and it's completely free. Kamiya explains the benefit of utilizing the Commons, "The mentors and the access to resources the Commons offers are so important for young business students; especially the access to start building their network."
"You can learn about business all day; you can take classes and get experience through internships," Kamiya says. "But being well-connected, keeping those relationships, and being able to ask questions to a mentor is so important. The connections you make are so powerful."
SoulNia Takes Off
At the end of 2018, Kamiya finally was able to carry on her legacy that her grandmother and father created. She was able to open a vegetarian soul food catering company called "SoulNia" with her wife, Tess. Kamiya notes how she couldn't have been able to do it without the help of her partner. "My wife, Tess, is a huge part of my success here as well. She is the co-founder and head chef and creates most of our recipes if they are not family recipes."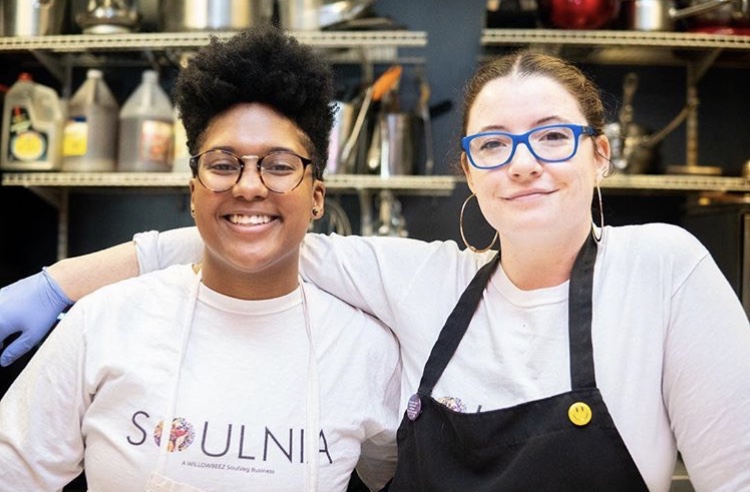 The name "SoulNia" literally translates to 'Soul Purpose.' Nia is the name of her little cousin, who started suffering from a neurological condition that caused seizures at the age of four months. Kamiya wanted to incorporate CBD into the vegetarian soul food because it has healing effects for people with neurological problems.
Shortly after opening, the business started to take off. "I was not ready for the growth, or for the attention and expansion that SoulNia received. Everyone wanted to hear the story about soul food. Everyone wanted to be a part of the growth, and it's been taking off ever since." SoulNia was listed on the Denver Business Journal's top 15 Catering List for 2020.
SoulNia's success was achieved because of Kamiya and Tess's hard work, but also through the networks and resources that were offered at the Business School and the Commons on Champa. "I could have made connections somewhere else, but not what I've done so far here; not the connections I've made so far at CU Denver."