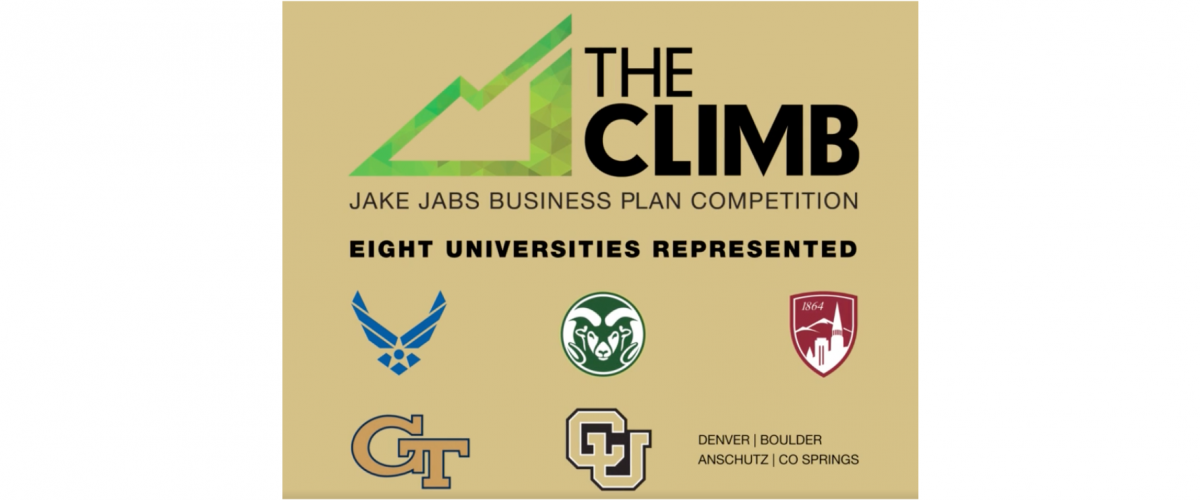 College students from across Colorado competed in the first all-virtual series for CU Denver's business plan competition after last year's COVID-19 hiatus.
On Thursday, April 29, more than 150 attendees joined the online event platform Socio to witness aspiring collegiate entrepreneurs compete for cash prizes. Hosted by the Jake Jabs Center for Entrepreneurship at the University of Colorado Denver (CU Denver) Business School, THE CLIMB | Virtual Pitch Night showcased six finalists, four People's Choice Award contenders, and their business ideas as they pitched to audience members and a live panel of judges. Four teams came out as winners, receiving more than $10,000 in award money and in-kind prizes.
DiscoVR — a low-cost, low-lift, all-in-one virtual reality (VR) rental solution for K-12 educators — came out on top of more than 30 business plan submissions this year and took home the $5,000 first-place award. DiscoVR empowers educators to use immersive learning technologies in the classroom so students of today can explore their curiosities through tools of tomorrow.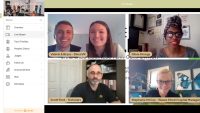 Prior to THE CLIMB, founders Bryce Peterson (a current CU Denver MBA student) and Valerie Quirk drove their converted Dodge Ram from Colorado to the bottom of South America in 2018 as part of The Great Untold EDU. This at-one's-own-pace educational program was designed to make global competence solutions more interactive and engaging, and the two have been dedicated to immersive learning ever since.
"We both really want to build tools to make educators' lives easier and the learning experience more impactful," said Quirk, who is also associate manager of TED-ED Programs in Boulder. "I think the really great thing about THE CLIMB is that it really forced us to identify a real need and shape our idea around it. … When we started in January, we still weren't 100% clear on what that was, but through all of the workshops and mentorship sessions, we were able to build a solution with educators and not just for them."
Learn more on Instagram (@discovreducation) and by visiting their soon-to-be-launched website at discovreducation.com.
Taking the $2,500 second-place award, FloDME is an enterprise software solution that manages the flow of durable medical equipment (DME) — like hospital beds, air mattresses, and oxygen — to hospice patients. CU Denver MBA student John Ahern developed the idea with his wife, a hospice nurse, after she identified a frequent problem in her patients' end-of-life care. The software's user experience mimics the simplicity of ordering and tracking systems like DoorDash so that nurses have more time to focus on patient care and less on securing deliveries.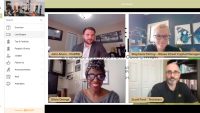 "I was surprised FloDME won second place because I saw the high quality of some of the other ideas and presentations on Pitch Night," said Ahern. "But winning was a cool way to validate that this is a good idea and that investors believe in it. It gives me some momentum to continue working with DME and hospice companies, develop an MVP, and hopefully get some traction before launch."
PERK won the $1,000 Social Impact Award, sponsored by the Posner Center for International Development. Led by Damaris Delles, a CU Denver student pursuing an MS in Marketing and Management, the nonprofit is focused on reinventing the group home experience for at-risk youth in Colorado through an innovative permanent residence facility and transition services.
Winning the $1,000 People Choice Award, Vendee secured the most votes from attendees via the polling platform Menti. The online ordering and delivery system is specifically designed for those with dietary requirements who require specially trained personal shoppers.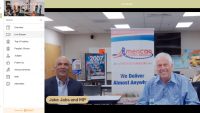 The event also featured a special guest speaker. Event series and center namesake Jake Jabs, president and CEO of American Furniture Warehouse, returned this year to announce the winners and share some advice on how businesses can create innovations solutions to survive and thrive, even during a global pandemic.
Judges for THE CLIMB | Virtual Pitch Night included Stephanie McCoy, COO of Wazee Street Capital Management; Olivia Omega, branding and positioning strategist at Wallace Marketing Group; and Scott Ford, COO at Techstars Boulder Accelerator.
About THE CLIMB | Jake Jabs Business Plan Competition
Ascend to new heights. THE CLIMB | Jake Jabs Business Plan Competition is a business development challenge for collegiate startups based in Colorado. Backed by the Jake Jabs Center for Entrepreneurship at the University of Colorado Denver and infamous entrepreneur, Jake Jabs, THE CLIMB is an event series that helps future business owners transform concepts into viable companies through mentorship, education, financial support, and real-world industry exchanges. Pitch Night, the series' finale, invites these future business owners to pitch their ideas to a live panel of judges and compete for cash and in-kind prizes.
With more than 500 mentor hours shared and $1 million awarded to date, THE CLIMB celebrates 19 years of guiding entrepreneurial thinkers to greatness and empowering them to blaze their own trail.
Gold Sponsors: American Furniture Warehouse, Launch Pad Ventures
Partner Sponsors: Concept2Exit, Dorsey, Michael Best & Friedrich LLP, Posner Center for International Development, Vita Inclinata Technologies, Inc.
About the Jake Jabs Center for Entrepreneurship
The Jake Jabs Center for Entrepreneurship (JJCE) is an entrepreneurship-focused resource center at the University of Colorado Denver Business School. Emphasizing real-world experience, JJCE is dedicated to educating and empowering undergraduate and graduate students to think and act entrepreneurially. Through the Center's degree programs, events, and certificates, students learn and apply real-world business disciplines in an open and diverse environment. The Center's relationships with local business leaders and successful entrepreneurs provide opportunities and support services for students, whether they choose to launch their own startup or join an existing organization.