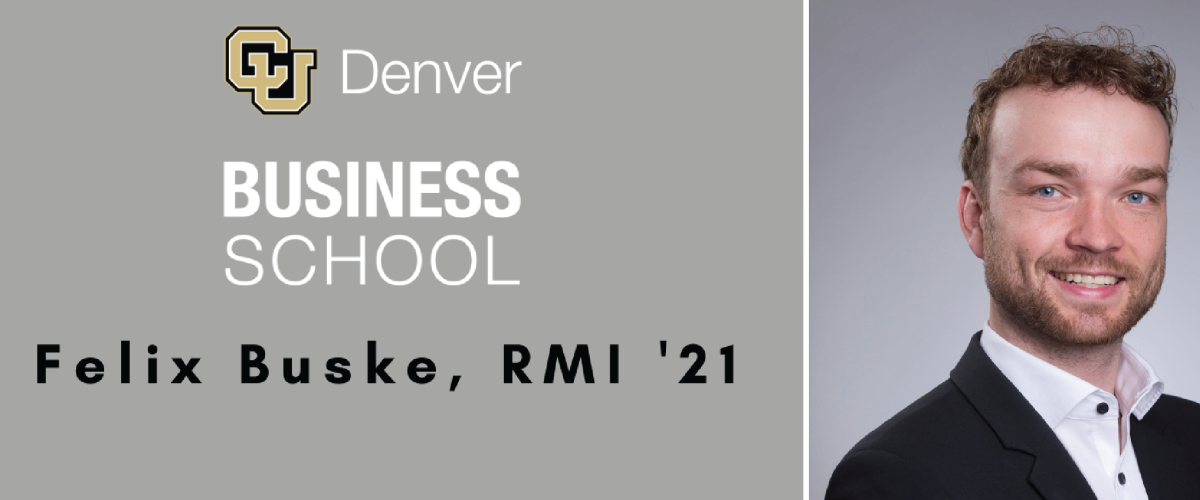 Recent CU Denver Business School graduate Felix Buske is a man of opportunities. Felix has been taking chances to explore his passions since high school – from vending machines to skiing and stocks, Felix has never shied away from a challenge.
Moving to Denver
Prior to studying at the business school, Felix thrived as a business psychology student with a passion for skiing in Germany. He knew he wanted to further his education, but was stuck trying to meet the requirements of a point system before being eligible for his masters. Defeated by this point system, Felix set his sights on school in the Denver – a location that attracted him after he visited Aspen for the X- Games years earlier.
"I came to Colorado for two weeks after high school. I fell in love with Aspen, Denver, and of course, any place I could ski," said Felix. "At that point I already knew I would live in Colorado in the future."
This made looking for schools in Colorado a natural choice for Felix. In his search, Felix discovered the CU Denver Business School's Risk Management program.
"Finance became a passion of mine when I started investing at 19," said Felix. "So, when I found a school that had a finance and risk management major and it was in Denver, my plan came together."
Studies in RMI and Finance
"From the beginning, I knew the RMI program was exactly what I wanted to do," Felix said of the RMI and Finance programs at the Business School.
Felix found that his classes provided a wide overview of all the topics he wanted to explore and was thrilled that his professors were willing to dive deeper and answer all of his questions.
"I felt CU Denver was more focused on an exchange between the professors and students compared to my university in Germany," said Felix. "I could always ask them questions and they would get back to me quickly."
Building strong relationships with his professors made Felix's schooling experience positive.
Exploring CU Denver
"Denver is a place you want to live," said Felix. "It's a certain lifestyle – it's the kind of place you can treat yourself in your daily living."
A campus in the heart of the city is what draws students to CU Denver. Felix enjoyed the unique bars and restaurants he found and easy access to ski the mountains.
Felix also enjoyed the kindness and excitement on the CU Denver campus.
"People are so incredibly friendly – I often got help from strangers when I didn't know where to go," said Felix.
His excitement only increased the more involved Felix became in campus activities. He joined the soccer team and Gamma Iota Sigma, a professional fraternity.
Felix's Career Path
In summer 2021, Felix furthered his education with online summer classes at Harvard University where he worked on strengthening his skills reading financial statements. He dreams of being a consultant and eventually opening his own business someday.
"Consulting is interesting because you always have new projects and I like a challenge," said Felix. "You should like a challenge if you're going into consulting."
Felix's business ventures began in an unconventional way. Felix decided to learn about business and find a way to make money by purchasing a vending machine that he maintained before university. This vending machine taught Felix about investments, contracting with companies and running a business.
"I always was excited about vending machines," said Felix. "I like that the money works for you. To me, it's similar to stocks."
Leading the Pack
Felix carried that go-getter attitude with him in his time at the business school and noticed a need for students to develop crucial business skills that couldn't be found with an internship.
"We all know those internships where you don't have a real job," said Felix. "You don't take on challenging problems and you do tasks like getting coffee."
This is what inspired Felix to create a student-led consulting organization, Lynx Consulting Denver, where students can apply to help Denver businesses with projects. The consulting group helps local businesses with complicated problems while also giving students hands-on experience to take with them to their future careers.
"This group gives students what I consider a little step into working life," said Felix. "It gives students practice working, maintaining a work life and problem solving while also allowing them a chance to learn and ask for help."
Advice for CU Students
Felix left behind a legacy for future CU Denver students. His student consulting organization is open for students to join for the 2021-2022 semester and he hopes that through this experience students will continue to develop work experience for years to come.
"Every day when you get up do something that matters," said Felix. "It can be for the community or yourself, but those little actions can make you a better person in the long run."