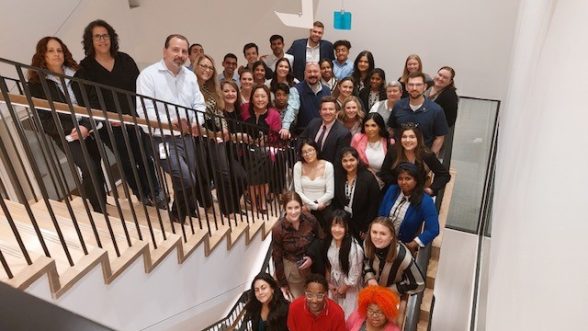 April 24, 2023
On April 14, the Daniels Fund Ethics Initiative Collegiate Program (DFEI) at CU Denver Business School, in partnership with TIAA, presented a full-day Ethics OnSite program for 27 students at TIAA Headquarters in New York City. TIAA has been named one of the World's Most Ethical Companies by Ethisphere for nine consecutive years. CU Denver's Ethics OnSite program provides learning opportunities around creating ethical business cultures and mitigating risks of ethical breaches by giving students access to high-level industry executives. As a result, students walk away with a richer understanding of ethical principles, ethical dilemma resolution, and valuable connections to top-level executives. This program is open to graduate and undergraduate students across all majors and programs.
"The Ethics OnSite trip was an excellent opportunity to bond with people from all walks of life! I shared countless stories with strangers who soon became my friends." – Ronnie Moreno, CU Denver Undergraduate Student
The Ethics OnSite program at TIAA's headquarters in New York offered a full-day session to interact firsthand with senior leaders, TIAA's ethics program, and explore their ethical culture. The students also had the opportunity to tour TIAA's New York office and attend a reception with many senior leaders the night before.
"The networking section was very effective and gave us a chance to connect with business leaders at TIAA." – Vy Vo, CU Denver Undergraduate Student
The TIAA Ethics OnSite program comprised six main topics that revolved around the DFEI's eight ethics principles and TIAA's core values. The agenda featured:
· Overview of TIAA
· Career Paths for Ethics and Compliance
· Business Leader Panel followed by lunch with the leaders
· Real World Ethical Dilemma Case
· Employee Conduct Risk & Ethics
· Investigations Panel followed by debrief of Ethical Dilemma
"I obtained great insight during my time in New York regarding TIAA's robust ethics and compliance program. The firm's programs are highly centered around its values, which associates exhibit quite vibrantly. Some of these values include being client obsessed, championing internal employees, leading with integrity, and owning it." – Rohan Nipunge, CU Denver Undergraduate Student
This company is a strong representation of tone from the top. Starting with CEOs, they lead by example, inspire employees, and hold the employees to a high standard of ethical accountability. TIAA shared with the students about their newly introduced "Speak Up Initiative." This initiative is a way for all the employees of TIAA to show integrity, trust, transparency, and accountability. The company is working to encourage its employees not to be afraid to share when they see something unethical. They mentioned, "if an employee is not comfortable asking for a few hours off for a doctor's appointment, then they are not comfortable speaking up about a potential issue." They are doing this by offering various resources to all associates. Some of these resources include an anonymous ethics helpline and the ability to speak openly to an investigations team without fear of retaliation. Lastly, they spoke highly of the Ethics Week hosted annually in November. This week is full of education, program awareness, and ethics games throughout TIAA.
"I will remember how important it is to holistically embody an ethical culture at the top – not just the CEO, but the entire board and leadership team. And if something is a "central value" for a company, all facets of its operations must incorporate and promote that value (such as hiring, performance reviews, and incentives). Strong ethical corporate governance is at the center of TIAA's operations." – Caitlyn Kooistra, CU Denver Graduate Student
Established in 2015, Ethics OnSite has worked with students all over the United States, both virtually and in person, connecting them with organizations like FirstBank, VF Corporation, Arrow Electronics, SAIC, BAE Systems, The World Bank, and IMA Financial Group. Stay tuned for our upcoming program in Fall 2023.
Visit the Daniels Fund Ethics Initiative at CU Denver website for information on upcoming Ethics Onsite programs and other events.