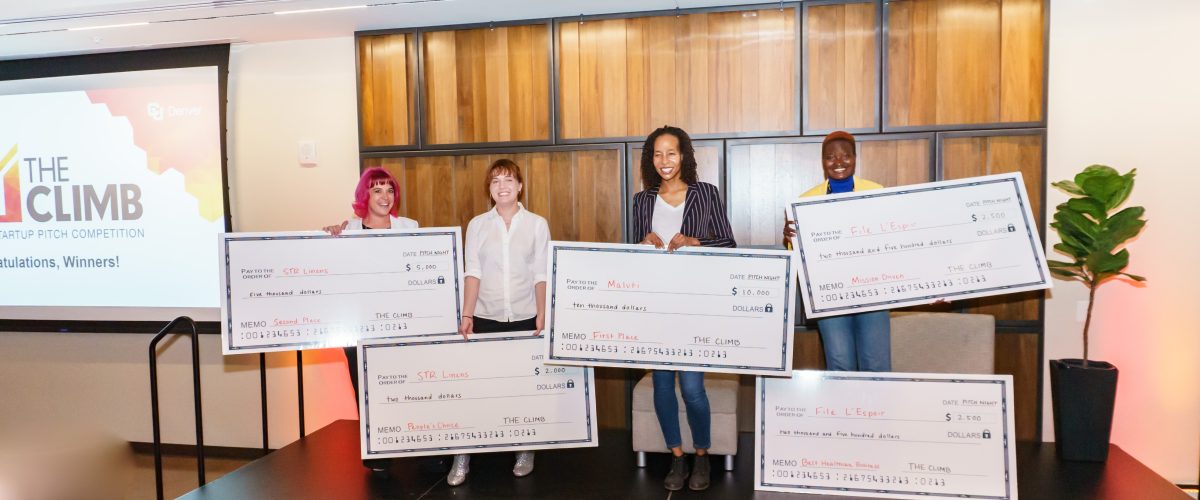 On April 27, more than 100 attendees gathered in the CU Denver Business School's Jake Jabs Event Center for the 22nd year of THE CLIMB | Jake Jabs Startup Pitch Competition. The evening event featured live pitch presentations, a distinguished panel of judges, Jake Jabs returning as the keynote speaker, and networking for Colorado's entrepreneurial community. As the competition's grand finale, it celebrated the hard work of student teams from across the state that have been developing and validating their ideas since February.
Hosted by the Jake Jabs Center for Entrepreneurship, THE CLIMB is an annual pitch competition and event series designed to support entrepreneurial students and future business owners across the Front Range. This spring's competition garnered nearly 30 applications, from which six finalist teams were chosen. CU Denver, CU Boulder, and the U.S. Air Force Academy were some of the colleges and universities represented in this year's finalists. Three teams came out as winners, receiving a total of $22,000+ in cash awards and in-kind prizes.
Judges for Pitch Night included event namesake, Jake Jabs, president and CEO of American Furniture Warehouse; Joel Appel, serial entrepreneur and co-founder of Launch Pad LLC and Zaidy's Deli & Bakery; David Birzon, CEO at Snooze, an A.M. Eatery; and Danielle Shoots, founding partner and managing director at the New Community Transformation Fund. Each finalist team had four minutes to give their pitch, followed by four minutes of Q-and-A with the judges.
The $10,000 first-place prize went to Maluti, a premium skincare brand "supporting healthy, outdoor lifestyles by sustainably caring for skin from the backyard to the backcountry." Misha Charles, a current CU Denver MBA student, came up with the idea back in 2017 during a life-changing career sabbatical she spent exploring the Rocky Mountains and falling in love with the outdoors. Since then, she's become an avid hiker, backpacker, and outdoor recreation industry professional who has led teams at the American Alpine Club and Vail Resorts. When she thought through the barriers and challenges she experienced as a newcomer to mountain recreation, she kept returning to skincare.
"I was literally purchasing $25 hiking socks and $500 ski shells but was struggling to care for my skin," Charles shared. "Skincare was the only problem that my frequent REI splurges could not solve. Maluti emerged from this very personal reality and has since been validated by other outdoor recreationists who have experienced the same challenge."
The business is focused on launching its Sheet Mask for Face as its first product, made of a 100 percent compostable, bacteria-produced, bio-cellulose fabric infused with antioxidants, ceramides, and collagen peptides. Eventually, Charles plans to expand the product line to a variety of aloe-based, antioxidant, and nutrient-rich skin moisturizers, cleansers, and other topical products. In the next six months, Charles says she'll use the prize money to finalize the business's manufacturing agreement, create B2B partnerships, and continue fundraising for its Summer 2024 launch.
"I, like all the other contestants, worked so hard to get to [Pitch Night], and to actually experience the outcome that I'd been working so hard toward felt kind of amazing," she said. "I first learned about the competition from one of my professors, Jim LoPresti … but I knew that it was POSSIBLE for me to be competitive when I enrolled in the New Concept Development and the Business Model Development & Planning courses. … I did not have the guidance and confidence to pursue [Maluti] until I took those classes."
Charles' advice to anyone thinking about competing in THE CLIMB would be to "lean into the areas that you feel most uncomfortable; that's where the greatest growth is."
The $5,000 second-place prize went to STR Linens, a business that brings luxury hotel-quality linens into short-term rental (STR) properties. The idea was pitched by Katie Viehdorfer, a '17 alum of CU Denver and entrepreneurship certificate holder, and Cameron Chiara, a current CU Boulder student. For Viehdorfer, this was her second attempt at competing in THE CLIMB after first applying when she was a student. Since then, she worked for a residential cleaning and laundry services company that serviced local Airbnbs, where she realized there was an unmet need in the market. STR Linens was born.
"I remembered THE CLIMB when I was looking for seed investments… submitting my application made me work for my dreams," Viehdorfer said. "I met with many mentors to get their feedback on my business model, including Caleb Carr, Colin McIntosh, and David Prichard. Each of these mentors gave wonderful advice … [which all proved] the networking power of events like THE CLIMB."
STR Linens also won the $2,000 People's Choice Award. Viehdorfer's and Chiara's pitch received the most votes when attendees of THE CLIMB chose their favorite idea through the online platform, Mentimeter.
"When I think about how I felt at Pitch Night, I'm not sure what happened during those four minutes of my presentation," Viehdorfer said. "Outside of that, the night was magical. I got to mingle and meet so many people. … I've always loved the energy from any Jake Jabs Center event."
The competition's two remaining prizes, the Mission-Driven Award, and the Best Healthcare Award, went to the same business: File l'Espoir. Meaning "thread hope" in French, the nonprofit organization was founded in May 2022 by CU Denver student Ramata Diallo to address the blood shortage in Côte d'Ivoire, West Africa. Its first campaign collected 126 blood units to help save 378 lives.
"That's an accomplishment that I am extremely proud of, but I knew that this one-time action could unfortunately not change much about the deficit," Diallo said. "By having a nonprofit organization solely dedicated to addressing the blood scarcity in Côte d'Ivoire, I could continuously bridge the gap and leave a lasting effect. … These awards and acclamations showed me that people believed in this idea and trusted my ability to leverage it. To me, the prizes represent a needle that was given to me to help thread hope and continue saving lives in Côte d'Ivoire."
The Mission-Driven Award was sponsored by Joanne Posner-Mayer of the Posner Center for International Development, and the Best Healthcare Award was sponsored by Prime Health. Both awards were made possible only by these organizations' generous sponsorships.
Ryan Frazier, business expert at 9NEWS and CEO and managing director at Frazier Global, hosted the event. He shared the story of his own entrepreneurial journey in creating an international management consulting and professional services business. While the judges deliberated on choosing the night's winners, Frazier led a conversation between Dr. Madhavan "MP" Parthasarathy, executive director of the Jake Jabs Center, and Jake Jabs himself.
The trio discussed the importance of entrepreneurs becoming lifelong learners and the future of entrepreneurship education in the state of Colorado. When asked what advice he had for the winners of THE CLIMB, Jake referred to some highlights from his "39 Keys to Business Success" — have integrity, live below your means, take risks, and always have a passion for what you do.
About THE CLIMB | Jake Jabs Startup Pitch Competition
Since 2001, THE CLIMB | Startup Pitch Competition has supported the growth of collegiate startups and innovative ventures across the Front Range.
Backed by the Jake Jabs Center for Entrepreneurship at the CU Denver Business School and infamous entrepreneur, Jake Jabs, THE CLIMB is an annual pitch competition and event series that helps students and future business owners transform concepts into viable companies. It strives to connect aspiring entrepreneurs with the network and resources they need to succeed through mentorship, educational experiences, financial support, and real-world industry exchanges. With more than 600 mentor hours shared and $1.2 million awarded to date, the competition continues to grow and shape student experiences, local businesses, and the Colorado entrepreneurial community.
We are thankful for our Platinum Sponsor, American Furniture Warehouse, and for our Gold Sponsors, the Posner Center for International Development and Zaidy's Deli & Bakery. We also thank our bronze sponsors: the Cherry Creek School District, the Colorado Health and Tech Centers, Dorsey & Whitney LLP, and Prime Health. Special thanks to our additional sponsors: CU Denver's Center for International Business Education and Research (CIBER), Cyber Sainik, Kaspo, Inc., and Chet Winter.
About the Jake Jabs Center for Entrepreneurship
The Jake Jabs Center for Entrepreneurship (JJCE) is a multidisciplinary resource center located in the University of Colorado Denver Business School. Emphasizing real-world experience, JJCE is dedicated to educating and empowering undergraduate and graduate students to think and act entrepreneurially. Through its academic programs, student clubs, and events, the Center provides door-opening networking and mentorship opportunities for students of all backgrounds, whether they go on to launch their own startups or join existing organizations.
Media Contact
Sarah Soenke | Jake Jabs Center for Entrepreneurship 630.346.5050 | sarah.soenke@ucdenver.edu
NOTE: Photos and interviews with winners of THE CLIMB and/or Jake Jabs Center for Entrepreneurship leadership are available upon request.