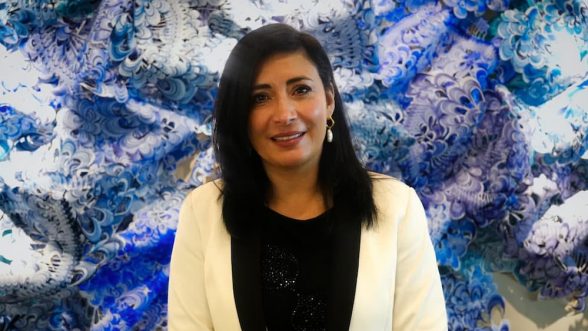 When it comes to Hispanic and Latinx consumers, sales success isn't found in numbers and graphs. "It's about the heart. In the industry, we always look at the numbers; it may not help you connect at an emotional level. It's about the core values of the culture," says Sindy Chapa, Ph.D. Chapa is the current director of the Center for Hispanic Marketing Communication at Florida State University and a leading researcher in Hispanic consumer behavior. In her recent presentation at the CU Denver Business School Jake Jabs Event Center, she detailed how current population data for America shows swelling numbers for Hispanic and Latinx demographics, and she gave insight into how to effectively market to these groups.
"It's about the heart. In the industry, we always look at the numbers; it may not help you connect at an emotional level. It's about the core values of the culture."

Dr. Sindy Chapa
Understanding a Rapidly Increasing Demographic
Hispanic and Latinx children will make up the second biggest demographic in the new generation of consumers. An inability to effectively market to such a large population of buyers will undoubtedly be a huge financial loss. One out of four children born in the United States is Hispanic and/or Latinx, and as this new generation assumes their buying power, it will become even more important to focus marketing efforts on Hispanic and Latinx communities.
Chapa stresses that it's not enough to simply infuse ad campaigns with the Spanish language. Hispanic and Latinx communities are not homogenous, and there are differences between how English-preferred and Spanish-preferred audiences engage with marketing and media. For effective reach with this audience, marketers have to use strategies that align with the community's cultural values.
High uncertainty avoidance is one such consideration. Chapa explained that, while Hispanic and Latinx consumers are willing to adopt new technology, seeing a trusted community member using the technology can help assuage hesitancy and build confidence in the product.
Chapa also describes the Hispanic and Latinx communities as collectivistic, placing importance on family and shared experience. These communities are more likely than any other ethnic group to share information via word-of-mouth and use social media to stay in touch with family and friends.
According to Chapa, polymorphism is also an important cultural consideration. The polymorphic values of a community mean that when looking for insight on new products or ideas, community advisors like priests, or even online influencers are turned to for guidance.
Marketing in the Digital Age
According to Nielsen MRI Data, when it comes to smartphone usage, Hispanic and Latinx populations are surpassing other demographics. Chapa highlighted the communities' high level of engagement with social media and increased likelihood of purchasing from influencer-supported brands. Given these media consumption habits, digital marketing is key to reaching the Hispanic and Latinx market. Younger generations are spending more and more time online, and the latest U.S. Census reported that 18.8 million children were Hispanic and/or Latinx. With numbers this large, the utilization of digital marketing becomes crucial for tapping into this market.
Chapa referenced a New York campaign to increase COVID-19 vaccination as an example of aiming marketing toward Hispanic and Latinx communities. Celebrities like John Leguizamo and Luis Guzmán, as well as influencers of all levels of fame, posted their support of the movement. The campaign's success was largely because of its alignment with polymorphic and high uncertainty avoidance values, using influencers and trusted sources to deliver the message and collectivist values by utilizing a platform many Hispanic and Latinx people use to foster community.
Using Hispanic Heritage Month as an Opportunity to Further Your Understanding
The population of Hispanic and Latinx Americans is growing rapidly nationwide, and being able to reach these communities effectively will be a necessity for all business students. Hispanic Heritage Month, which begins every September 15th, is the perfect time to learn about the history and legacy of Hispanic and Latinx Americans as well as engage with their cultures. In Chapa's words, "There's a lot of value in understanding multiculturalism and multicultural consumers, especially Hispanic consumers, because of their magnitude."