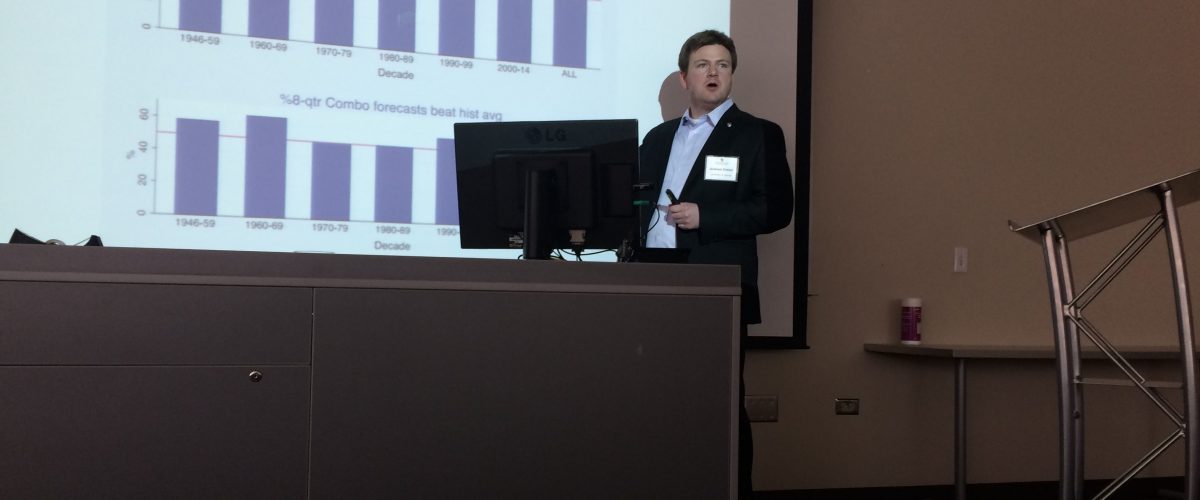 The spring 2016 Front Range Finance Seminar was hosted at the CU Denver Business School on Friday, April 15th, 2016. Co-organized by Assistant Professor of Finance Yosef Bonaparte and Associate Professor Yufeng Han, the Front Range Finance Seminar was re-instituted this year bringing the Front Range financial university community together for the first time in five years. The Front Range Finance Seminar is a unique forum for finance faculty in the Front Range region to exchange research ideas and receive feedback in a timely manner and in a collegial environment. Previous seminars were held at CSU (September of 2010), University of Wyoming (April 2011) and CU Denver (September 2011). The 2016 seminar's goal was to bring new research to the table and initiate thoughtful discussion. Participants took part in the presentations and discussions and a high-quality keynote speech was delivered by Professor Russell Cooper about international household finance trends. Over 20 professors from universities that include the University of Denver, University of Colorado – Boulder, University of Colorado – Denver, University of Colorado – Colorado Springs, and Wyoming State University were in attendance. The hope is for this experience to enhance research and education in the Front Range.
Some quotes from participants include:
"Great job putting this together, I really enjoyed it! Some very good topics and a great chance to talk to everyone there." – Justin Lallemand – University of Denver
"I just wanted to drop a quick note of appreciation for your performance in hosting the Front Range Seminar. This was my first chance to participate given I have just begun in my position at CSU. I greatly enjoyed the chance to visit, and to meet some of the academic finance community in our region." – H. J. Turtle – Chair and Professor, Department of Finance & Real Estate Colorado State University
"Thank you for running the conference, Yosef.  It was a very productive day." – John Elder – Professor of Finance and Kemble Family Faculty Fellow Colorado State University
"Yosef, Great job for the Front Range Seminar–really great—particularly loved Russell Cooper's presentation–really insightful about China's versus the U.S.'s consumption & savings decisions. That's great that it's all on YouTube!" – Elizabeth Cooperman – Professor of Finance & Entrepreneurship University of Colorado – Denver
On behalf of the hosts an
d participants, we would like to thank The University of Colorado – Denver Business School and Community for hosting and sponsoring the event. Also, thank you to Student Research Assistants Christina Conger and Xin Li in conjunction with Faculty Coordinators Linda Theus-Lee and Andrew Rotz for their assistance with the planning, organization, and running of the event.
A closing statement from Yosef Bonaparte sums up the event very well: "I was honored and humbled to be in a room of such insightful and intellectual colleagues. We are truly very lucky to have such bright minds and good people working in the realm of financial research across the Front Range. Thank you to all involved for making the event a success