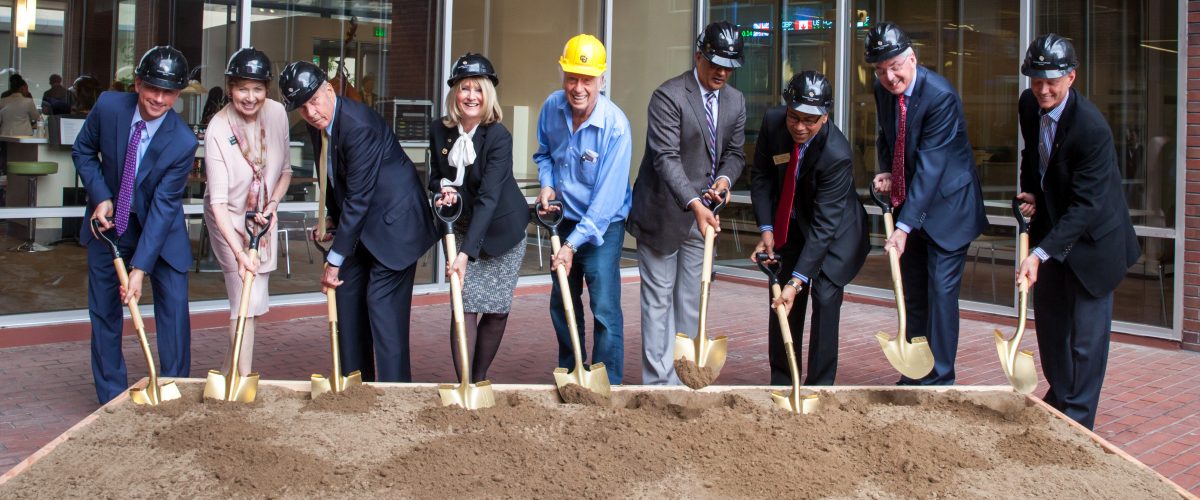 On October 2nd, a lively crowd – consisting of community members and CU Denver leadership, faculty, staff, and students – cheered on the CU Denver Business School and the Jake Jabs Center for Entrepreneurship as they broke ground on the soon-to-come Jake Jabs Event Center.
Jabs donated $12 million in 2013 to the Business School, and the formerly known Bard Center for Entrepreneurship was renamed in his honor. Six million of Jabs' gift is funding the new Event Center, which is part of an overall $11 million development project to revamp the current Business School building.
The new building, set to open in spring 2020, will include the multi-functional Event Center, a headquarters for the Jake Jabs Center for Entrepreneurship and several auditorium and classroom spaces. For more information regarding the new building and its amenities, click here.
The other $6 million provides continued support for academic programming, student scholarships, research and more at the Jake Jabs Center for Entrepreneurship.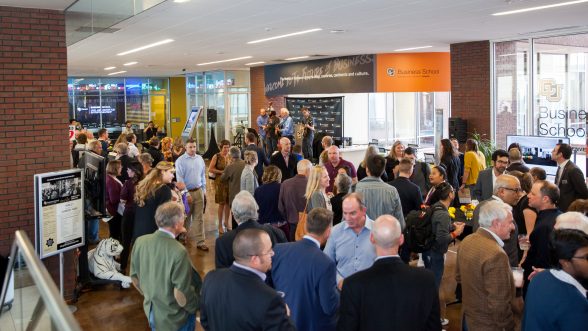 Business School Dean Rohan Christie-David emcee'd the event, and separately introduced University of Colorado System President Benson, Chancellor Horrell and Jake Jabs Center Director Madhavan Parthasarthy to the stage. Each shared heartfelt stories of their friendship with Jabs and how much his donation means to future of the university and Business School.
"I'm happy to tell anyone who will listen that Jake is the best entrepreneur I have ever known. We are thrilled that he has brought his energy and knowledge to CU Denver. I know he has shared his experience and expertise in our Business School classrooms, and I hope our students appreciate that they are hearing from a master. Jake is a shining example of what we hope our students aspire to be, and we are thrilled he is part of the CU family." – President Bruce Benson

"The Jake Jabs Center for Entrepreneurship is so important to fostering the entrepreneurial energy and partnerships that spark Denver's economic engine. The Jake Jabs Center also enhances our tangible connectivity with the downtown business community. We are honored that Jake Jabs is committed to helping shape the future of our vibrant university and the entrepreneurial educational needs of our community. It's because of Jake and others like him that our students leave our doors with that entrepreneurial spirit, blended with experiential learning and business skills. Our thanks to Jake for investing in the future success of our students and our community by his continued commitment to our Business School." – Chancellor Dorothy Horrell

"My first meeting with Jake Jabs was when he spoke in my entrepreneurial marketing course about 15 years ago. The students, needless to say, were both enamored by his celebrity status as well as the incredible content of his presentation. Jake's transformative gift has helped the CU Denver Business School rise to the cutting edge of entrepreneurship education. It has greatly helped us forge new relationships with other schools both within and without the CU Denver University system, pursue international collaborations, design and run events such as THE CLIMB | Business Plan Competition, improve both the content and the experiential delivery of entrepreneurship courses, and provide scholarships." – Jake Jabs Center for Entrepreneurship Director Dr. Madhavan Parthsarathy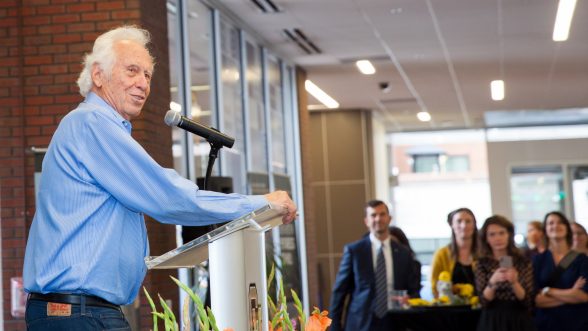 Jabs himself took the stage to share his passion for giving back to educational institutions:
"My father only completed second grade and my mother only completed seventh grade. They both wanted all nine of their children to get an education, so that's what we did. The thing about a college education is that it gives you confidence to go out and take chances. I want to continue instilling the entrepreneurial spirit in younger people. I have been proud to support the CU Denver Business School for a number of years because I believe in the importance of higher education. With the growing interest in entrepreneurship education at this level, this new addition of the Event Center, auditorium and additional classrooms will make the Jake Jabs Center for Entrepreneurship and CU Denver Business School bigger and better than ever!" – American Furniture Warehouse Founder & CEO Jake Jabs
Brandon Manusov, BSBA in Entrepreneurship and U.S. veteran, attended the Groundbreaking Ceremony to pay homage to Jabs and reflected upon his entrepreneurship education at CU Denver:
"The Jake Jabs Center for Entrepreneurship offers the best academic programming I have ever experienced after attending many different programs while in the Air Force. Getting to connect and learn from the best entrepreneurs in Colorado really sets this program apart. Every week feels like Denver Startup Week in this program, and Jake Jabs' gift will only help elevate the Center." – Brandon Manusov