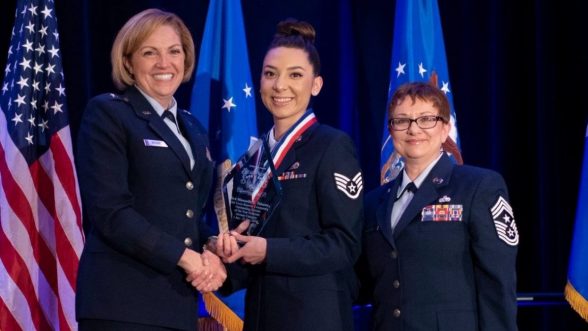 Manuella Tabares loves helping people. It is why she enlisted in the United States Air Force Reserves in 2015. Through her work as a Personnelist for the Air Force, she discovered a passion for human resources.
"I love talking to people, helping people, taking care of people," said Manuella. "It's really cool that I get to do it within the military – I never thought that would be an option for me."
She graduated in August 2020 with her BSBA in Human Resources. Combining her experience in the reserves with her degree from CU Denver is opening doors.  
Serving the country, helping herself
Manuella Tabares enrolled at CU Denver while also working in the Air Force Reserve, so she knew she needed an experience that would help her grow while also remaining flexible.
"When we wear the uniform it's pretty much 24/7," said Manuella.
She loved how understanding her professors were about her situation, and the ability to take afternoon, evening, and online classes. She also chose CU Denver for the location.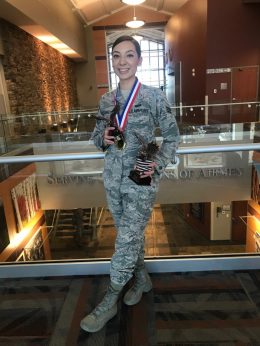 "It's just so easily accessible for people here in the Denver-metro area and out in the suburbs. I live in Aurora, right by Buckley Air Force Base, so it's very easy for me to do the 30-minute commute and go to class."
She will be in the reserves until February 2021, so the convenience and flexibility of her degree program were important to her while serves our country. She was able to balance military life, while getting a world-class education.
"CU Denver has such a great business school program that I really gravitated towards it," Manuella said. "CU Denver was definitely my first choice."
The right wingmen
Manuella relished the chance to meet like-minded people in the CU Denver student body. She fondly remembers meeting other HR students and professionals in her classes, but she also enjoyed connecting with other classmates.
"Seeing all the different people that can be in your classes and getting experience from them, I really thrived off that," said Manuella.
The faculty and staff at the business school helped her broaden her horizons. Manuella recalled an assignment for a marketing class about resume writing. The Business Career Connections (BCC) staff helped her translate her military resume into one she could use when applying to civilian jobs.
"That was something else that the business school really helped me with that I didn't even think was a possibility," she said.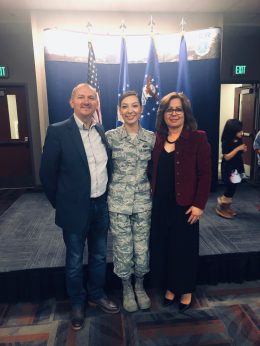 The flight path
Manuella wants to make the military her full-time career, and her degree from CU Denver gave her a competitive edge and created even more opportunities for her within the Air Force.
"Because now I have a bachelors I can actually commission and become an officer, to be a general maybe one day."
Manuella started putting her education to work for her while she was still in school.
"Just having the ability to translate what I learned through my classes at the business school into my day-to-day job was a win," she said. "So now having that bachelor's degree will definitely open a lot of doors for me."
Manuella remembered a lesson about staffing levels and productivity that helped her create the right structure and staffing for her team to get optimal productivity.
She is currently applying for the Masters in Management with an emphasis in leadership and organizational change at the CU Denver business school, so she can keep climbing. Manuella has already seen the benefits from her bachelor degree from CU Denver, and she wants to give herself and even bigger edge over the competition.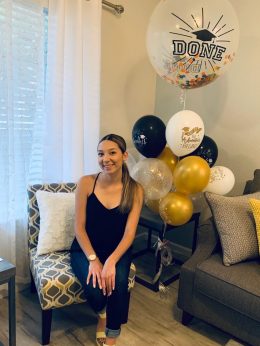 Manuella's advice for students considering business
Manuella did not hesitate to say a degree from the CU Denver Business School will advance anyone in their career.
"Just by being a team member and learning the things that you do at the business school, you can come in and make innovative changes and work with your managers, and maybe even propel yourself to become one of those managers," she said.
"I think if you're considering a business degree, you should take the leap of faith and just do it," Manuella said. "Personally, I had such a good experience with all the different professors and students, and just the ability to take in and absorb so much experience and apply that to your day-to-day job."